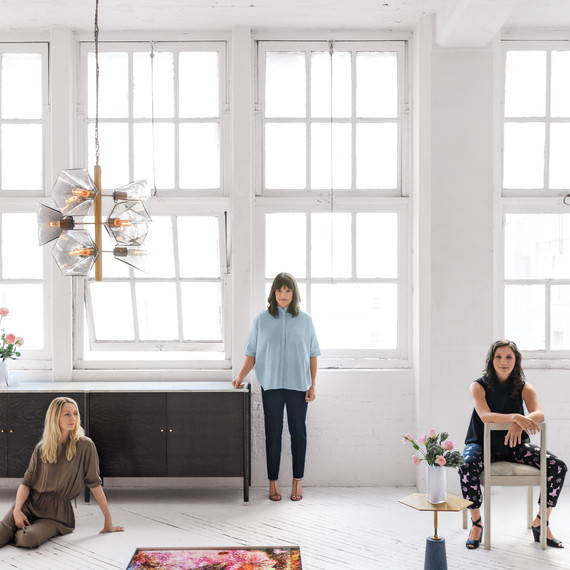 Egg Collective was established in 2011 by three designers with the goal of creating heirloom-quality contemporary furniture in the United States.
Stephanie Beamer, Crystal Ellis, and Hillary Petrie, the cofounders of Egg Collective, defy the notion that you shouldn't go into business with your friends. "We were collaborators long before we became business partners, and friends long before that," says Ellis.
The three women met during their first week as students at Washington University in St. Louis. After graduation, they saw one another weekly to brainstorm design ideas over dinner. These get-togethers continued for five years (even by video chat, after jobs sent them to separate cities) before they took the leap to start their business.
Eight years after those first meetings, the friends have set up shop near the Brooklyn Navy Yard, in New York City, combining and building off of their respective strengths. (Petrie manages operations and works directly with clients, Beamer oversees production, and Ellis leads the creative direction.) "We realized quickly that our ideas were stronger collectively than they were individually," says Ellis. Adds Beamer: "We round each other out."
Inspired by the simplicity and clean lines of early-American and Shaker furniture; the minimalism of artists such as Donald Judd; and the colors, shapes, and structures found in the natural world, the trio design and handcraft refined, sophisticated furniture meant to last for generations.
In an industry long dominated by men, the women quickly proved that they belong and are here to stay. "It was always and continues to be important to us to make our products in America," says Beamer. "We are very conscious of the need to bring back manufacturing jobs."
Egg Collective
2014 design winner
Stephanie Beamer, Crystal Ellis, and Hillary Petrie
Brooklyn
eggcollective.com