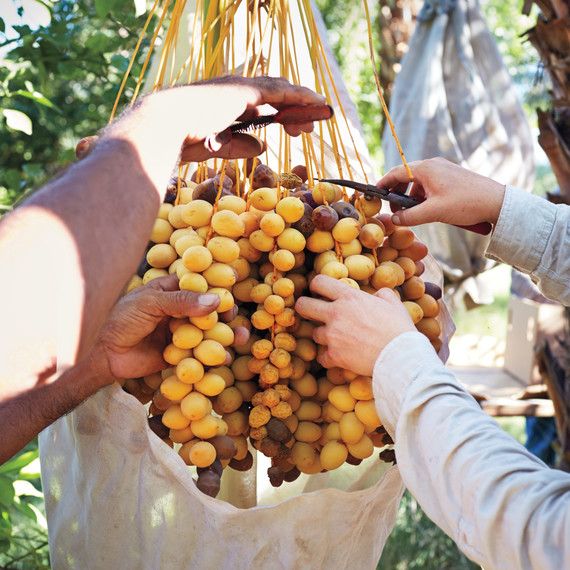 The dusty community of Thermal, California, southeast of Palm Springs, lives up to its name. Summer temperatures frequently top 110 degrees, and many years see readings above 120. It's an almost unbearably extreme climate for the area's scattered residents, but the scorching temperatures are ideal for growing the date palm. Known to botanists as Phoenix dactylifera, the date is one of our oldest crops, cultivated in the deserts of the Middle East and North Africa for as many as 6,000 years.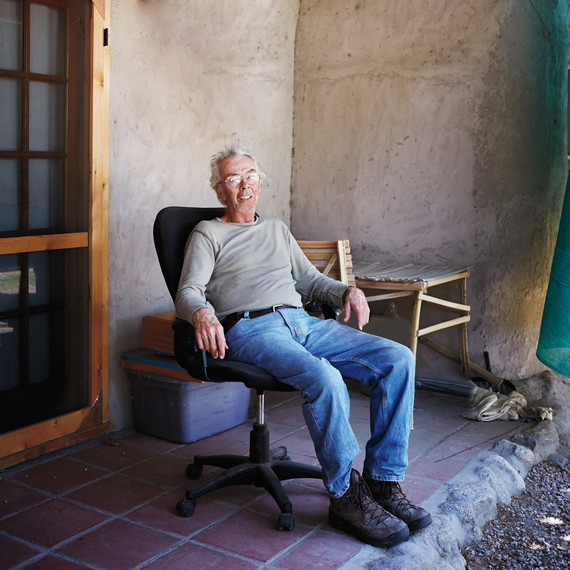 Renegade farmer Robert Lower first planted dates at his Flying Disc Ranch in Thermal in 1979, on what was then a patch of desert scrub 127 feet below sea level. With irrigation and care, he has transformed the 10-acre property into a lush agricultural oasis and a showcase for a radical farming style known as permaculture. Lower never tills his land, he recycles the farm's debris as compost, and he rejects all chemical fertilizers, pesticides, and herbicides. For more than three years, Flying Disc has also been "vegan," meaning that he stopped hauling in animal manures as part of his effort to minimize all "inputs" from outside the farm.
On a late-fall day when temperatures climb past 90 degrees at noon, daybreak at Flying Disc is sweater-cool and damp. Nearby conventional date groves look stark and rigidly aligned, with dusty ground between the trees. At Lower's property, however, there is verdant growth and pleasing disorder, framed by the palms' stately trunks, which rise from the deep grass underfoot like temple columns. Lower raises at least 16 varieties of dates, as well as citrus trees, figs, pomegranates, and aloe vera beneath the date palms' airy canopy. And everywhere he encourages wild edible greens such as purslane, mallow, and lamb's-quarters -- plants that conventional farmers would condemn as weeds. "When I first called myself a permaculturist, I did so on the basis of my noncultivation," explains the 68-year-old Lower. "I didn't break the soil. Now that has evolved into the idea of an edible landscape." Lower sells his other crops alongside his dates at farmers' markets in Los Angeles, Santa Barbara, and the Bay Area.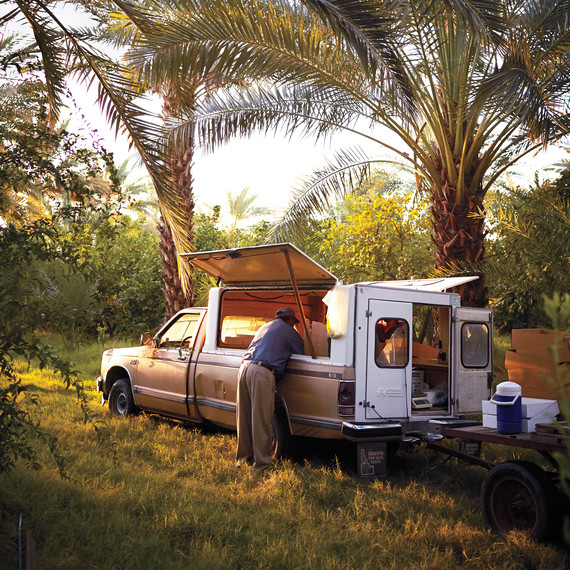 But the understory planting also creates a perfect ecosystem for the palms, which Lower considers just one species -- albeit the most important one -- in a thriving, balanced food forest. "The grass and greens are absorbing heat and emitting some moisture," he explains. "A little humidity will cool the overall temperature of the grove, and that's one of the things that makes our dates noticeably sweeter and plumper." In another sign of ecological health, Flying Disc is home to a rich variety of birds that devour insects and, in the case of visiting raptors and resident owls, help control destructive gophers.
Today, dates are enjoying a popular resurgence, thanks in part to their reputation as a healthier alternative sweetener to refined sugar, rich in minerals and fiber. But dates have a place in savory cooking too, especially in the popular Middle Eastern and Mediterranean cuisines, as well as in the raw-food movement. California restaurants including Chez Panisse regularly feature Flying Disc fruit, and Lower now ships nationwide by mail order.
See our Date Recipes
At this stage in his farming career, Lower continues to refine the idea of an "edible landscape." His lasting ambition is to demonstrate the viability of his idiosyncratic farming system to other desert growers. "A lot of my neighbors consider this place to be a weedy mess," Lower acknowledges patiently. But, he adds, the farmers who bother to get out of their trucks for a closer look are less dismissive after they've seen his date palms, loaded with hundreds of pounds of the fruit, and also his heavy citrus crop. For one grapefruit farmer, a visit to Flying Disc was life-changing. "He's recently gone organic," says Lower with a note of satisfaction, "so he's on his way to better times."