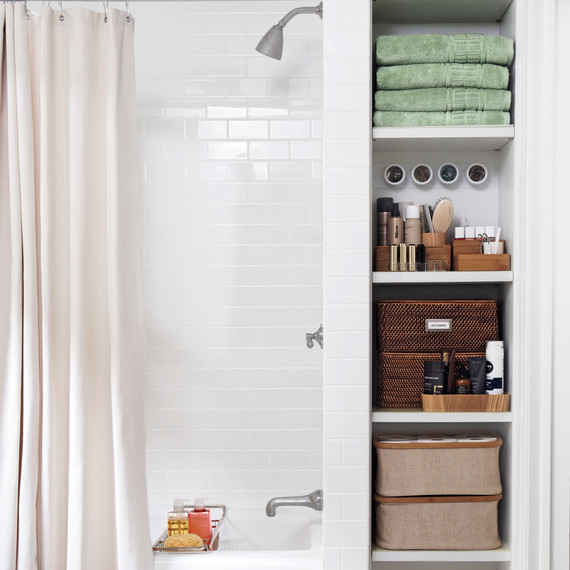 "Purge first," says Donna Smallin, author of Clear the Clutter, Find Happiness (Storey Publishing, 2014). "It's a lot easier to organize when you have less to work with." That means weeding out expired makeup and beauty products and getting rid of duplicates. In fact, you should be doing this once a month, says storage expert Jennifer Jones, who runs the website iHeart Organizing: "If there's no expiration date on a bottle, mark the date of purchase." As for bath towels, you really need only two for each member of the household -- this allows one to be in rotation while the other's being laundered. After you declutter, arrange what's left, "placing the products used most frequently on the shelves that are easiest to access," says Jones. If you're lacking storage opportunities, utilize vertical space (think wall cabinets and over-the-door shelves). Jones also suggests bringing in furniture pieces intended for other rooms. "Bookshelves, for instance, are narrow and work behind many bathroom doors."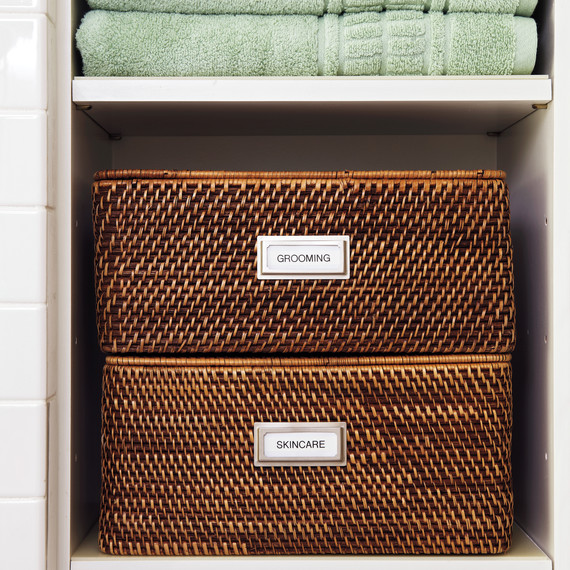 Baskets Are Better If You Can Stack Them
Two stackable containers are superior to a single large container, which can often end up looking like one big junk bin. If you want to be able to see exactly what's inside, consider clear plastic shoe boxes, says Smallin. "I like to put first-aid stuff in one, extra dental-care stuff in another."
Sedona lidded rectangular tote, $25, crateandbarrel.com.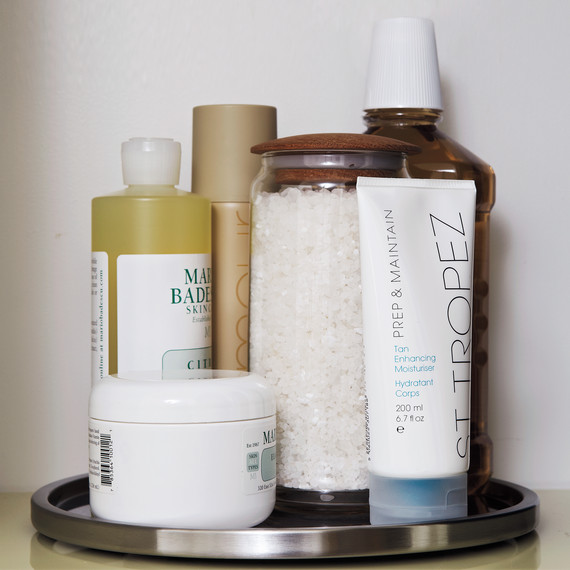 Take a Turntable for a Spin
That bottle of sunburn-soothing aloe you need only seasonally is likely sitting on a shelf in the back -- way back. With a turntable, you can easily nab it. "Lazy Susans are one of my favorite organizational tools," says Smallin. "They're great for high and deep shelves."
Single stainless-steel turntable, $20, containerstore.com.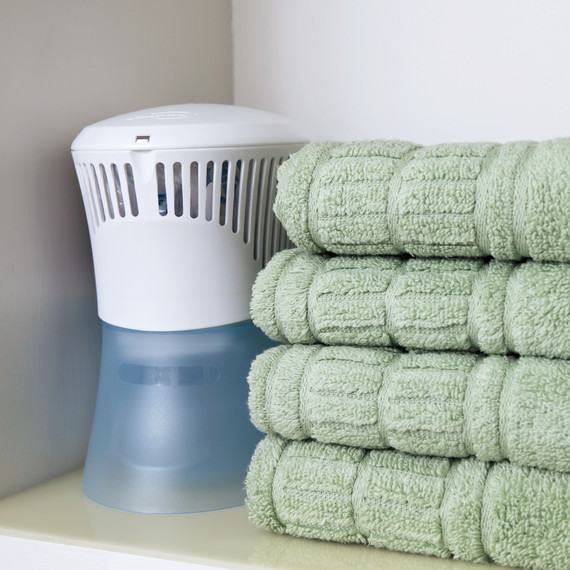 Acrylic Liners Make Cleanup Easy
Between lotions, potions, and other spill-prone liquids, bathroom shelves can get dirty fast. We lined each shelf with easy-to-clean cut-to-size sheets of Plexiglas. Another good idea for your shelves: a container of DampRid, which absorbs moisture in the air.
Plexiglas sheet, 1/8", in Ivory, from $3, estreetplastics.com
DampRid easy-fill system, $7.50 for 10.5 oz., homedepot.com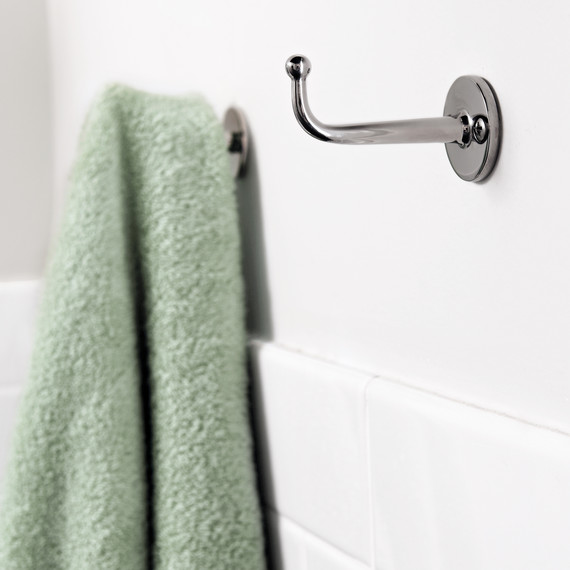 It's Easy to Get the Hang of It
"When it comes to bath towels, hooks are better than towel rods," Jones says. Harried grown-ups and forgetful kids alike are more likely to hang up their towels if they don't have to fold them first. Hooks also happen to be great space-savers.
FC polished stainless-steel ball-point hook, $9.50, simonsny.com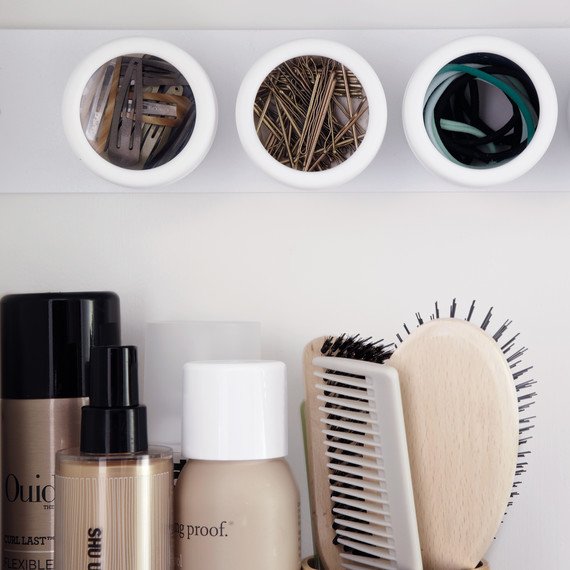 This Is a Stickup
Store odds and ends, like bobby pins, safety pins, and hair ties, in containers that cling to a wall-mounted magnetic strip. This one is on the back of a closet shelf, but you could also install one on the back of a door or on the inside of a medicine cabinet.
See & Store containers and strip, $13, containerstore.com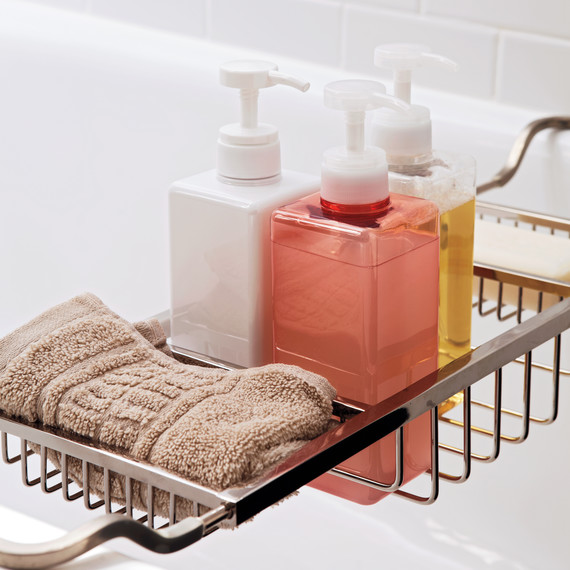 Good Things Come in Small Packages
Buying toiletries in bulk is a bargain. Problem is, that usually translates into unattractive oversize bottles. Decant shampoos, conditioners, and shower gels into stylish smaller containers instead for a sleek-looking bath area.
Essential adjustable bathtub rack, by Valsan, from $435, gracioushome.com
PET rectangular pump bottles, 400 ml, in Clear and White, $6 each, muji.us