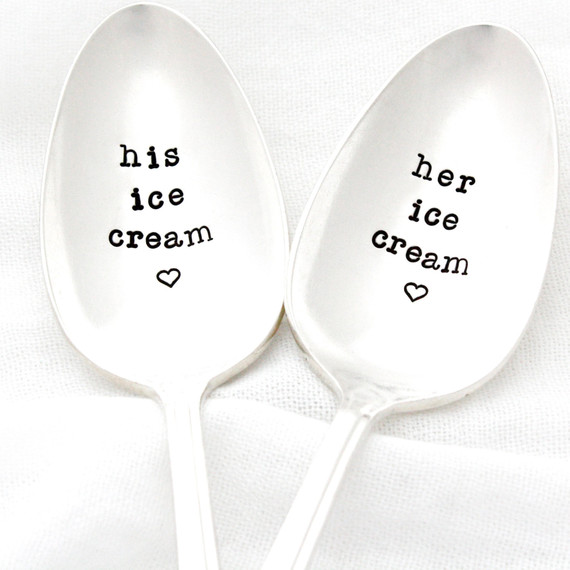 A FINE ROMANCE
"We fell for each other quickly and completely," remembers Ryan with a smile. The pair moved in together within a few weeks of their first date, and Ryan proposed after just four months. They were married before the year was up. "Everyone thought we were crazy, but we'd say that after 13 years of marriage, two beautiful children, and our very own company -- it looks like 'crazy' just might work for us."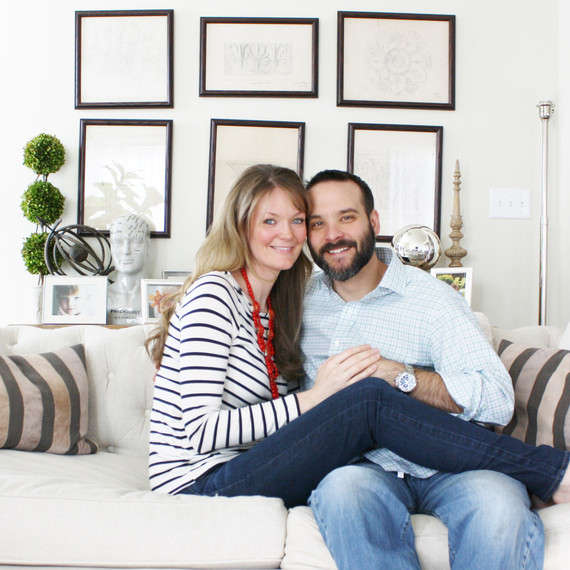 BECOMING PARTNERS
Sarah came up with the idea for Milk & Honey between studying for her degree and carpooling her kids. Looking for an activity to fill her spare time, and having plenty of creative talents at her disposal, she started by making sets of hand-stamped silverware. "So many of the phrases on our stamped silverware come from things Ryan and I actually say to each other, and I think that's why they resonate with other couples," she says of her best-selling pieces.
The couple began to seriously consider the possibility of working together when Sarah was gearing up for the holiday season in 2013. By that time, the business had grown so much that she was in dire need of help to stay on top of orders. Rather than bring a stranger into their home, Sarah and Ryan mutually decided that Ryan should join the business full-time.
"It just seemed like a good time to take a chance, and luckily, it all worked out," Ryan says of leaving his job to work with his wife. "At first, of course, the idea was scary. And it was certainly a risk. But now, I can't imagine working anywhere else."
From there, the rest is history. "I'll never forget that first week of working together, with our desks side by side," gushes Sarah. "We kept looking over at each other and grinning, saying over and over, 'Can you believe this is really happening?'"
Ryan's first action upon joining the company was to begin crafting a line of cutting boards, drawing from the woodworking skills his grandfather taught him. This was different from any other item the brand had previously offered, but the co-owners worked to keep things cohesive, and now, those boards are among the defining products of the brand.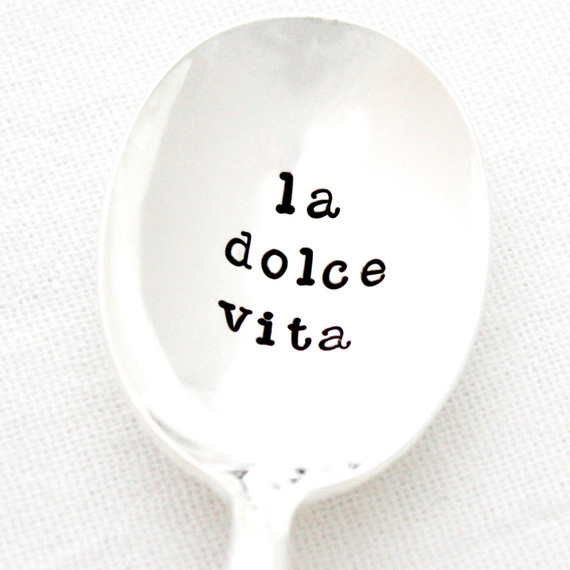 "I don't know that we have a particular philosophy for making it work, just like we don't have any rules for making our marriage work," Sarah says carefully. "The success in both happens organically, through hundreds of little daily decisions that we likely don't even realize we're making." Still, the couple tries to treat each other with the same love and respect at work as they do in their day-to-day family life. And they are quick to point out the value of their varied skill sets. "We have a lot of overlapping traits, but we also both have talents that are uniquely ours," says Ryan.
They often encourage each other to take on the tasks that will let their natural skills shine through: Ryan's ease with public speaking comes in handy when an important client calls, whereas Sarah loves to write and mull over words. It went without saying that, in addition to her production duties, she would handle the blog and social media posts.
REAPING THE BENEFITS
"We've become a perpetual 'think tank' of great ideas. Whether it's over a glass of wine after the kids go to bed, or while we're driving around in the car, Sarah and I are always able to bring up new, honest ideas about our goals for Milk & Honey." They're also able to add a sincere, personal touch to all of their products, a quality that is certainly appreciated by their massive list of clients and wholesale buyers. "The products we sell are all things that we'd use in our own home. For us, it's important to know how something will look after it's been used and washed several times."
As for the future: "Right now, we're working on an idea that will involve the entire family, help our garden and plants, and teach our children something new. All of this just might be incorporated into our business very soon," winks Ryan.
Shop Milk & Honey in the Martha Stewart American Made Market.