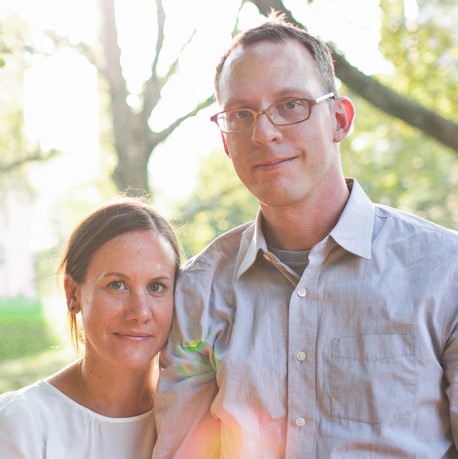 "We met at my birthday party when we were both getting our masters' in architecture at Columbia University," says Amy Stringer-Mowat, referring to her first meeting with her now-husband and AHeirloom business partner, Bill Mowat. "Bill walked by, wished me a simple and sweet 'happy birthday,' and, long story short, we've been collaborating as architecture partners ever since. You could say that our love story has been centered on long hours and late nights."
"I suppose I'm not romantic in the classic sense of the word," Bill says. Instead, it was his quiet thoughtfulness that appealed to Amy. When she lost her job in 2009 and was feeling unsure about her future, she came home after her very last day at the office to a full dinner spread -- as it turned out, that was just the tip of the iceberg.
Later, as she and Bill were walking by the park in front of their then-apartment in Fort Greene, Brooklyn, he got down on one knee in the same spot where Amy had first been dropped off nine years earlier to start her life in New York. She said yes, of course.
"From there, we set off to plan a wedding where we'd make almost all of the details, favors, and displays ourselves. That was important to us," says Amy of their highly personal, uber-chic nuptials. "I think our love story is reflected in the dedication we have to making our own work, always. That's why we can honestly say that our business has been a labor of love."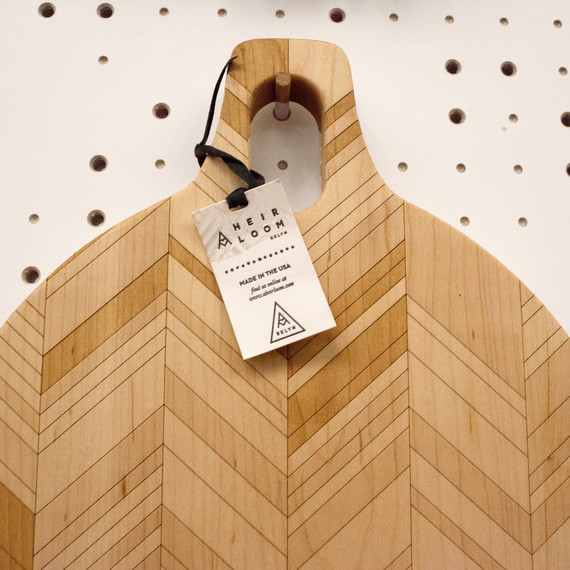 Building a Company
"The original boards were a last-minute project for our wedding in 2010," Amy explains about the genesis of AHeirloom's popular cutting boards. "We came up with the idea of crafting boards for our respective home states -- Michigan and Connecticut." Believe it or not, the groom actually finished his board on the day of the wedding -- with help from his best man.
After an inordinate amount of ooh-ing and aah-ing from their wedding guests, Amy and Bill decided they'd be foolish not to share their cutting board craft with the world. Thanks to rallying cries from family and friends, a fledgling Etsy shop, and a bit of elbow grease, AHeirloom finally opened for business.
During the 2011 holiday season, Amy and Bill began to experience the kind of volume that could sustain their family and finance new work, as online buyers clamored to lay claim to their home states. "I do think that kind of start has helped us to feel forever optimistic about what might be around the corner," says Amy. "And that's definitely been a treat."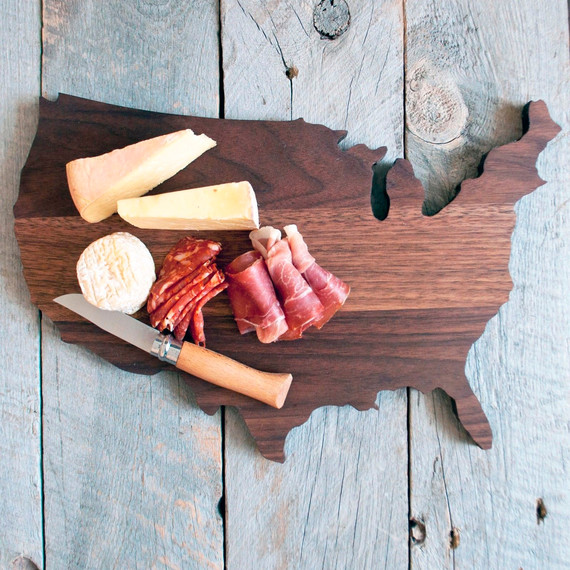 Their Secret
"Our personalities shine through equally in each of the final products," says Amy. "Bill is incredibly organized and very skilled with computers. Whereas, you know, I have an eye for design. I think my personal strength lies in looking at too many food blogs," she jokes.
Striking a Balance
Though they run AHeirloom together, you won't often find Bill and Amy working in the same space. While Amy mainly works from the company's office in the Brooklyn Navy Yard, Bill remains a partner in a Brooklyn-based digital fabrication company, where he works on larger-scale architectural projects. "We still collaborate and problem-solve for AHeirloom together," says Bill. "But not being together 24/7 certainly helps to keep us inspired and excited about the brand."
Their newest strategy for staying inspired, however, has more to do with balance. Nowadays, when the workday is done, the laptops are turned off. "Moving from a home office to a work space was a huge adjustment. It demanded way more flexibility in my schedule. But it was necessary," says Amy. "Our son, Henry, is 3 years old at this point. We feel that our work and passion is good for him to see and understand, but there must also be a time to unwind." 
Shop AHeirloom in the Martha Stewart American Made Market.