I am a vintage fabric junkie. I pick up pieces at every garage sale, estate sale, and thrift shop I go to -- and then I hoard them. This wasn't a problem until I realized they were taking over my sewing room.
I needed to find a purpose for all my vintage goodness. Luckily, my daughter, Lily, was ready for a new "big girl" bedroom, and her only request was that the room be very, very fancy. Sounded like a perfect fit! She picked out an adorable shabby-chic pink headboard from one of our favorite local shops, Plume. Then we dug through my fabric stash, chose her favorite patterns, and got to work.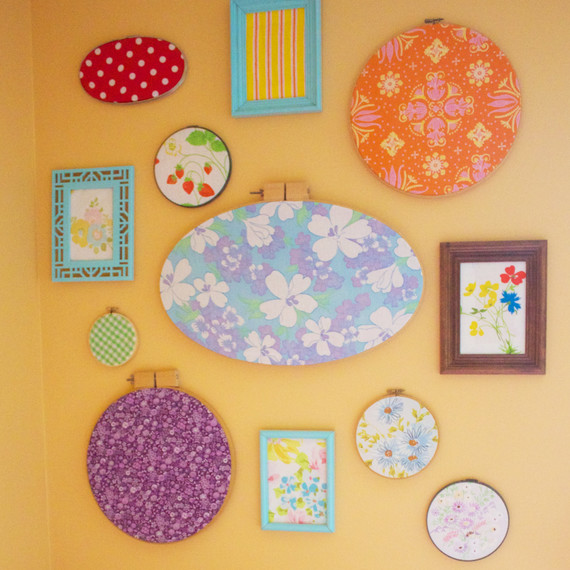 We decided to make some wall art out of scraps of vintage fabrics. This was the perfect project for using up scraps because it didn't matter what size the scrap was -- we could find a frame or hoop that was perfect for displaying it. If the piece was stained, we could just cut around it! The hoops and frames were also thrifted goodies, but you can buy them new at your local crafts store.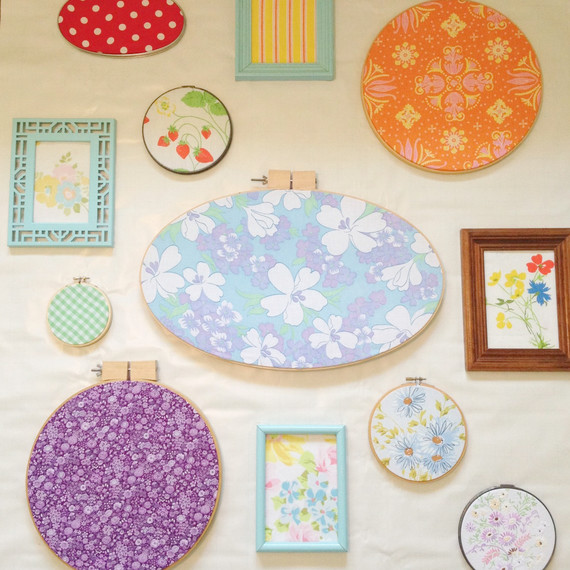 To make the wall hangings, I first put a piece of wrapping paper on the floor. Then Lily and I arranged our hoops and frames just how we wanted them, and then traced around each one. Then we put the wrapping paper up on the wall, hammered the nails in through the paper in the right spots, pulled off the paper, and hung our framed fabric. Simple, quick, fun to do with a 3-year-old, and "so absolutely perfect," says Lily.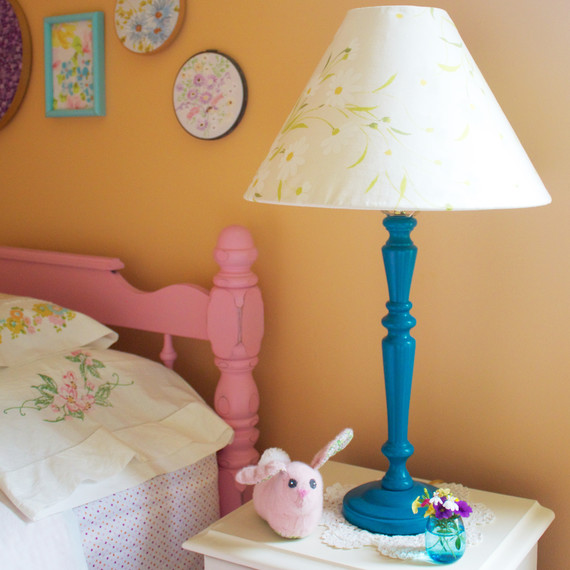 Next we decided to add some flair with a lampshade wrapped in vintage fabric. We found a pretty teal painted lamp at Salvation Army, but the shade was "definitely not fancy," according to Lily. I rolled the shade along some wrapping paper (the same piece we used for the wall art -- recycling, yay!) and traced as I went. I used this as my template for cutting the fabric, adding 1/2 inch all the way around to fold over the edge of the shade. I used fabric from some vintage daisy curtains -- it is one of my favorite finds to date and has inspired many projects. To attach the fabric to the shade, you can use a spray adhesive or a hot glue gun.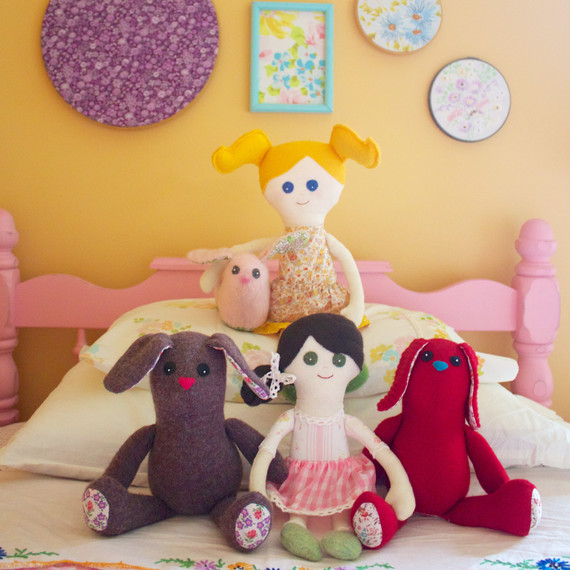 Lily is a pretty lucky girl with a mama who sews for a living, so she already had a collection of dolls and toys accented with fancy vintage fabric and notions to show off in her room. I love using vintage fabric as accents on the toys because it adds a bit of history to them. Even the smallest pieces can have a big impact. It also counts as recycling and gives me an excuse to collect more vintage goodies. 
You can find similar pieces in the Martha Stewart American Made Market. If you have fabric you would love to see incorporated into a Lily & Gus toy, contact me for a custom piece -- I'll help you make great use of your stash.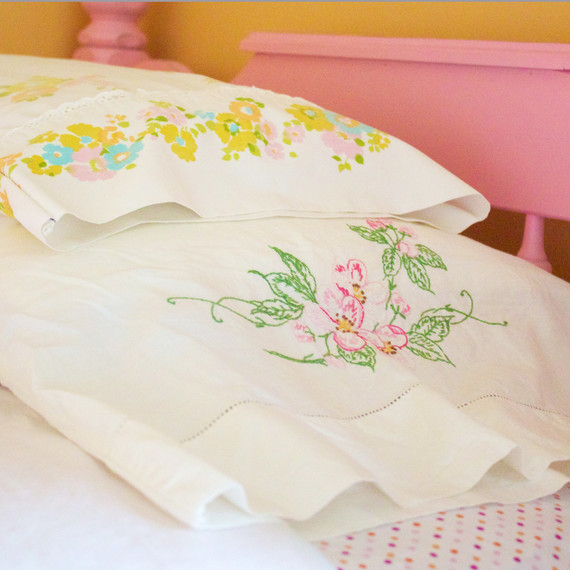 The last step to beautifying Lily's room was to choose the right bed linens to match the new decor. Our first project was to make a mini pillowcase for a small travel pillow we picked up at our local pharmacy. If you find a vintage pillowcase that you love but only part of it is in good shape, cut it down to make a pillowcase for a travel pillow. It's an easy, five-minute project if you can save the hem from the original pillow. It makes a great accent to any kids' room.
Sometimes when I'm collecting vintage fabrics I forget their most obvious use. Vintage linens can be used as ... linens! Before you cut up a pillowcase or sheet, take a look -- it may be perfect just as it is. Vintage twin sheets are especially easy to find, and they add a decidedly fancy touch to a little girl's bed.
Our vintage-fabric room makeover was a big hit with our fancy girl. We had so much fun with this inexpensive redo, and it has made Lily's room so cheerful -- we can't stop smiling!