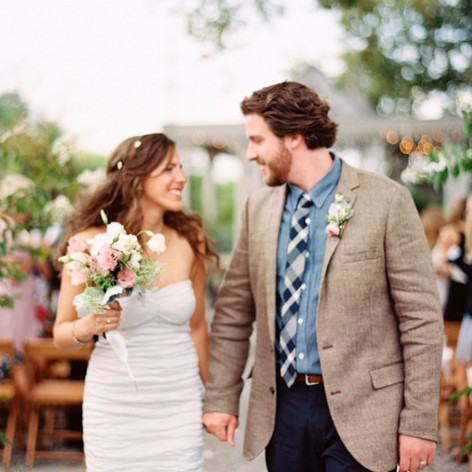 HEARTFELT BEGINNINGS
Courtney Apple and Bill Glaab met through mutual friends when they were both attending Hobart and William Smith Colleges in upstate New York. Once graduated, the pair moved to Philadelphia, where they reside today with their three large (and adorable) cats.
"Bill has always been an entrepreneur at heart, and I'm creative and detail-oriented. And we both wanted to do something to change the world. Working together was something we had talked about for a while, and it was only a matter of time before it actually happened," says Courtney.
Once the two decided to form a socially conscious business, the only thing left to do was find a truly meaningful cause. "We stumbled across an article on water-related fatality one day, and read that over 5 million children die each year from water-related illness. It's understood that many of those deaths -- in fact, almost all of them -- could be prevented with clean water and hand-washing." The couple knew immediately that this would be their calling.
Their company, Hand in Hand, began with one bar of soap and a simple business model: Buy a bar, give a bar. Partnering with worldwide child advocacy group My Neighbor's Children, Hand in Hand chose to donate one bar per bar sold to struggling orphanages in Haiti.
Courtney and Bill worked with manufacturers in Vermont to make the first bar of soap, beginning with just one scent: Orange Blossom. In 2013, the pair expanded to the six scents they sell today (Wildflower and Fern, Lavender, Orange Blossom, Rose Water, Sea Salt, and White Tea). They sourced several companies in Seattle and New York to make bath salts and candles for the company, and finally, in 2014, they were able to bring all manufacturing except for the bar soaps in-house to Philadelphia, where they continue to work today.
The new studio and warehouse are fun, creative spaces where all products are crafted and packaged in small batches. "When the warehouse is in full production mode, the air is filled with wonderful scents, funny stories, and lively music from the team," says Courtney. "Each product is lovingly made by hand, labeled, bottled, and packaged by our close-knit team of passionate makers. The studio next door, meanwhile, is flooded with creativity, new prototypes, sketches, et cetera."
Still, Courtney and Bill weren't only hoping to create a business that gave back, but also one that was environmentally and ethically responsible. They decided that all of their products would be made from sustainable resources. As it turned out, that wasn't just empty talk: Hand in Hand soaps are now officially certified by both the Natural Products Association and Fair Trade USA, and are biodegradable, vegan, cruelty free, palm-oil free, sustainably packaged, and sustainably shipped.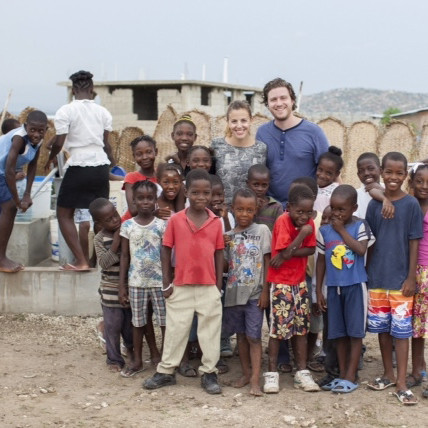 MAKING IT WORK, TOGETHER
The best advice the Hand in Hand owners can offer to those hoping to work with their significant other is to try to separate work life and home life, even when it seems impossible. "It's easier said than done, of course, especially in the early years when you're trying to grow your business," explains Bill. "But it's important to us to delegate a stopping time and put work aside so that we can enjoy each other's company as a couple."
The two also recognize that work will take less of a toll on their relationship if both partners remain emotionally connected to the business. For Courtney and Bill, putting their heart into their work was instinctive: "After our first soap drop in Haiti, our work became more than just a job -- it became a new way of life. There is nothing quite like seeing a child's eyes light up as they smell and touch their first bar of soap or taste fresh, clean water for the first time."
And for those looking to include family members in their work without actually involving them as direct business partners, the pair has a few ideas about that, too. "We've actually received so much help from our families," says Courtney. "So it's possible, of course, to unofficially include your loved ones in a burgeoning business. Try to highlight the skills of specific family members. Be thoughtful about how and why you need help, and who could best provide it without being overworked or feeling left out."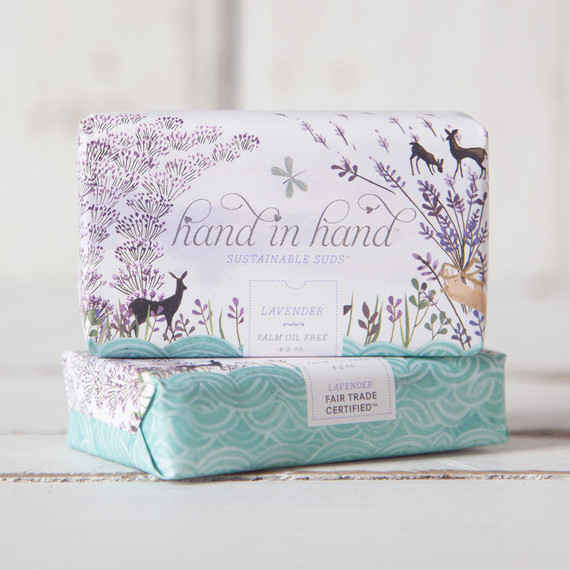 SHARING THE GOOD
"I don't think an outsider would know just by looking at our products that the business is couple-owned, but what matters is that we can see where each of our skills and talents have come into play," Courtney says with a smile. Between her artistic eye driving the packaging and graphics, and Bill's knack for sourcing the company's raw materials, the two love that they can see a piece of each of themselves in the final products. "We make a good business team because we balance each other out," says Courtney. "Working together can be challenging at times, sure. But the reward of sharing the good parts with my husband and best friend make it all worth it."
Shop Hand in Hand in the Martha Stewart American Made Market.