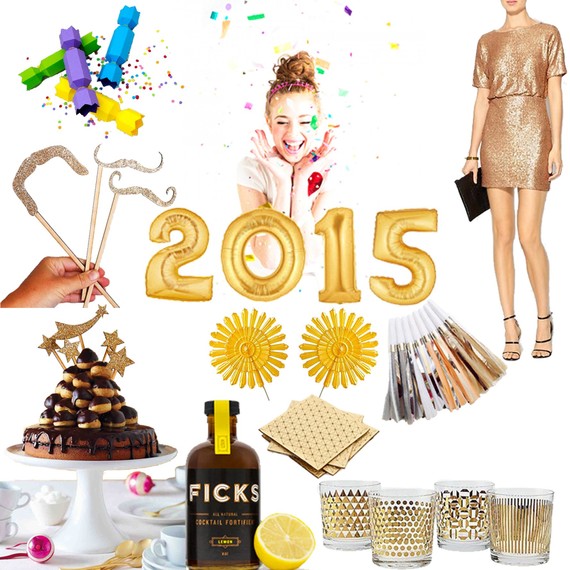 To get the party going, use party poppers! It's almost like creating your own sparkly indoor fireworks. To keep things fancy, customize store-bought poppers, or you can make your own with a little bit of help from DesignSponge.
Rather than choosing a boring old party hat, turn up the chic and get yourself a "Party Time" headband from Bando. They are the perfect accessory to any celebration.
Who doesn't love a pinata?! It's the perfect way to ring in a new year, especially if it's filled with well-curated treats. For this glittery party, you can't go wrong with one from Confetti System.
Planning a perfect party can be time-consuming, but don't forget your attire! Look the part with a sparkle-all-over dress from Ark & Co. Pro tip: Choose your outfit a week in advance so you don't end up with a last-minute wardrobe crisis!
Even if you don't have a full photo booth, photo props are always fun! Strike a pose with these glittery mustaches.
Balloons are an excellent way to turn up the fun and really make a statement. Go big with 16-inch gold number balloons! No matter how big or small your space is, these will really make an impact. 
Don't forget something sweet. Try this cake. It's perfect because your guests can choose between a nibble of a cream puff or an entire slice. But whatever you do, top it with a fun cake topper! 
Send your guests home with a memorable and equally beautiful sweet treat from Andie's Specialty Sweets. 
New Year's Eve is one of the few nights of the year when everyone is allowed to yell and make as much noise as possible. Give your guests a little extra help and turn up the volume with these metallic noisemakers. 
Nothing makes a party feel more special than a fully decked out refreshment table. Glitz up your bar with gold leather coasters from Molly M and tumblers from Green Wedding Shoes. Since you're probably in for some drinking, use Ficks as a mixer to fortify your body against the evils of the morning after. Filled with a combination of vitamins and electrolytes, this mixer will make you feel amazing, and it also happens to taste delicious!
Now that you have a whole arsenal of ideas for your fabulous party, start inviting your friends! And most importantly, have a happy new year!
Shop Madeline Trait's Products in the Martha Stewart American Made Market!