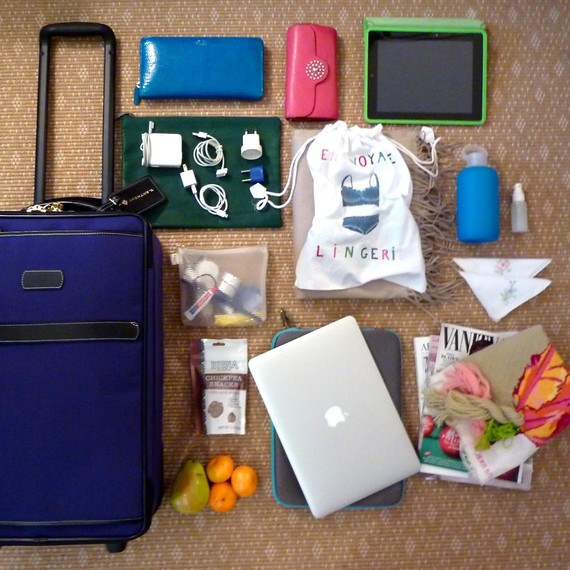 I've been travelling internationally since I was 2 months old, specifically for nonstop periods of 12 to 18 hours, so I completely understand that overnight travel can be more than daunting. Here are some of the necessary items to bring with you to keep you occupied, hydrated, relaxed, and comfortable during the most uncomfortable hour(s).
Wheeled carry-on luggage: I was forever against pulling a wheeled carry-on bag (for fear of fashion faux pas), but I have come to embrace it in a Mary Poppins way. Traveling long distances requires a lot of stuff, and to save the stress on your back, I recommend investing in a sturdy, regulation-size bag.
Passport: I keep my passport in a leather case that also holds my itinerary, additional tickets, airline frequent flier cards, and emergency cash.
Reusable water bottle and a few healthy snacks: I am a conservationist and am proud to bring a reusable water bottle when I travel. (Make sure it is empty before going through security!) Buying water at an airport is like buying gold, so I always bring a bottle of my own. Long flights can sometimes feel like they are never-ending, so I always bring a few healthy snacks with me -- an apple, some nuts, or a granola bar.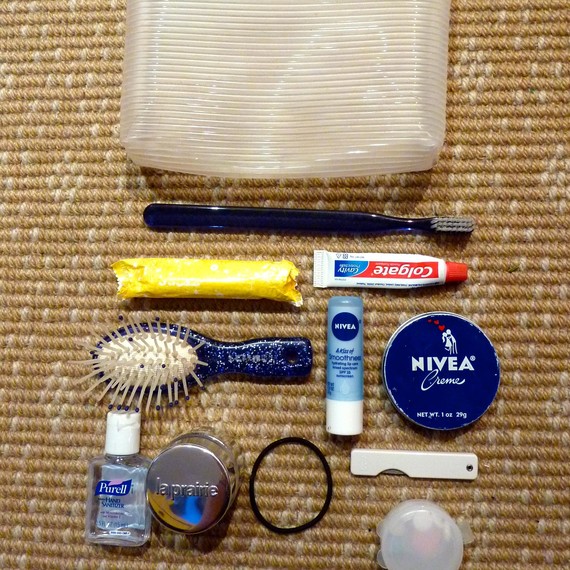 Condensed toiletry case: lip balm, hand and face cream, tissues, toothbrush, Advil, melatonin. Your face gets so dehydrated when you are flying, so I recommend to constantly apply face cream. Because you'll be washing your hands often (to clean off germs), you will need to rehydrate them with a thick hand balm.
Natural cleaning spray: A recent study found that airplane tray tables and armrests are one of the dirtiest places (eek!). So I always bring a small can of natural cleaning spray and wipes to sanitize my personal space. Martha Stewart has a phenomenal recipe, which I make constantly, keeping the mixture in my handbag at all times.
Socks, scarf, and an extra pair of undies: Airplanes get really cold, and the trick is to keep your feet warm. I always bring a pair or warm wool socks (even when traveling during the summer months or to the tropics) to keep my tootsies toastie. Bringing a scarf is also very important, as it can double as a blanket if the polyester versions do not suffice. I also bring an extra pair of undies, especially if I have a layover. I was once stuck at JFK for over 15 hours when there was a huge snowstorm in New York, and wished I had a spare pair! 
Entertainment: laptop computer, book, magazines, needlepoint
Chargers: computer cords, cell phone chargers, etc. You need to be prepared in the event that you have any unexpected changes. Bring plug converter for international travel!