Nothing says "I'm sweet on you" quite like a box of chocolates. When you want to say it with an extra measure of heart and style, consider the package as well as what's inside. Our ideas turn simple homemade goodies into personalized gifts, just right for your sweetie, your friends, or every kid in the class.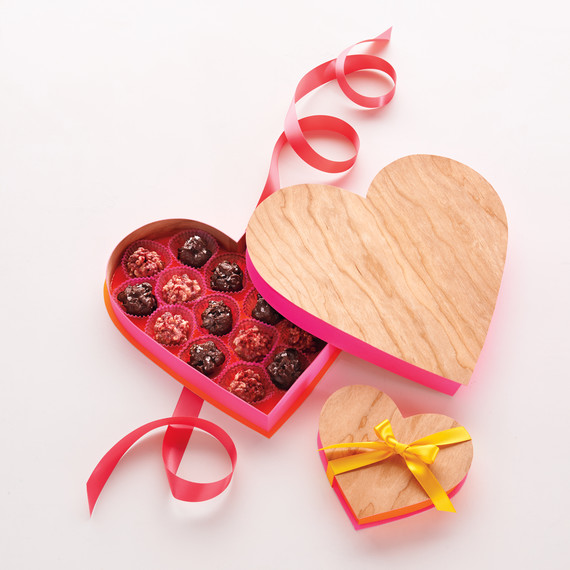 Have a Heart
Skip the doilies and ruffles this year -- instead, give a wood-grain chocolate box that's chic and sweet. You can make the whole gift from scratch, fashioning the package from poster board, topping it with stick-on veneer, and filling it with bonbons tucked into mini baking cups. Or cover a store-bought box with the veneer. The white chocolate-raspberry clusters get their delicious crackle from crisp-rice cereal, while the rum-raisin variety relies on cornflakes for its satisfying crunch.
Get the White Chocolate-Raspberry Clusters Recipe
Get the Rum-Raisin Clusters Recipe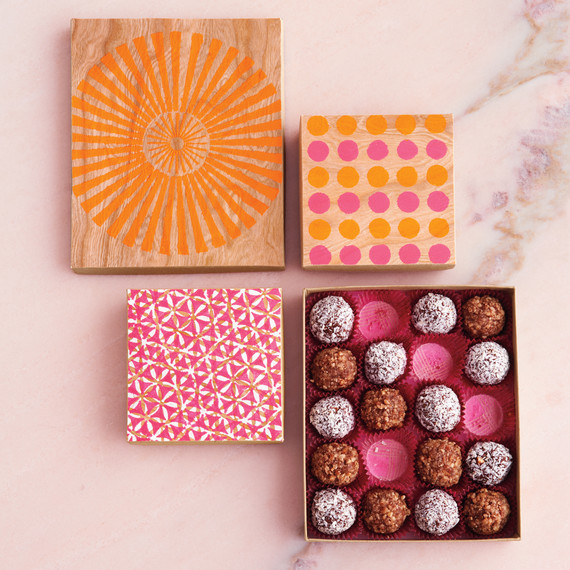 Hip to Be Square
Adorned with graphic designs in neon pink and orange, these boxes can be used and displayed well after the holiday. Stencil the patterns onto veneer and use it to top shallow cardboard boxes (the kind usually used for gifts of jewelry). Then fill them with chocolate-hazelnut balls encrusted with coconut flakes, pecan balls spiced with cloves and spiked with cognac, or both!
Get the Chocolate-Hazelnut Snowballs Recipe
Get the Boozy Pecan Balls Recipe