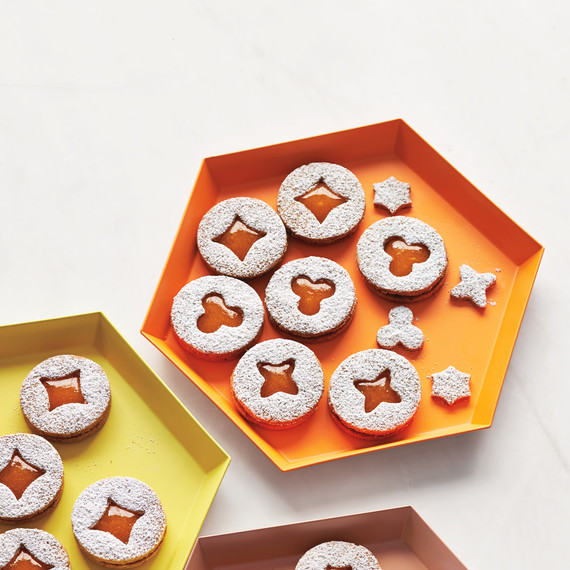 Making gifts to give, rather than buying gifts for our numerous relatives and friends, was always the preference in our family. The boys would be busy in the basement workroom, where Dad kept his tools, jigsawing or carving or whittling or gluing. The girls would be in the kitchen, at the table or at the counters, mixing doughs to exact measurements, chopping candied fruits, cracking nuts and extracting the meat from the shells, or stirring icings and decorating finished baked goods.
We would bake hundreds of many kinds of cookies, and Mother would make dozens of cakes -- babkas, fruitcakes, and stollen. We would package presents in cellophane or recycled tins or paper boxes, and then wrap them in festive papers and ribbons and with bits and pieces of holly and evergreen from the backyard. We all enjoyed the art of gift making and giving, and I especially loved the delivery of the gifts to all the recipients, who really seemed to enjoy receiving presents that were homemade and handcrafted.
I and my daughter, Alexis, still continue this tradition, deciding every year what we will devise and create and how we will package, wrap, and pack -- and, even more important, deliver those handmade gifts.
Long ago, when I was working on my first book, "Entertaining," I started the "plum pudding" tradition: During the summer and autumn, I'd search for the appropriate bowls in which to make the puddings. One year I had a local potter make special bowls in several sizes for the dark, fruit-laden puddings; other years I found just the right bowls in England, Germany, or France -- they withstood the high temperatures of the steam pots and ovens in which the puddings were cooked. For the first year or so, I wrote all the labels by hand, including instructions for resteaming and the recipe for hard sauce with brandy. It then occurred to me to create a label that would be elegant and informative, and to have it printed, in color, at the local copy shop. I still use that same label whenever I make plum puddings to give away.
I have also baked many, many different fruitcakes for gifts, the most popular being those made from Mr. Maus's old German recipe. When we originally baked those cakes, Mother and I used whatever containers we had collected during the year -- old, wide coffee cans were best, just the right size. Later on, I baked the same recipe in beautiful, shapely kugel molds; after I turned them out, I studded the tops with perfect candied cherries and apricots and dates, and covered them with apricot-jam glaze.
One year I made more than one hundred panettones, the rich, yeasty, eggy, fruit-studded cake famous in Italy. I baked them as I had seen done in Sicily, in brown paper bags, and they were immensely popular. Delivered to my friends a few days before Christmas, they provided an unassuming but elegant dessert when everyone needed sustenance, after shopping sprees and during gift-wrapping sessions.
And cookies, cookies, cookies -- we love to bake cookies. Once an assembly line is established, hundreds of cookies in many flavors and sizes can be made easily and efficiently. These simple gifts are not time-consuming, and it is always such a pleasure to see my friends enjoying what I make for them.
Alexis starts her presents much earlier than I -- in fall, when she gets boxes ready for her gifts of homemade candy. I called her one autumn evening, and she was quilling decorations for the tops of wooden boxes she had found on the Internet. These charming containers for her handmade caramels and licorices will be as beautiful empty as they are delicious full.
My gifts for this year? Well, I'm toying with the idea of flavorful pates prepared in French molds, with homemade melba toasts and jars of home-pickled cornichons from the summer garden. Or maybe I'll revert to last year's very popular present -- homemade brioche bread puddings with sour lemon sauce.
If any of you has a special suggestion for next year's gifts, I'd love to hear from you. Happy holidays.