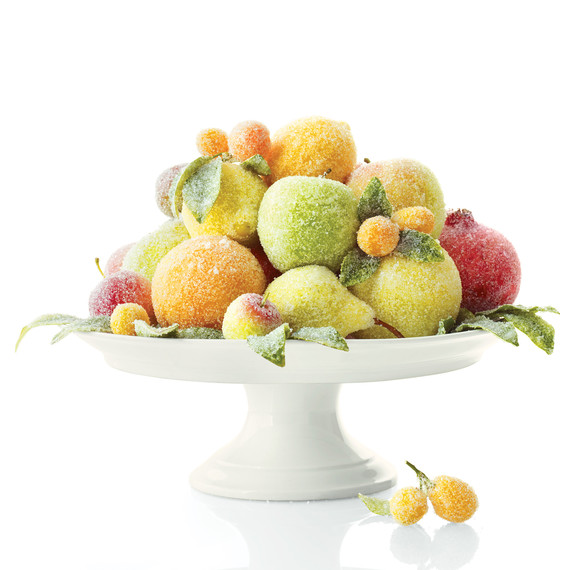 When I was a child I was given a cookbook filled with recipes appropriate for a youngster of eight. That at least was what the book said. Included, however, were instructions for flipping crepes in hot skillets, beating batters with electric hand mixers, and heating sugar to the hard-ball stage (250 degrees) to make candies. My mother obviously was not too concerned with my dexterity since she gave me, from a very early age, complete freedom in her kitchen in our home in Nutley. It was nice to be trusted, and it encouraged me to experiment and create freely.
I loved that first cookbook. It was large, it had funny sketchlike drawings, and every recipe in it worked. Although the recipes were pretty simple, there were no shortcuts and no substitution of good ingredients with artificial. My favorite recipe was for hard butterscotch candy, made from caramelized sugar, cornstarch, cream, and butter. To me, the result was better than any store-bought butterscotch, even the famous foil-wrapped rectangles of Callard & Bowser candy that we could buy at the local candy stores.
For holidays, after we had made all the cookies, fruitcakes, and puddings that we needed for our entertaining and gifts, we would make a selection of unusual confections and candies. We all enjoyed the candy making because it was a special treat and because the results were so enjoyed by everyone who tasted the delectables. My mother's penuche, which was very similar to southern pralines, but cut in squares instead of formed into patties, was highly prized. She used freshly shelled South Carolina pecans that Uncle Hank sent. Aunt Clem always made peanut brittle, which was sweet as well as salty because she favored salty Georgia peanuts. I made dozens of caramels and butterscotches, which I wrapped in waxed paper and packed into metal cookie tins (actually, pretzels came in these tins), which I hand-painted with images of garden flowers.
We consumed very little chocolate -- I think in those days chocolate was very costly, and imported chocolate wasn't readily available. There was, of course, the popular Hershey brand in the grocery store, and we melted chocolate in a double boiler for fudge and frostings and puddings. At Christmas we all craved chocolate coins wrapped in foil, and these were provided by an old-fashioned ice-cream parlor and candy shop called Morris's. At holiday time, this lovely store hand-dipped all of its candies. We children were in the habit of going there to gaze through the window into the candy-making kitchen to watch the complex processes being performed in the creation of our town's candy. I got very interested in this art and asked a lot of questions and got lots of good answers about chocolate, candy making, and technical stuff like tempering and metal molds. The Morris family was always busy making fantasies that everyone could enjoy.
Candy making continued to hold a great fascination for me as I grew older and traveled to different cities in the United States and around the world. On visits to Atlantic City I observed the ladies in pink-and-white-striped dresses kneading and pulling real saltwater taffy on the boardwalk. In Louisiana I tasted real pralines made from local sugar and farm-fresh cream and nuts, and vowed to perfect my attempts at making these tender candies. In Sicily, in the dark and foreboding city of Catania, I saw to my amazement the intricate and delicious marzipan creations of the master sculptors of the ground almond. And in Paris, on frequent forays to Fauchon, I tasted the sugarplums that are so honored in Tchaikovsky's "The Nutcracker."
I'll continue to make confections -- I hope someday to learn the art of blown sugar so I can make pears and apples and other fruits and objects that resemble Venetian glass. I also dream about making striped and dotted and pulled candy that can be snipped and cut into odd shapes. These techniques will take working with masters, but that for me is what learning is all about. And to be able to create the visions that inspired composers, writers, and artists is something we all can aspire to, even if the results are only for our own pleasure and consumption.