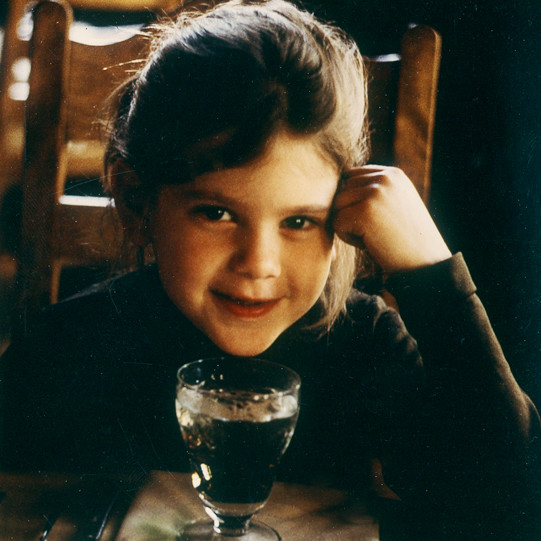 When Alexis was only a month old, we found our country house in a remote section of the Berkshire Mountains in Middlefield, Massachusetts. We had allotted a very small budget to the purchase of a weekend place, a refuge from New York City where I could garden, Andy could build, and Alexis, our only child, could grow and thrive in the pure mountain air.
We bought a one-room schoolhouse on Clark Wright Road that had had three small rooms added to it over the years. The house had no bathroom and no running water, only a rain barrel under the leader from the roof gutter and plenty of ice-cold mountain water from a stream about a quartermile away. We took turns, Andy and I, lugging water in large pails from the stream to cook with, wash up with, and drink. It was always a pleasure to be there in warm weather, but it was in winter that the place took on a special charm. Covered with more than three feet of bright, white snow, Middlefield snuggled into a long, intensely cold winter. For Alexis's fourth Christmas we decided to attempt a holiday with no relatives, no heat, and no frills. Perhaps this is why it remains, in both my and Alexis's memories, one of our happiest times together.
We arrived in Middlefield three days before Christmas. When we got there, the house was bitterly cold inside. We lit a fire in the fireplace, the potbellied stove, and the Glenwood cook range. I placed two electric blankets in the bedroom, one on Alexis's iron twin bed, and one on our queen-size bed. We wrapped Alexis in down quilts, and she read her books next to the blazing stove. After a cozy dinner we went to bed early with the sunset.
The next day we went to the woods to cut down a tree. A fresh blanket of snow had fallen and it was hard to walk. Little Bear, our silver keeshond, struggled, and Alexis kept falling and laughing, the snow in places deeper than she was tall. We found a perfect tree, a fir covered with its own small pinecones, and sawed it down and dragged it back to the cottage. We stood it in our living room and decorated it with homemade ornaments -- cookies, paper chains, strings of cranberries, popcorn, and pinecones, and origami creations that Alexis and I made from colorful papers Andy had brought from Japan. While we worked, we listened to National Public Radio from Amherst on our old console radio. They played music by Bach and Handel and readings from great writers like Dickens, O. Henry, and Hans Christian Andersen. We laughed and talked and finished the tree, thinking it was the most beautiful thing we had ever seen. It smelled so good and fresh, I remember it as if it were yesterday.
Alexis was a very thoughtful child, and buying gifts for her was not difficult. I searched the bookstores for books that I had loved as a child, or ones that seemed perfect to me for that time. I read aloud to her a lot, so some of the books were ones that could be read aloud and understood then, and saved for perusal later on when she could handle all the words herself. We opened our presents on Christmas Eve, after we had eaten a country dinner cooked entirely on the wood-burning range. We had roast duck, sweet potatoes, and apple tart. The pastry, the skin of the duck, the caramelized flesh of the potatoes -- I remember it as if it were yesterday.
On Christmas morning we strapped on our cross-country skis and followed Andy's freshly cut trail into the hollow. We skied all the way to Glendale Falls, then found our way home and ate a big breakfast of pancakes, local maple syrup, and bacon. The Christmas ham was in the oven, and the plum pudding was steaming atop the stove. Our friends from the village arrived to have Christmas dinner with us. Their two children, Anna and Bo, played with Alexis and exchanged presents and told each other stories of the woods and winter. After frolicking outside until they were almost frozen, the children wrapped themselves up in blankets and whispered by the fire.
I remember it as if it were yesterday.