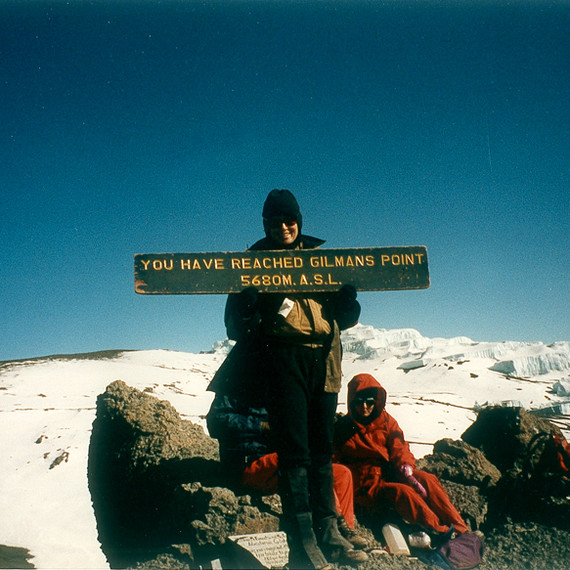 The most important lesson I learned from my parents was drilled into my head on a regular basis: "Work hard, try hard, and most of your goals will be realized. Don't limit yourself." This advice not only helped me develop a sense of self-worth and self-confidence, but also reinforced my belief that excellence could be achieved in many endeavors.
Years later, these exhortations still remain in my head. They've helped me in business and gotten me over obstacles that seemed at times insurmountable. "Don't limit yourself" got me through a heart-rending marriage dissolution by enabling me to gather strength to guide my child into womanhood, start a new business, and maintain an orderly and lovely home and garden. "Don't limit yourself" has also allowed me to test my abilities in areas where I would not have ventured were it not for the sense of adventure and challenge such strong words evoke.
Thus I signed up for a trek up Africa's tallest mountain, Mount Kilimanjaro, an imposing, freestanding peak jutting to a height of 19,340 feet. I was told it would be like taking an extended hike at high altitude. Nothing was said to imply how truly difficult the climb might be, nor was I advised to do any special physical preparation. Two weeks before departure, I received a fax listing special equipment necessary for the "hike": crampons, hard snow boots, poles, Gore-Tex clothing, snow goggles, miner's lamps for the final ascent, and subzero sleeping bags. All of a sudden it struck me that this "trek" was serious stuff. I got on the treadmill for an hour every day, got on the Stair Master for 30 minutes daily, and began researching altitude sickness. After a climber friend told me I would never make it through the last two days because I would not be acclimated to the altitude, I started to become nervous. Since I've never been nervous about a vacation before in my life, I remembered Dad's encouragement and decided to regard the climb as a challenge that could be met with success and enjoyment.
My friends Sharon Patrick and Sharon Hoge and I met at Kennedy Airport and flew to Kilimanjaro, where we were met at the airport by our climbing mentor, Sandy Pittman. Sandy is the true American adventuress, and it was she who invited us to Africa to trek with her in a portion of her "seven peaks" (the highest peak on each continent) quest. With 10 porters and two guides, we began our "walk" the next day. First day: five hours from Marangu Gate to Mandara hut (8,856 feet) at the upper edge of the forest. After cold sponge baths at the communal sink and a smoky-tasting supper, we bedded down on wooden bunks with 18 other would-be mountain climbers. Second day: five or six hours to Horombo hut (12,500 feet). We began to feel the effects of thin air, which made us nauseous and gave us slight headaches. The food was inedible, so we decided to cook. Fresh vegetable soup, chicken risotto, and tomato salad were big hits, and there were no leftovers. Third day: Climbed Mawenzi (16,890 feet), then returned to Horombo to sleep. Macaroni and cheese and steamed string beans gave us energy for the fourth-day climb to Kibo hut (15,500 feet), across a barren plain known as the Saddle.
At 1 o'clock on the morning of the fifth day, we dressed and began the final ascent, lighting the way with miner's lamps shining from our foreheads. By 7:30 a.m., we'd reached the first summit, Gillman's Point -- 18,635 feet -- and two and a half hours later, the Uhuru Peak, at 19,340 feet. We were exhausted but exhilarated, relieved, and totally incredulous that we had attempted such a feat. Outside of childbirth, it was the hardest thing I'd ever done. But as I stood there at the summit, it reminded me that living with limitations can indeed be stifling and confining. Mom and Dad were right.