To say that Martha Stewart has made many gingerbread houses would be an understatement. For her first book, "Entertaining," she created a gingerbread mansion, and since then there have been cottages, townhouses, and more.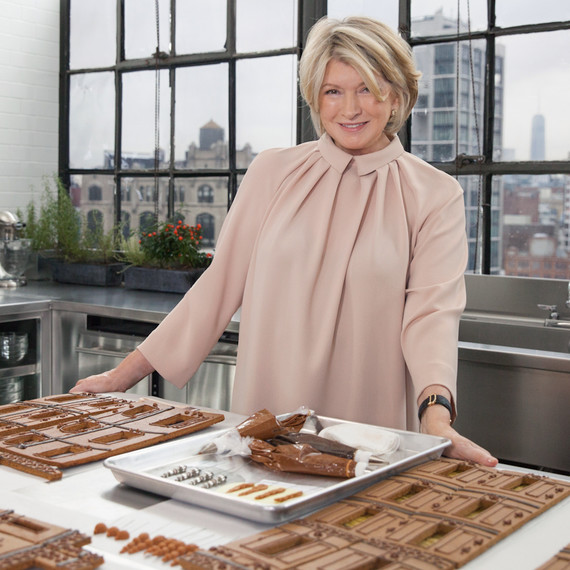 This year, the PBS network asked her to take on a significant gingerbread construction that you might recognize: a version of the grand home of the Grantham family from the Masterpiece series "Downton Abbey."


Martha and her team, led by pastry chef and food stylist Jason Schreiber, made 11 batches of gingerbread and used 16 cups of royal icing. Several pounds of sugar went into the caramel for the 65 'glass' windows that adorn the structure.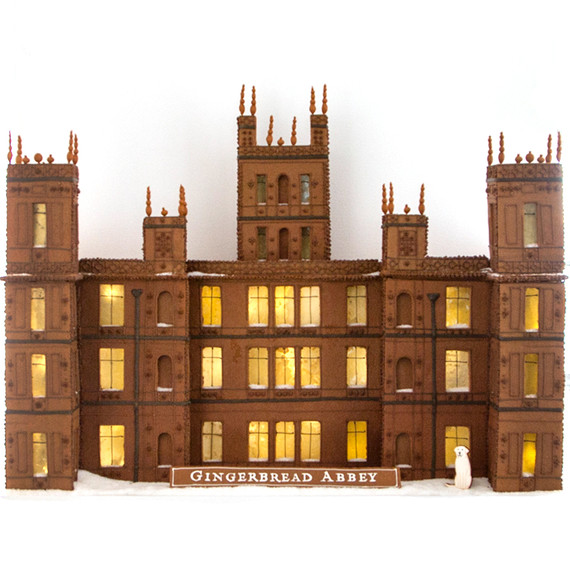 It took many hours to create, but we're sure you'll agree the results are worth it: Gingerbread Abbey is stunning. It's a sizable construction -- 48 inches wide, 11 inches deep, and 28 inches high. But believe it or not, Martha says this isn't the largest gingerbread project she's made; that honor goes to a Baroque church she made a few years ago.
The abbey, though, has a special place in her heart; Martha is a fan of "Downton Abbey" and has studied Highclere Castle, the stately home that becomes Downton Abbey for the series. "It's in the Anglo-Italianate style," she explains. While the actual house, Martha says, is made of "Bath stone, lots of lead, and finials," our version has a gingerbread facade, royal icing in place of lead (much tastier), and gum paste finials.


Here's how this amazing project came together: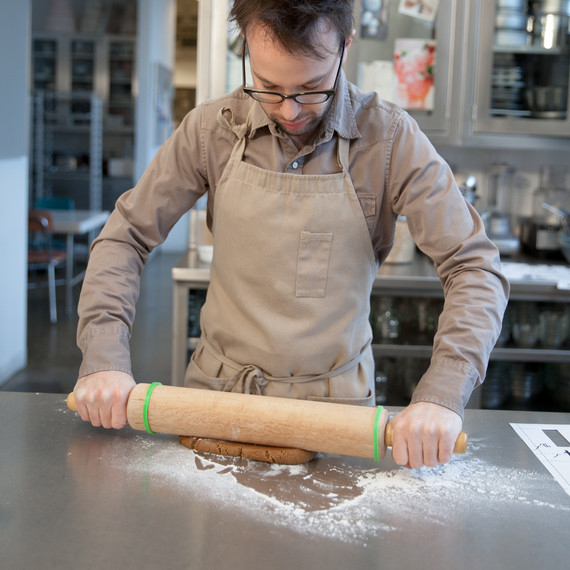 The first step, of course, was making the gingerbread dough. Then came rolling it out: Rubber bands on each end of the rolling pin help measure the size each piece of dough should be (an extra 3/4 inch larger than the template so the piece can be trimmed after baking for a crisp edge). Then the dough was chilled.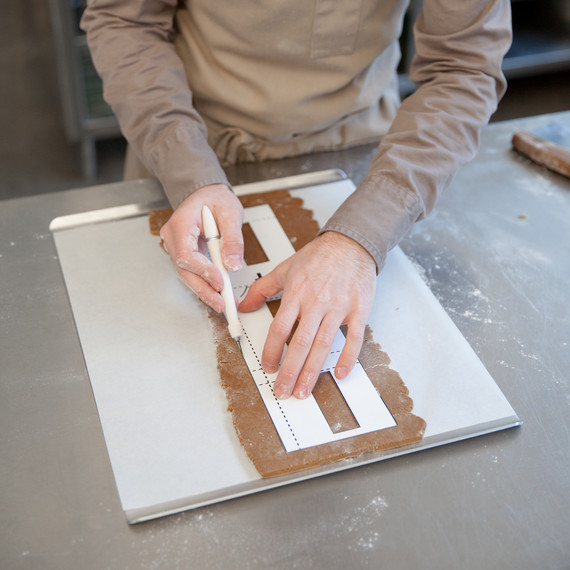 Using a craft knife, the template was traced into the rolled-out dough piece. Then the dough was baked and cooled.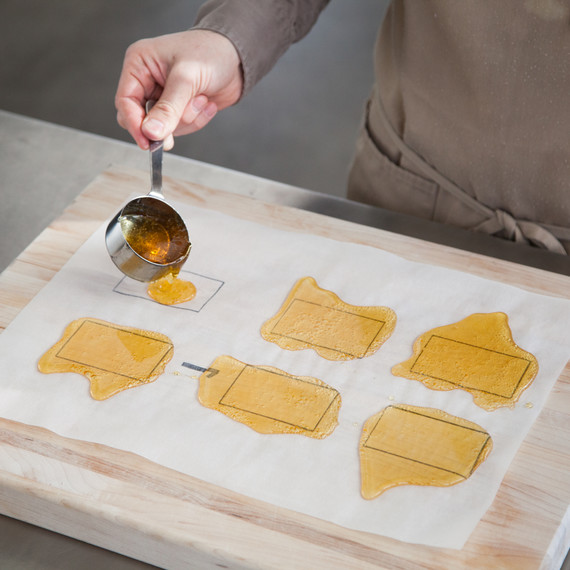 While the dough was cooling, the caramel was made, cooled slightly to thicken, and poured onto window shapes marked out on sheets of parchment.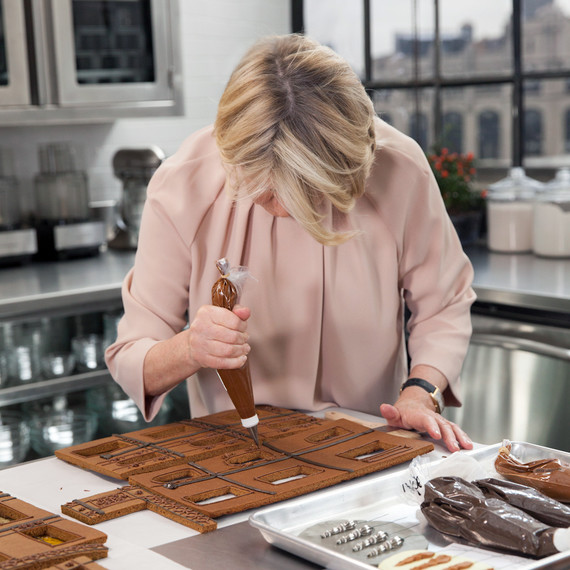 There was a lot of piping. Royal icing was tinted two shades of brown: one to match the gingerbread and one a shade darker. Then the icing was piped in the darker shade to delineate floors and other important sections of the abbey, as well as for drainpipes. The lighter shade, which Martha is piping here, was used for detailing -- including the rosettes around windows.
Once cooled, each caramel window was piped with royal icing "glue"; then the template was lowered onto the windows.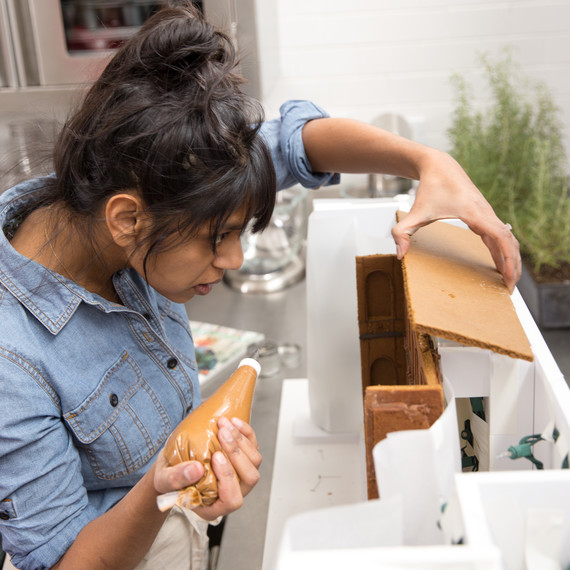 The team used a lot more royal icing to glue the sections together.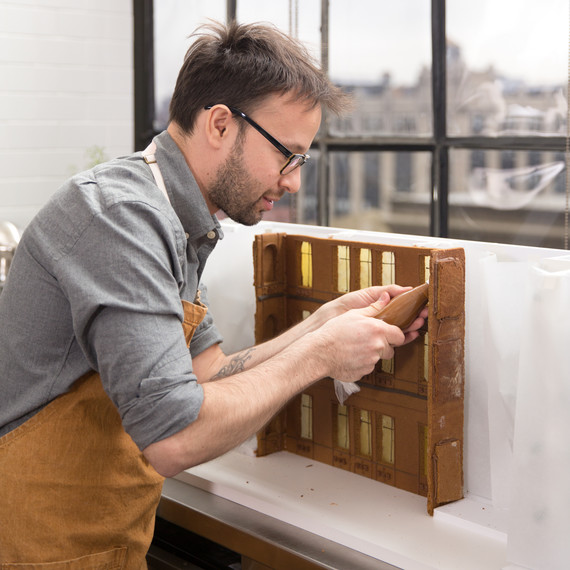 The gingerbread abbey is supported by a foam board armature that design director Anduin Haven created. She installed Christmas lights and wrapped the armature in parchment paper to diffuse the light.
A final step was adding the finials.