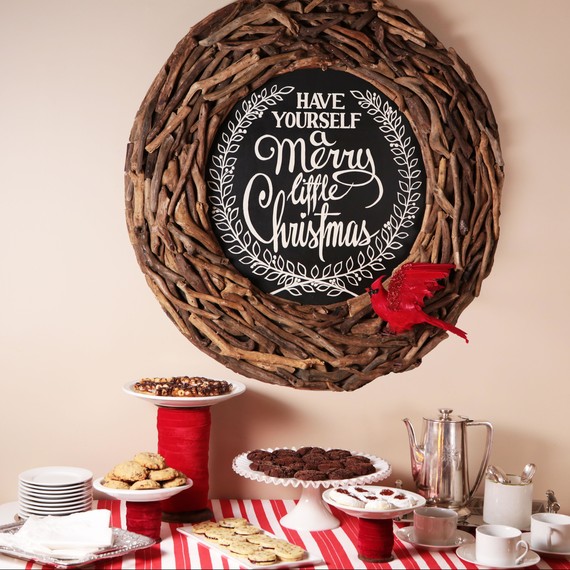 When I was growing up, we would have a dessert table overflowing with cookies every Christmas. This year I was inspired to take that table to the next level by creating a "cookie bar."
To make this feel like a real bar, I used a collapsible table that has three height options and brought it all the way to counter height. This table is a great thing to have when you need extra space for entertaining.
I dug out my perfect candy-cane-inspired red-and-white striped tablecloth and -- though I don't usually change my art for the seasons -- this "Have Yourself a Merry Little Christmas" sign. The little red bird ties the whole thing together, right?
Living in a New York apartment makes you get creative about reusing things you already have. To create easy cake plates, I just placed everyday white plates on top of spools of red velvet ribbon. It's much easier than finding precious storage space for four cake plates!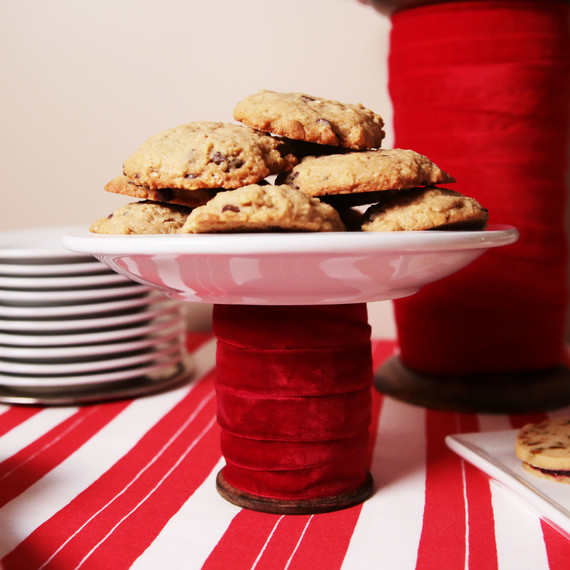 When you are this good about reusing items you already have, you are definitely allowed to shop for those special details that make a difference. For instance, I found a vintage hotel silver coffeepot at an antiques store and knew instantly that it would be a chic addition to the cookie bar. The pot's tiny starburst engraving reminded me of Christmas, and I decided it would be perfect for a hot chocolate station. Cookies and hot chocolate make a great combination!
If you are interested in creating your own cookie bar, all the recipes I used came from Cookie Week on Everyday Food:
Mexican Hot-Chocolate Cookies
Citrus Thumbprints
Hazelnut-Caramel Bars
Chocolate-Toffee-Oatmeal Drop Cookies
and Pistachio Shortbread (my favorite):
Look around your house! What can you repurpose to make this holiday even more special?