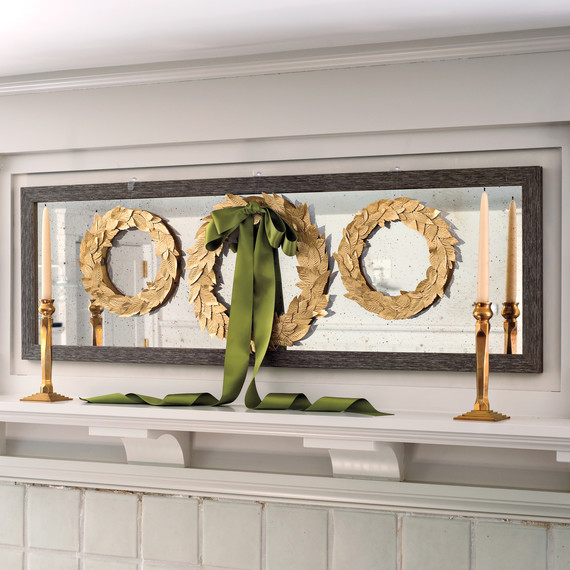 Get the Gold Leaf-Sticker Wreath How-To
Go full circle: Wreaths aren't just for the front door -- they're a stunning addition to any wall in your home. And think beyond green! Many of our most beautiful wreaths are made to last for years, like Martha's handmade designs of crystal, ribbon, and gold leaf.
Take a bough: A Christmas tree is a no-brainer (more on that here), but don't let your red-and-green thumb stop there. Berries, citrus, carnations, amaryllis, and all manner of evergreen arrangements are a pleasant respite from poinsettia overload. And don't forget the mistletoe!
Cue the countdown: If you're the type to start decorating the moment you wake from your Thanksgiving turkey coma, Advent calendars are right up your alley. Starting December 1, each day reveals a devotional or small surprise to ease the wait for Christmas morning.
Merry up your mantel: Hang your stockings with care -- and then keep going. See more great ideas to enliven Santa's point of entry.
Set it aglow: Candlesticks, string lights, and even an electric "wall tree" will bring light to your home and joy to your world. Remember to clean the fireplace so you can enjoy the warm glow of a real fire too.
Collect yourself: Christmas is a time to indulge the gathering instinct. Nutcrackers, tabletop villages, snow globes, and angel figurines are popular Christmas collections. You'll love combing eBay and flea markets for new additions -- and unpacking familiar favorites each year.
Decorate with dishware: Swapping the workaday mugs and plates for a seasonal set makes every meal feel festive. Go sleek with silver and gold, or embrace the novelty renderings of Santas and snowmen. 'Tis the season, after all!