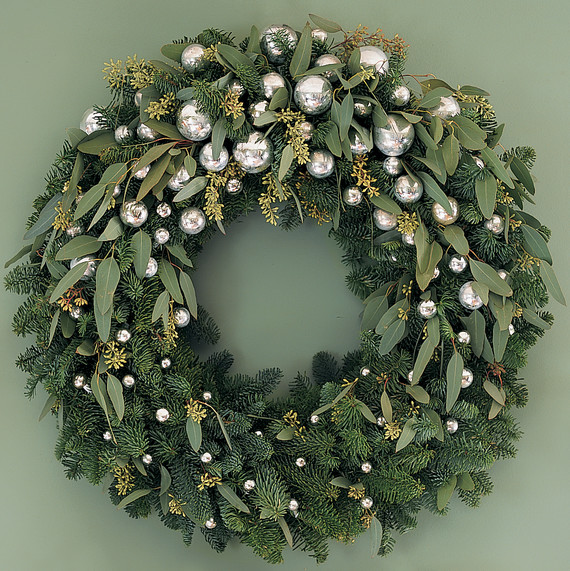 Prep Your Mantel
Visualize the scene: Remember, the fireplace is oftentimes the focal point of the room, so decide whether you want a subtle mantelscape or a showstopping display.
Clean and clear out the fireplace: Sweep completely cooled ashes with a hearth brush into a dustpan, put them in an ash can, and take them outside for disposal. Wipe the surrounding area with a cloth dampened in a mixture of all-purpose cleaner and warm water.
Protect your mantel: If necessary, build a mantel nailing board; this provides a protective barrier from the nails and hooks meant to display your seasonal decor like stockings, garlands, and wreaths.
Choose Your Standout Seasonal Decorations
Stockings: Hang your stockings above the hearth, spaced evenly from the mantel. You can distract the eye from unsightly hooks with a festive poinsettia garland. Personalize your stockings by adding keepsake mementos or monogrammed lettering. 
Garland: Condition your greenery to make it long-lasting and fresh-smelling. To do this, fill a bucket with room-temperature water. Using a hand pruner, make diagonal cuts through stems, then gently crush the exposed end with a small hammer. Set in the water for a few hours before working with the plants. Fresh greenery will last indoors for about two weeks.
Wreath: A wreath placed in the center overhanging the mantel gives a central focus. To keep yours from drying out, treat the greenery with an anti-desiccant spray. This seals the pores on the leaves and bark and helps the foliage retain moisture.
Collectibles: Heirloom ornaments or a miniature village all deserve attention. Showcase them artfully in the center or symmetrically, and skip embellishments to avoid making the mantel look cluttered.
Candles or lights: A cluster of candles or a string of lights can illuminate your mantel beautifully. Just be sure to keep clear of fresh greenery, decorative fabrics, or other flammable objects.
Arrange Your Decorations
Make the mantel your guide: When selecting a piece, consider how it relates to the length and shape of the mantle.
Keep everything in balance: When creating your design, keep the style of your mantle in mind. A mantle does not need to be exactly symmetrical, but it should be balanced. Even out a grandiose mantle with casual objects, or a minimalistic mantle with formal, sophisticated art.
Think of it like a collage: Consider how the different pieces relate to each other. It's about finding the right balance of items.
Stuck? See it from a new view: If it helps give you perspective, step away and study your overall design from a distance.
Know what makes a great addition: A standout decoration should be able to stand well on its own.
Don't overclutter: Remember, less is more.