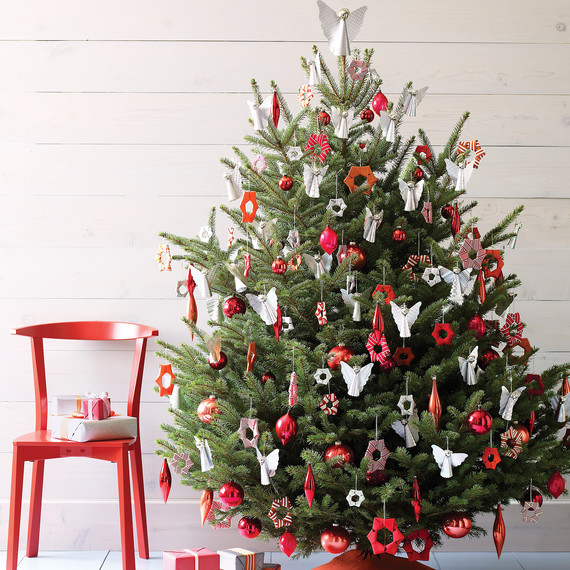 Pick a Healthy Tree That's Suited to Your Space
Shop locally: Log on to the website of the National Christmas Tree Association to find a tree farm near you.
Check the tree's condition: Run the branch through your hand to make sure the needles don't come off easily. Make sure the outer branches bend well; if they break easily, the tree is too dry.
Walk to the further reaches of the farm to find the best tree: The first trees to get picked over are the ones near the parking lot.
Keep track: As you browse, flag your favorites with a bandanna.
Bring a measuring tape: First, measure the height and width of the space that your tree will call home. Then measure the tree you have your heart set on to make sure it's a comfortable fit, not a tight squeeze. 
Bring a saw: If you're cutting your own tree, leave a substantial stump.
Choose the Right Variety
Have a lot of ornaments? A Fraser fir has short, durable needles and open, well-spaced branches that are great for dangling ornaments. Another good pick: a Scotch pine, which has dense, tightly spaced branches.
Making a late-season purchase? Get a Douglas fir, with its sweet smell and full, blue-green foliage -- but bear in mind that the needles won't last as long.
Want a classic beauty? Go for the noble fir, whose upturned branches are strong and can be made into wreaths and garlands.
Want a low-maintenance tree? Try the Leyland cypress, whose delicate, forest-green to bluish-green branches have very little scent and don't produce sap.
Want a fragrant tree? Try the concolor fir, whose loosely spaced, bluish needles smell sweet.
Care for Your Tree
Make sure your tree is netted for safe transport home: The farm should help you with this.
Trim your tree trunk: Using a saw, trim half an inch off the trunk before placing it in water in a reservoir stand.
Keep it hydrated: The National Christmas Tree Association advises one quart of water per inch of stem diameter, as a general guideline. Fresh trees may require up to a gallon of water per day.
Protect the tree from heat: Not only can heat dry out your tree, but it can be a fire hazard. Keep your tree away from heat sources and opt for lights that produce low heat -- and turn off the lights when you go to bed.
Discard responsibly: Remember to recycle your tree -- and don't wait too long, as an overly dry tree can be a hazard.