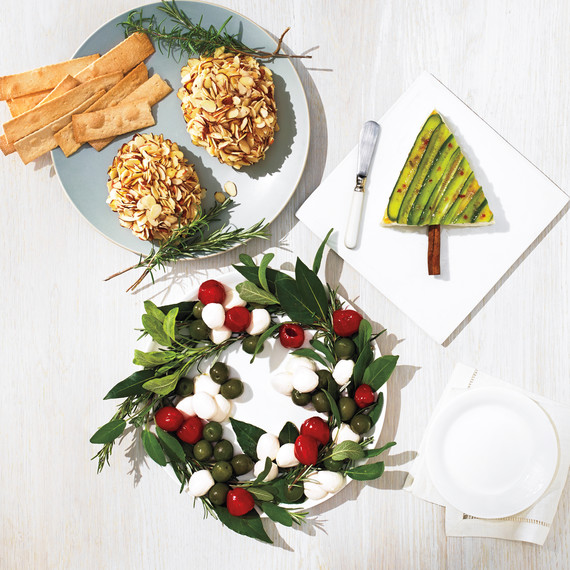 Cheddar & Almond Pinecones
Prepare a homemade cheese ball and divide in half; shape each into an oval. Chill until set, at least 8 hours and up to 3 days. Press lightly toasted sliced almonds (skin-on) all over outside. Place rosemary-sprig "stems" alongside. Serve with crackers.
Relish-Tray Wreath
Arrange fresh bay leaves and sprigs of rosemary and sage in a wreath shape on a round platter. Add bocconcini (mini mozzarella balls), green olives, and pickled sweet red peppers, such as Peppadew, to resemble lights and ornaments.
Learn More About Peppadew Peppers
Cream-Cheese Christmas Tree
Cut an 8-ounce bar of cream cheese in half diagonally; flip one piece over. Match uncut long sides to make one large triangle. Place on a platter; spread top with hot-pepper jelly. Layer on very thin lengthwise slices of a mini cucumber; trim edges flush. Spread with a second thin layer of jelly. Insert a cinnamon stick for trunk. Serve with crackers.
Ready for more cream cheese appetizers? Get our recipes
Watch how to make a Cream-Cheese Christmas Tree: