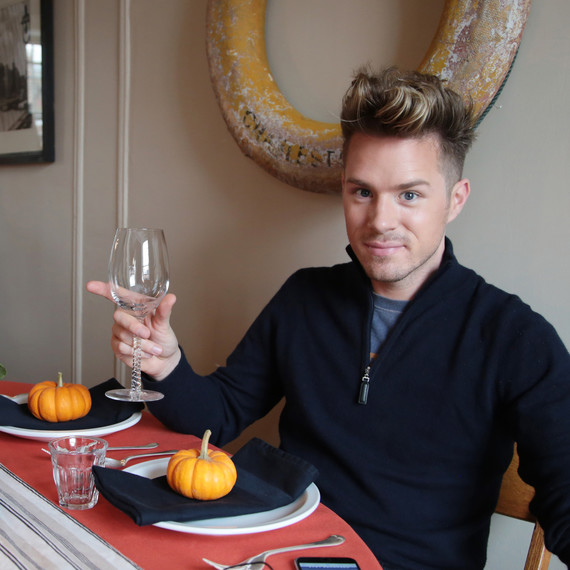 Thanksgiving is a grand foodie holiday full of fresh ingredients and classic dishes. We all focus so closely on brining and baking, it can be easy to forget about setting a fabulous table. Whether you serve a buffet or dish it up family style, a beautiful table sets the scene for a special holiday that your guests will remember for years to come. Here are a few ways to achieve a festive, welcoming table on the fly.
Tip #1: Use real plates, always!
First off, disposable is a no-go. You don't want Aunt Eileen's cranberry sauce to soak through a sad paper plate for the sake of easy cleanup. My mom always said, "Why buy a dishwasher when I already have three kids?" In that spirit, use the real stuff and give the kids the job of cleaning up!
I've had the same white dishes since college, and they always have a place at my holiday tables. The great thing about white is its versatility -- and you can find catering quantities anywhere if you need more.
Tip #2: Add a dose of color
I paired my everyday white plates with a navy cloth napkin and a small grocery store pumpkin to make this table setting really pop.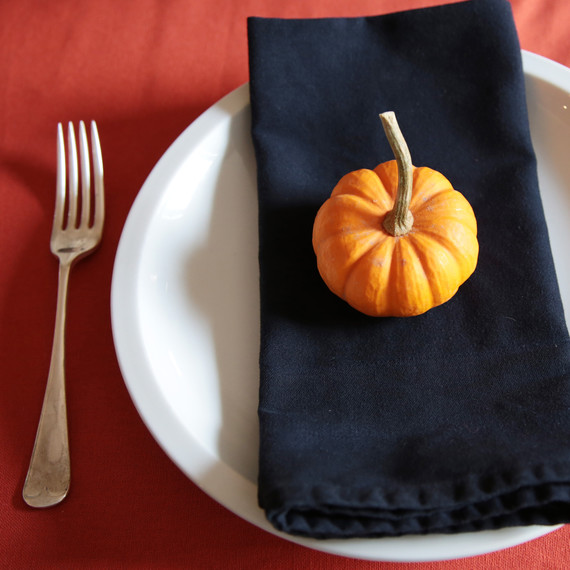 Tip #3: Get by with a little help from your friends
Borrow pieces from your friends and neighbors. Chances are if your friends entertain at home, they might have just the thing you're looking for, saving you another trip to the store.

I borrowed a beautiful silver pitcher and salt and pepper wells from my neighbor Allison to finish off my table. Retuning things quickly and in better condition will guarantee you access for life!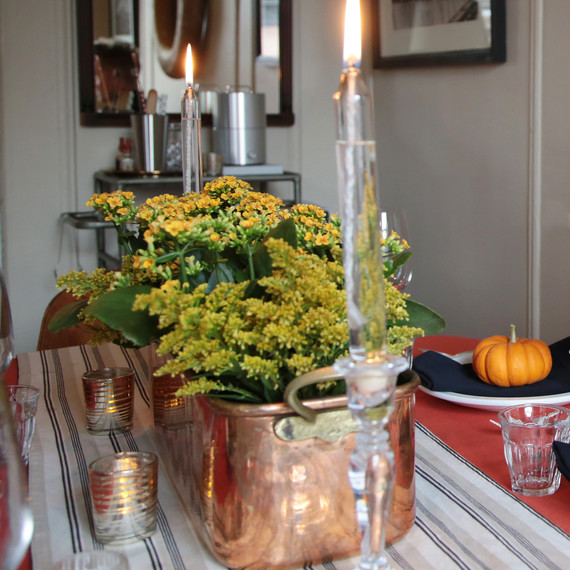 Tip #4: Multitask
A great time-saver is getting flowers or plants from the grocery store as you pick up ingredients for the big meal. I opted for plants this year and popped them into a long copper tub that is usually for beverages and ice. Make sure your flowers aren't too high for you to see over.
Tip #5: Use what you have
If you don't have time for flowers, just cluster a selection of unscented candles. Everything from tapers to tea lights can be an instant centerpiece -- no flowers needed!
Which one of these tips will you try this year? What are your last-minute table ideas? See this table setting come to life in my video!