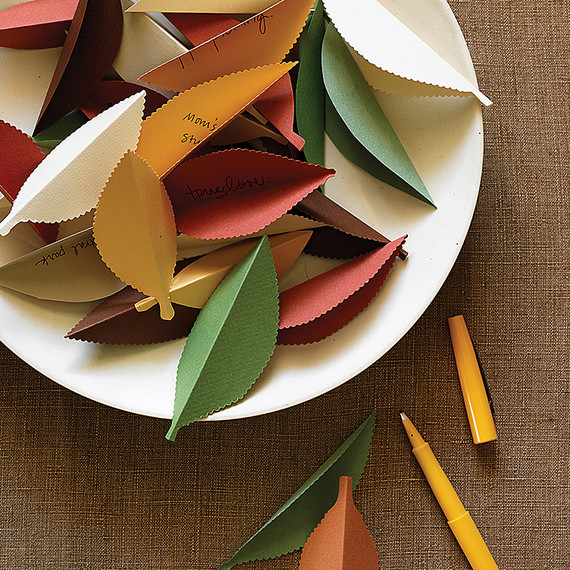 Get the Paper Leaves of Thanks How-To
Get your gift on. "My favorite tradition is something we call 'Jack Horner Pie.' My mom picks out small presents for everyone, wraps them, and attaches a different colored ribbon for each person. The wrapped presents go in a vessel in the center of the table. Before dinner, we find our assigned colors on our place cards, pull out our presents, and go to town! Silly, but charming every time." -- Paulie Dibner, assistant managing editor
Tickle your funny bone. "So, there's this hat. It's a felt turkey hat and it looks like this. I'm not sure who bought it or how it came to be a part of our Thanksgiving, but for the past few years, we take turns wearing it while cooking, setting the table, and cleaning up after dinner. It's impossible to be stressed when you're walking around with a turkey on your head." -- Alexandra Churchill, assistant digital editor
Go rogue. "My family has never done a traditional dinner. Growing up, my favorite Thanksgiving meal was nachos with all our favorite toppings. Even now, I can't bring myself to go there -- my boyfriend is a vegetarian, so our 'turkey dinner' consists of a shot of Wild Turkey whiskey. At least it's only once a year!" -- Erika Owen, content marketing editor
Reverse carbo-load. "We start the day with a Turkey Trot 5k, just so we can feel really smug for a few hours before our food comas hit." -- Emma Aubry Roberts, associate digital editor
Becky Armstrong, one of our Facebook fans, takes a different approach to poultry-inspired movement: "After the meal we go for a walk in the nearby forest. We call it the Turkey Waddle."
Count your blessings. "Before my family eats, we always go around the table and share what we're thankful for. My mom insists on it every year, and though it prompts a bit of reluctant grumbling -- from our stomachs and from Grandpa -- it really does make the meal feel more special." -- Taysha Murtaugh, assistant digital producer
Look ahead. "When we were young, my siblings and I would spend the day looking through catalogs and writing our Christmas wish lists for Santa. Now we just start planning our Black Friday shopping bonanza, which has become a family sport." -- Cathryn Delarosa, administrative assistant
Cathryn isn't the only one getting a jump on the December holidays -- Facebook fan Leslie Mallory Brock also decorates the Christmas tree!
Up your game. "We made two big turkeys out of 50-gallon drums. They have wheels, and each has a rider and a pusher. We pull them out every year and race them, wheelbarrow style." -- Christine Hawkins, Facebook fan
Whoa! Other game suggestions included Pin the Tail on the Turkey, B-I-N-G-O, Tripoly, Uno, Scrabble, Risk, Trivial Pursuit, Taboo, Cards Against Humanity, Apples and Oranges, Sequence, Quarters, Charades, Spoons, Rummy, Ping-Pong, and Twister (we assume that one happens before dinner). And then, of course, there's football.
And when all else fails… "Wine. We play the game of wine." -- Laura Bohl, Facebook
In fact, many of you seem to enjoy getting silly on the big day. Nothing wrong with that!