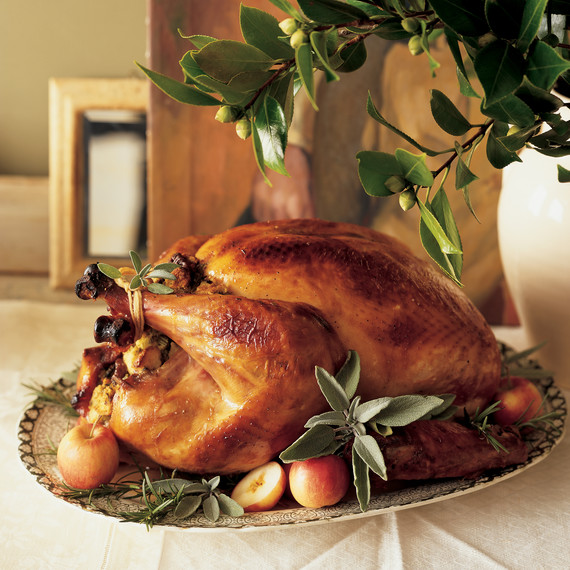 Martha Stewart, Founder
I was 20 years old and it was my first Thanksgiving, and I asked my husband to preheat the oven -- and he did, at 500 degrees, and it was an electric oven. I woke up to the house filled with black smoke. The skin on the turkey was completely black -- and I was having his entire family over!

We lived on a dirt road in Guilford, Connecticut, and I got in the car and drove to the Gozzi's turkey farm on West Lake Avenue. They were packing their car to drive to Florida. They had one turkey left they were about to put in the freezer for when they got back. I took it home, roasted it, and used the stuffing from the first turkey. And that first turkey with the blackened skin -- I tasted it, and it was so delicious. So I cut it up and served it too. Lunch was served four hours late as a result.
Lesson learned: Always check your oven temperature, and set a timer and check it again after one hour.
Kevin Sharkey, executive decorating director, Martha Stewart Living
I hosted my first Thanksgiving a few years ago. I thought I'd done everything right. I'm not a cook, so I outsourced all of the food; I set the table well in advance; and I had wonderful help with the logistics. What I didn't foresee was the traffic that wound up delaying my guests -- for several hours!
Lesson learned: Everyone is vulnerable to some disaster. It doesn't mean you're inept; it's just how it is, no matter how prepared you are or what resources you have. What matters is your response, and a positive one is really a gift to your guests. No one should ever feel like they "ruined" the day! Just have another glass of wine, and know that the time will pass whether you choose to pout or to smile. (So smile.)
Jennifer Aaronson, Food and Entertaining Director, Martha Stewart Living
My mom is the queen of Thanksgiving, and for a few years I tried to wrestle the crown from her, but then I thought, Why? She does it so perfectly. Then, five years ago, my parents had come down to us for Thanksgiving because my baby was due December 1.

I had shopped for groceries but -- maybe it was all the shopping -- I went into labor, and my daughter was born in the early hours of the day before Thanksgiving. I came home from the hospital on Thanksgiving morning. We had all the food, and so of course, we went all out, as usual. Only it wasn't as usual; it was Mom and me and a tiny newborn trying to cook a big turkey dinner in a tiny apartment kitchen, while my dad and husband looked after our 4-year-old.

It was kind of a bomb. Nothing was good, and the turkey wasn't fully cooked. Mom didn't know my oven, and I clearly wasn't working at full speed.
Lesson learned: Sometimes it's better to keep it simple: We could have just roasted the turkey and had salad.
Anthony Luscia, Special Projects Editor, Martha Stewart Weddings
Eight guests were coming to my apartment for Thanksgiving. I have a stainless steel shelf that holds all of my white serving pieces, turkey platter, assorted sized bowls, etc. All of which were needed to serve the meal.

I pulled the turkey out of the oven to baste it but pulled it out at a funny angle. So while setting it on the stove top, I dropped it. The turkey was fine but it fell with such force it shook the wall so hard that the shelf loosened, and all -- yes, all -- of the serving pieces crashed to the floor, shattering into a million pieces.

After sweeping everything up, I started to look around to see how I could serve the turkey and sides. All of my serving pieces lived on that shelf, but I had four cutting boards in my collection. So I carved the turkey and placed all of the meat and stuffing on one cutting board. Served mashed potatoes and sweet potatoes on another, and decorated both with fresh thyme and pieces of fruit. The gravy was served in coffee mugs, one at each place setting. My guests thought it was such a creative way of serving Thanksgiving -- and were none the wiser that it was not intended to be that way!
Lesson learned: Don't let the mishaps fluster you; be creative and work around the setbacks.