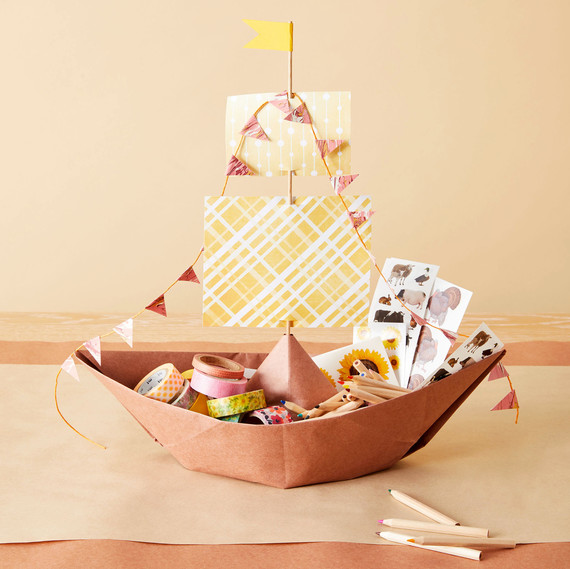 Hosting Thanksgiving is not for the faint of heart. There are potatoes to be mashed, beans to be steamed, pies to be baked, a table to be set, and a turkey to be cooked. But while your hands are full, don't forget about those little volunteers who are looking for ways to help. It may not have a fancy wine list or heirloom china, but the kids' table is definitely the best seat in the house. It's where basic butcher paper transforms into a sweet sailing vessel, fall's finest jewelry, and more. Unfortunately, it's fully booked. But if you behave, the younger generation just might share their supply.
In this first showstopping idea, tip your hat to the Pilgrims with a ship constructed using a simple origami boat fold, and stocked with tools for decorating the butcherpaper "tablecloth."
[MAKE IT: The Paper Mayflower Ship]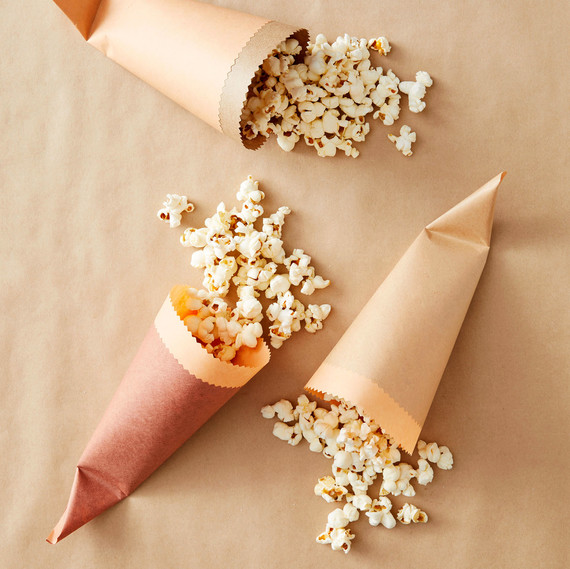 Kids' hands and mouths will be occupied until the turkey's sliced—creating these a-maize-ing snackfilled cones from two different colors of butcher paper.
[MAKE IT: The Pop-Cornucopias]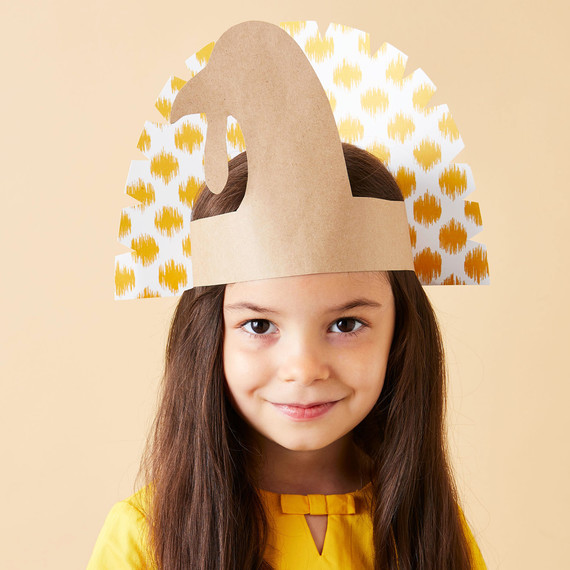 Get your flock into the festive spirit by rocking these bright tail feathers. Prep headbands for little ones to color in; bigger kids can assemble their own.
[MAKE IT: The Turkey Hat]
Give "aloha!" an autumnal twist: Embellish string necklaces with paper leaves (cut out a big pile with a craft punch) and colorful organic pasta.
[MAKE IT: The Colorful Pasta-and-Leaf Leis]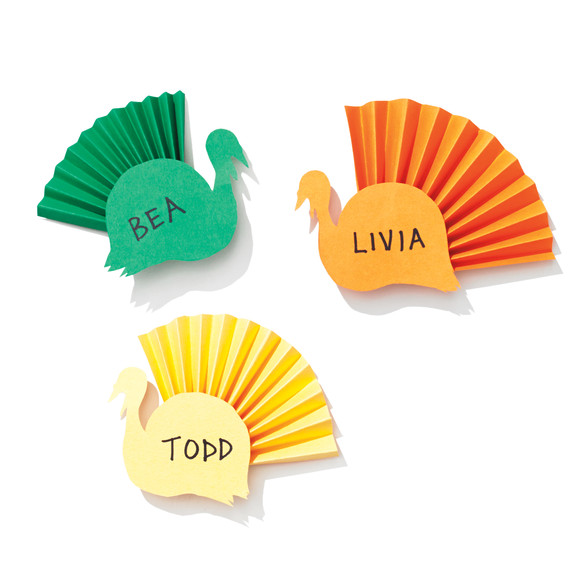 Help your guests find their places at the table with these colorful gobblers. If kids can accordion-fold a piece of paper and sign their names, they can create their own place cards.
[MAKE IT: The Turkey Place Cards]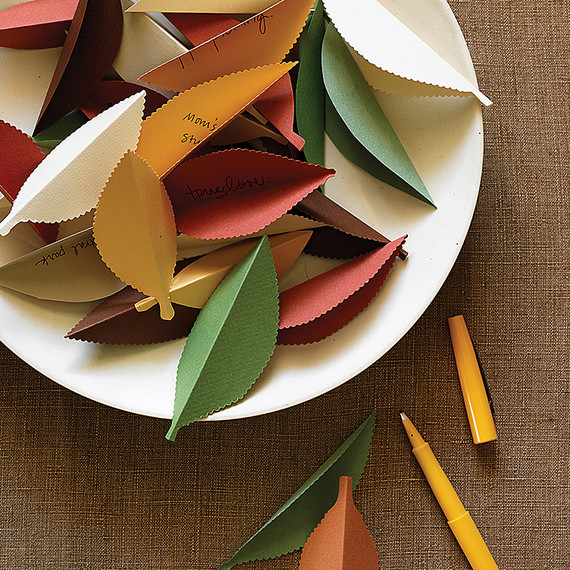 At the end of the day, it's all about gratitude. Have everyone in the family make a paper leaf and write down one thing they're thankful for this year. Then share them aloud and bask in the feel-good energy.
[MAKE IT: The Paper Leaves of Thanks]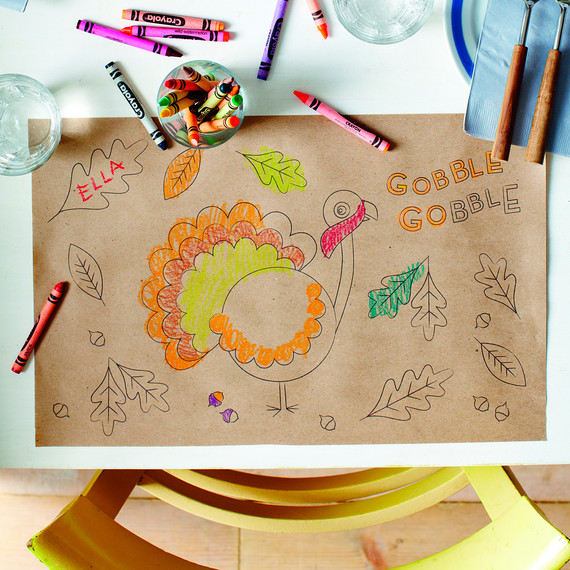 Waiting for the turkey to be carved? Keep the kids' table occupied with blank place mats and a big box of crayons.
[MAKE IT: The Thanksgiving Place Mat]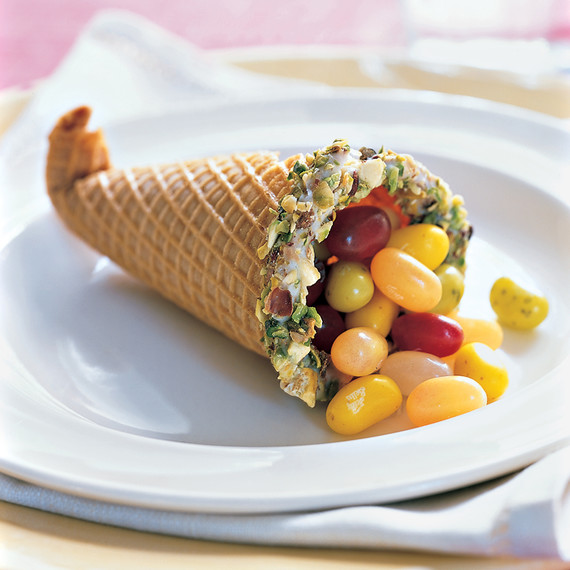 The sweet tooth of the family will be thankful for these creative treats. You can soften and mold the sugar cone into the cornucopia shape, while kids can put on the finishing touches by dipping the rim in chocolate and covering it with chopped pistachios (and then nibbling on the jelly beans, of course).
[MAKE IT: The Candy Cornucopias]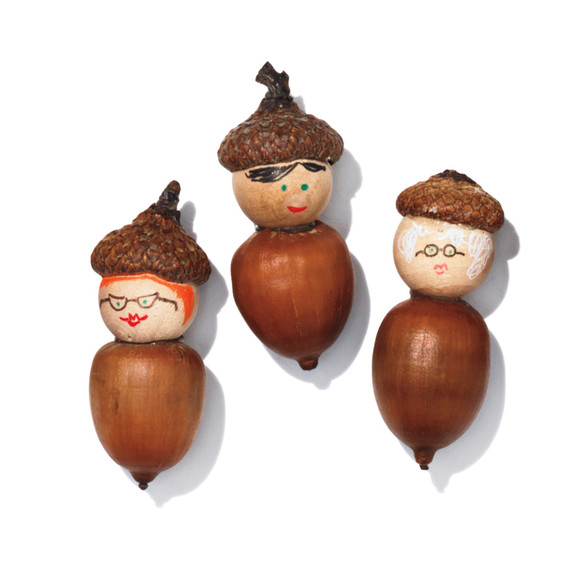 Escape the hot kitchen for a bit to go foraging for acorns in the backyard. Parents, grandparents, aunts, uncles, and cousins can all get in on the fun of making this adorable family of acorn people. Mix things up by challenging family members to re-create one another as acorn dolls.
[MAKE IT: The Acorn Doll Family]
Feeling inspired? Watch how to make the acorn people with the kids: