Last year, I cooked my first Thanksgiving dinner. I use the term loosely, because this was like no Thanksgiving dinner I'd eaten before. My good-humored family dubbed it "Trendsgiving": The bird was replaced by cranberry-braised brisket (though turkey appeared in kielbasa form, tossed with the brussels sprouts). Quinoa-stuffed acorn squash made a bid for carb-in-chief. Mashed potatoes were cut with celeriac, apples, and blue cheese. Even dessert was reborn as a sweet potato cake topped with marshmallow frosting.
It was a high-concept Pinterest board come to life. And you know what? It was pretty darn delicious. I spent hours plotting and cooking, and the results were as one might expect: thoughtful, original, well-executed … and utterly un-Thanksgiving. When all was said and done (and eaten), we really missed the turkey and the pumpkin pie -- and this year, you can bet we won't be sopping up our gravy with quinoa.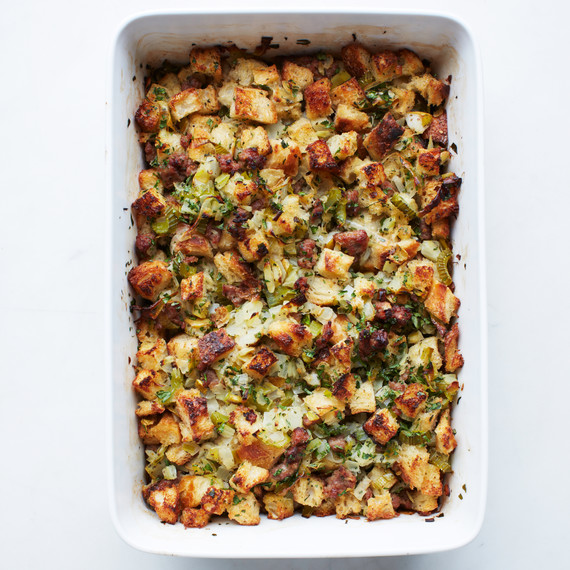 Get the Sausage Pear Stuffing Recipe
My family was great to humor me like they did, and of course the fact that we were together made the day special. But the menu's success-cum-failure taught me the role tradition plays in shaping holiday memories. Sure, it's great to try a new pie or a wild-card side dish, but you can experiment without throwing the familiar favorites (Mom's mashed turnips -- yes, really!) out the window.
Get the Pumpkin-Cheesecake Pie with Gingersnap Crust Recipe
Every treasured mainstay has a first time at the table. Just ... maybe don't have them all at once. Go ahead, make the sweet potato cake -- but keep the turnips as a side dish. And definitely don't do away with the after-dinner nap.
Will you try a new dish or tradition this year?