Halloween -- it still conjures up spooky images of ghosts, black cats, skeletons, witches riding broomsticks, and jack-o'-lanterns with gap-toothed grins and googly eyes. These cartoonish seasonal caricatures haven't changed much over the years. They're just as iconic today as they were 10, 20, 50, even 100 years ago.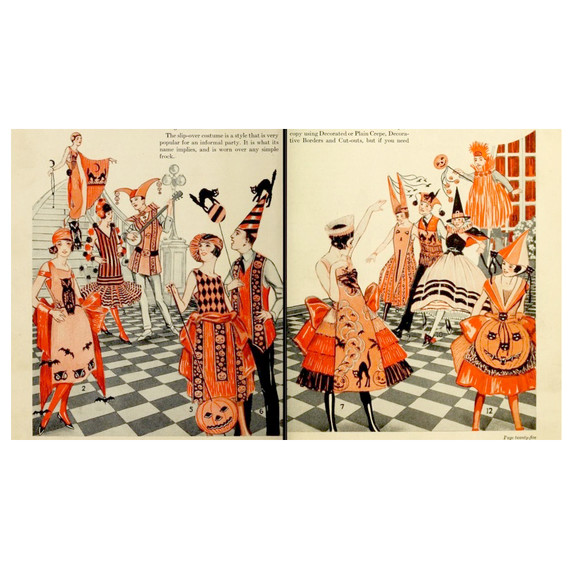 Ready for a Spooky Story?
Halloween was all the rage at the turn of the 20th century. Long before trick-or-treating became the reigning tradition, the holiday was the stuff of epic parties. Grown-up ghouls would gather for hours of dancing, dining, and themed games like bobbing for apples, pranking, fortune-telling, and spooking each other with ghost stories. For the braver hosts, there was even the occasional seance.
Small favors like tin noisemakers, paper hats, and tambourines were the prizes for these fun games. But they were made for one night of partying and thrown into the trash, so they weren't often made to last -- that's in part what makes them so treasured by collectors like Mark Ledenbach.
You could say that Mark is the reigning expert of Halloween collectibles. His personal collection includes more than 3,000 items that are both rare and one-of-a-kind. "I prefer paper-based decorations," he says, "die cuts, games, tabletop decorations, place cards, tallies, invitations made prior to 1950." His published guide, "Vintage Halloween Collectibles," is the go-to reference for Halloween collectors.
Below, Mark Ledenbach showcases some of the rarest items from his own collection:
American party supply manufacturers began cashing in on the Halloween craze, including the Dennison Manufacturing Company of Framingham, Massachusetts; Beistle Company of Shippensburg, Pennsylvania; Gibson of Cincinnati, Ohio; and Whitney of Worcester, Massachusetts. These brands busily produced items from the early 1900s into the '60s.
But some of the most prized pieces originate from overseas. In the aftermath of World War I, German artisans were encouraged to use their crafting expertise to make items for export to the booming market in America. Ledenbach marks the time from 1919 to 1935 as the "zenith" of German production.
Tombstone Yard Halloween Decorations
What's It Worth?
Ledenbach has a rule: "The scarier the imagery, the older the item." Jack-o'-lanterns are the most common symbols, followed by black cats, and then by witches, skeletons, owls, crows, bats, and ghouls. Devils are by far one of the rarest images, and therefore fetch a higher price.
"The genre to be the most wary of is German candy containers and lanterns, as these have been widely reproduced," Ledenbach says. "That genre is also plagued with a torrent of fantasy pieces, meaning items that have no truly vintage counterparts."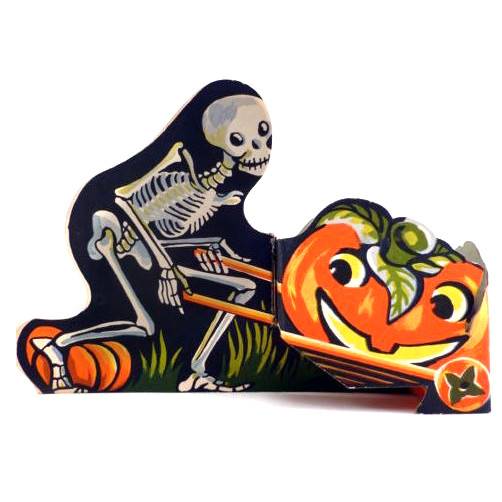 Be sure of the item's authenticity. For instance, if you carefully compare a vintage paper decoration to a new one, newly made items are either dated or a different size and color from vintage items. This will clue you in on whether a piece of memorabilia is a real "treat." Just beware of being "tricked" by fakes masquerading as the real deal.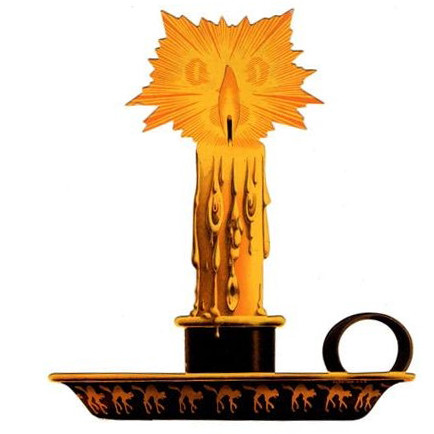 If you have a genuine article, the prices will depend on the material, maker, and condition. Take note of even the smallest details for damage, such as a dent in a tin noisemaker or a black cat with a missing eye. Games, candy containers, lanterns, masks, and decorations can be worth anywhere from $20 to hundreds of dollars -- the rarest items can be worth thousands of dollars. How's that for a Halloween treat?
Spooky Decorating Secrets for the Ultimate Haunted House