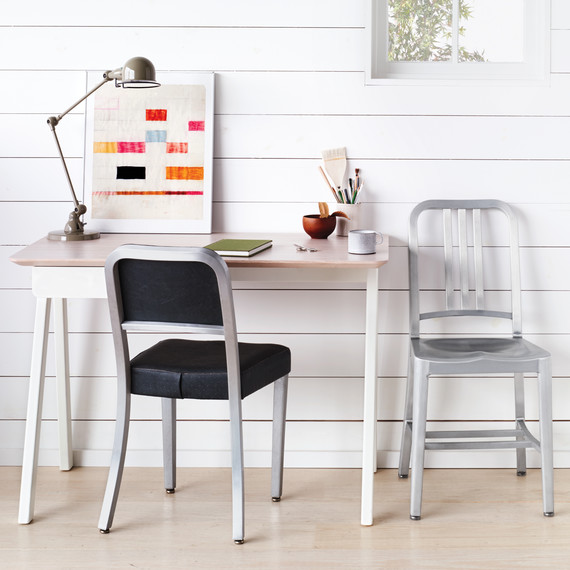 During World War II, the U.S. Navy commissioned the Emeco company of Hanover, Pennsylvania, to create a chair that could withstand the harsh conditions of life on the rough seas. "The chair had to be lightweight, noncorrosive, nonmagnetic, fireproof, and very strong," says Gregg Buchbinder, who has been the CEO of Emeco since 1998. The result was the seemingly indestructible 1006 chair, made out of recycled aluminum.
Seventy years later, it's still fabricated the same way, with each chair requiring 77 labor-intensive steps. These days, the company collaborates with architects such as Philippe Starck, Frank Gehry, and Norman Foster on new designs. But even as it expands, Emeco remains committed to its philosophy of "making something that lasts -- that never has to be recycled," says Buchbinder.
Why We Love It
The 1006 chair (also known as the Navy chair), right, is tough enough for the U.S. Navy but chic enough for stylish homes and businesses. At the Martha Stewart Living offices, we use the chairs in our meeting rooms. We love Emeco's efforts to reduce its environmental footprint by using recycled materials.
1006 Navy recycled-aluminum chair, $490, emeco.net
Vintage 1940s vinyl-upholstered recycled-aluminum chair, ebay.com
Signal desk lamp, in Olive Green, shophorne.com
Stash desk, in White Ash/White, bludot.com
Mug, in White, kellicain.bigcartel.com