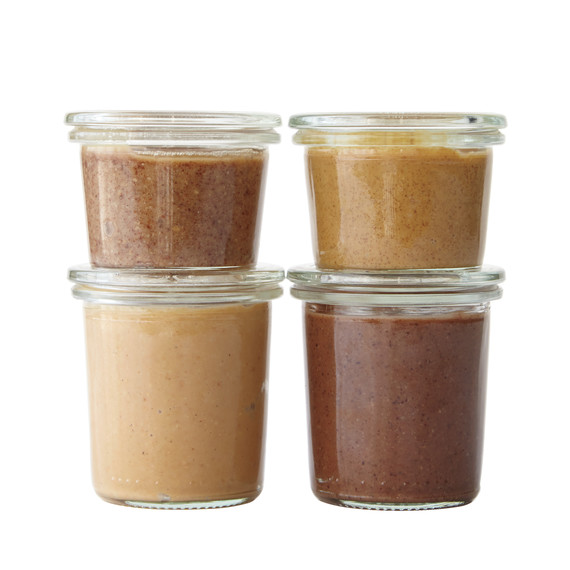 Making your own nut butters allows you to control the salt and sugar levels -- and to create interesting flavor combinations. Each of these nut butters takes no more than 10 minutes to prepare: Simply blend the ingredients in a food processor along with a neutral-flavored oil, such as safflower, until creamy. Try any of our four blends (above, clockwise from top left):
1. Pecan + Maple + Cinnamon: Mix 2 cups pecans with 4 teaspoons oil, 1 tablespoon maple syrup, and 1/4 teaspoon cinnamon.
2. Peanut + Brown Sugar + Cayenne: Mix 2 cups peanuts with 4 teaspoons oil, 2 tablespoons dark-brown sugar, and 1/8 teaspoon cayenne pepper.
3. Hazelnut + Chocolate: Mix 2 cups hazelnuts with 2 tablespoons each oil and melted semisweet chocolate.
4. Cashew + Ginger: Mix 2 cups cashews with 4 teaspoons oil and 1/4 teaspoon ground ginger.
Store in the refrigerator for up to a week; stir before using.