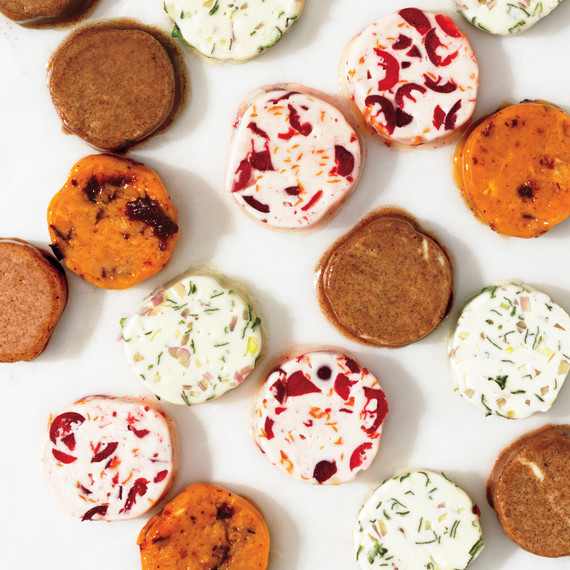 Homemade compound butters are a quick way to add more flavor to your holiday meal. Start with a stick of room-temperature unsalted butter, add any of the suggested combinations of ingredients below, roll in plastic wrap, and chill. The logs will keep up to one week in the refrigerator, or several months in the freezer.
Sugar and Spice
Mix in 2 tablespoons sugar and 2 teaspoons pumpkin-pie spice. Spread on toast or saute with pear wedges.
Shallot and Thyme
Mix in 2 tablespoons each chopped fresh thyme leaves and minced shallot. Stir into pastas, soups, or vegetable sautes, or spread on dinner rolls.
Cranberry and Orange
Mix in 1/4 cup coarsely chopped fresh or thawed frozen cranberries and 1 tablespoon finely grated orange zest. Add to oatmeal, melt onto pancakes, or spread on turkey sandwiches.
Honey and Chipotle
Mix in 1 tablespoon chopped canned chipotle peppers and 2 tablespoons honey. Slather on biscuits or baked sweet potatoes.