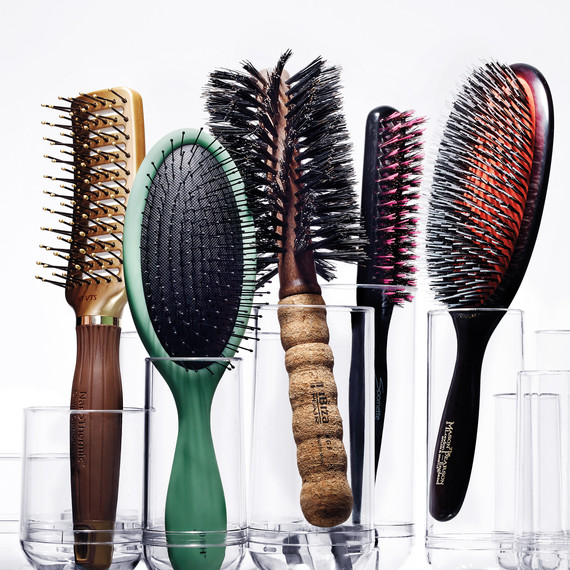 Left to right:
Vented
For Volume
Gaps in the base provide "greater air circulation and better root lift for short lengths like pixie cuts," says Patterson.
Olivia Garden NanoThermic Ceramic+Ion Styler, $19, oliviagarden.com
Detangler
For Wet Hair
Soft, flexible plastic bristles blaze through snarled strands, eliminating breakage and painful yelps.
Harry Josh Pro Tools detangling brush, $20, hairenvy.com
Round
For Blowouts
Boar bristles stand up to heat, holding hair taut as it's pulled straight. "After a few uses, the bristles soften, making them easier to control," says Patterson.
Ibiza G5, $42, ibizahair.com
Teasing
For Building Body
Back-comb your way to a bombshell 'do. The pointed handle allows for easy sectioning, and the densely packed boar bristles tame even the shortest strands.
Spornette Little Wonder, $8, spornette.com
Cushion-Paddle
For Smoothing
This iconic nylon-and-boar-bristle mix is a workhorse, distributing hair's natural oils, detangling, straightening, and adding shine to straight locks. A mainstay in every stylist's kit, it's an investment but lasts forever.
Mason Pearson Popular, $205, neimanmarcus.com