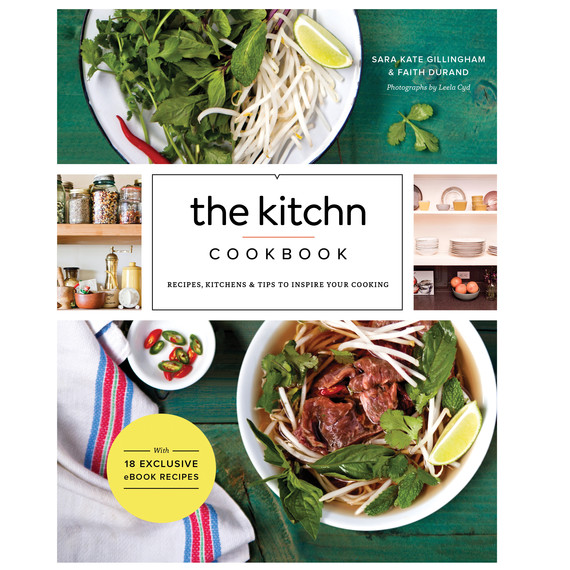 When I founded TheKitchn.com, it was with the goal to help people get over their issues and cook more at home. Cooking doesn't have to be either a fantasy of perfect-looking dishes made by home cooks in hand-knit sweaters or a sweaty-palmed speed-dial to the local takeout joint. I can't help you knit the sweater, but I can help you make a really great beef stew that will nourish and impress your family and friends without you completely falling apart (like the tender meat off the bone in this recipe). It requires one pot, a few pounds of affordable cuts of meat, and a joyful attitude.

This recipe from "The Kitchn Cookbook" was born from a piece written by a writer named Laurie Colwin who shares my philosophy of food and cooking: that it should be casual, and done with spirit. The cooking time is three hours, which I like to use for a nap on a brisk fall day. By the time you wake up, dinner is ready and an empty wine glass awaits you.
Easiest Beef Stew
Serves 6 to 8
Among food writers, Laurie Colwin is one of our heroines. Though most of her work was fiction, and she died far too young at the age of 48, she left behind two gorgeous books about food. This recipe is adapted from the first book, "Home Cooking," where she preaches the value of cooking casually, with spirit and joy. This is not the average American beef stew that may come to mind. The rich and creamy stew we offer here is more of a traditional boeuf bourguignon, delicious on its own or served over a bed of egg noodles or creamy polenta.
2 cups unbleached all-purpose flour
2 tablespoons paprika
3 teaspoons freshly ground black pepper, divided
3 pounds stewing beef, beef chuck, or shoulder roast, cut into 1-inch cubes
1/2 cup olive oil, or as needed
2 cups red wine
1 14.5-ounce can tomato puree
1/4 cup tomato paste
2 teaspoons kosher salt
8 garlic cloves, peeled and chopped
4 large carrots, peeled and cut into chunks
4 large yellow onions, peeled, cut into eighths, roots left intact
2 medium russet potatoes (about 6 ounces each), peeled and cut into 1-inch chunks
1 sprig fresh rosemary
2 sprigs fresh thyme
1 bay leaf
1 10-ounce package broad egg noodles
2 tablespoons unsalted butter
1/2 cup chopped fresh flat-leaf parsley leaves
Flaked sea salt

1) Preheat the oven to 300 degrees. Combine the flour, paprika, and 2 teaspoons of the black pepper in a large mixing bowl. Toss in the beef cubes and carefully turn the mixture over several times until the meat is well coated. You may have to do this in several batches, setting each batch of floured meat aside on a plate before adding the next batch.

2) Heat 1 to 2 tablespoons of the olive oil in a large, deep, heavy-bottomed casserole or a 6-to 8-quart Dutch oven over medium heat, making sure the bottom of the pan is evenly coated. Being careful not to overcrowd the pan, brown the meat over medium heat in batches, adding more olive oil as needed, using metal tongs to turn the cubes of meat so that each side is browned. Remove pan from heat. When pan is cool enough to handle, wipe out any burnt flour.

3) Over high heat, return pot to burner and pour in red wine, tomato puree, tomato paste, salt, and remaining teaspoon of pepper, scraping up the bits from the bottom of the pan while stirring. Cook the mixture, stirring constantly, until the liquid begins to thicken (about 5 minutes). Remove pan from heat.

4) Place half of the meat in pot and sprinkle with half of the garlic. Add half of the carrots, half of the onions, and half of the potatoes. Add remaining browned meat, and remaining garlic, carrots, onions, and potatoes. Top with rosemary, thyme, and bay leaf.

5) Cover pot and place it in oven for at least 3 hours, removing cover for the final 20 minutes of cooking.

6) Meanwhile, cook noodles according to the package instructions. Drain and toss with butter.

7) Discard rosemary, thyme sprigs, and bay leaf from pot. To serve, place a handful of noodles in each serving bowl and ladle stew over noodles. Top with parsley and sea salt. This dish can be stored in a sealed container in the refrigerator for up to 5 days.
Reprinted from the book THE KITCHN COOKBOOK by Sara Kate Gillingham and Faith Durand. Copyright © 2014 by Apartment Therapy LLC. Published by Clarkson Potter/Publishers, a division of Random House LLC, a Penguin Random House Company.
Buy "The Kitchn Cookbook"