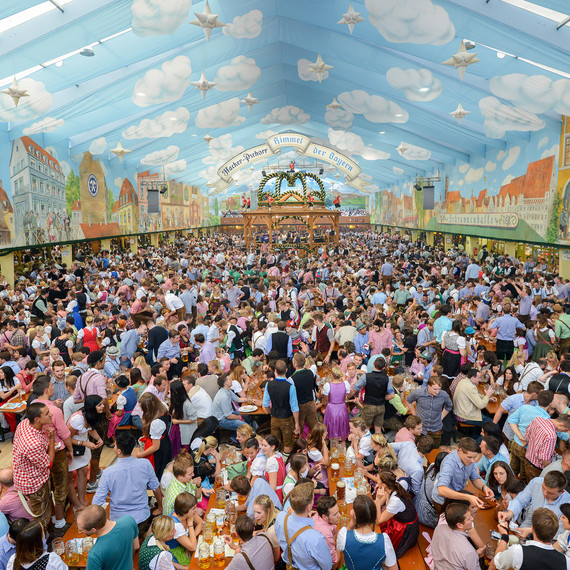 Beer drinkers the world over rejoice come this time of year -- but while always colorful and celebratory, Oktoberfest history did not begin with the brew but with the wedding of Crown Prince Ludvig of Bavaria and Princess Therese von Sachsen-Hildburghausen in 1810. The royal couple invited all the townspeople to witness the happy event, and the festivities were such a success that they turned into an annual celebration, one that centered around not beer but horse racing.  
Oktoberfest history didn't become so closely associated with beer and traditional foods until beer and food stands were added to fortify the crowds in 1818. And while the horse races were eventually phased out, the beer stands began to multiply. Today, Oktoberfest is marked by brewery-sponsored tents and beer halls.  
Oktoberfest in Munich is now the largest party in the world, selling almost two million gallons of beer in just two weeks of hard-core revelry. The beer being downed shares its name with the festival and is known simply as "Oktoberfest."
Oktoberfest beers -- also known as "Marzen," or March, beers -- are rich, slightly fuller-bodied lagers with a great Oktoberfest history of their own. Before refrigeration, large batches of beer would be brewed in the spring so the chilly Bavarian weather would protect it from spoilage. These brews were stored in cold caves or cool cellars, and then served all summer long. At the end of the warm summer months, brewers would start up again and need to make room for fresh batches. What better way to "clean out the refrigerator," so to speak, than to have a massive annual party? 
The toasted-caramel, malt-forward notes, smooth mouthfeel, and clean complexity of Oktoberfest beers make them exquisite partners for food. So pick up these great Marzen beers, some bratwurst, and some sauerkraut and potatoes, and make Oktoberfest history at home.
*Fun Fact: Why does Oktoberfest start in September? The short answer: weather conditions. September nights tend to be warmer with less chance of rain than October.