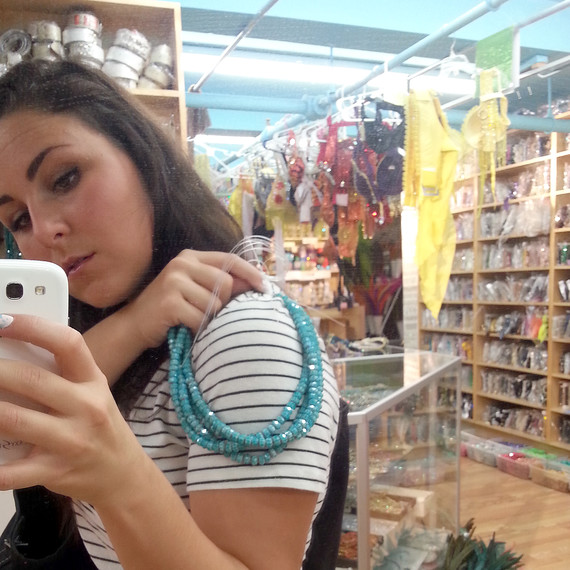 After a few years shopping the Garment District in New York City, every designer sort of develops her go-to stores. For me, those stores are Fabric House, Elegant Fabrics, and Trumart Fabrics.
One very important factor in shopping the industry is to learn to develop relations with the houses where you shop. Many places have student discounts, and if you're a constant customer, people tend to bend the rules and prices for you. A good store will realize that creating happy customers makes for a better business -- these places embody that notion. What the store might lose by discounting a single sale, they gain from my continued business.
That is obvious within the show. All three of us contestants -- Joelle, Taylor, and I -- have shopped Elegant, and we've been more than satisfied. Fabric House has the same approach in its service to customers. The owner of the store is just someone who you really want to do business with because he is so accommodating and honest. Not only are his prices incomparable (he has the best-priced beaded laces of anywhere I have seen in the city), but I know I will always find something I love. Sometimes I find too many things, and my credit card feels the burn!
Trumart is great for draping materials. Draping material can eat up a lot of your budget. If I need 8 yards of silk to drape a dress, rather than going to some other store and spending $20 a yard, I go here.
If I'm looking for costume inspiration or even a place to buy costume pieces, Pinterest is a great resource. It makes it really easy to organize your search as well as giving you an abundance of options to look at.
My advice: If you're looking to construct your own costume for Halloween, see what your town has to offer for classes. Maybe your local college has courses or there is a sewing shop with classes. When I was living in Florida, I took courses in a sewing machine store, and it was a great way to learn. If that's not available, YouTube is a great resource for learning -- and of course there is always MarthaStewart.com!
Last but not least: I'm always available for hire :)