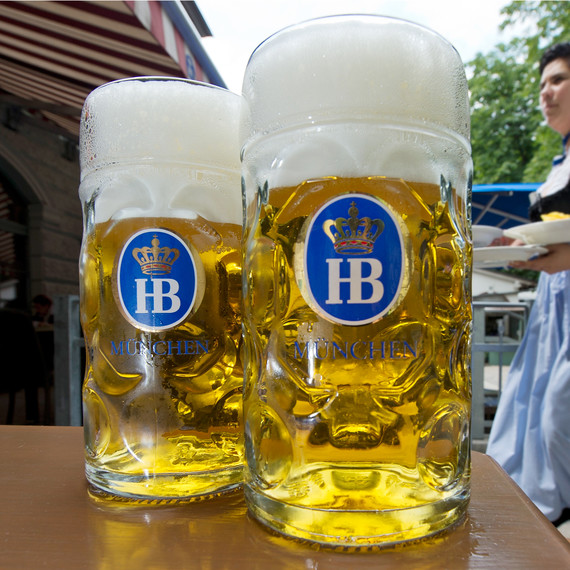 To be officially designated an Oktoberfest beer, a beer must be brewed by one of the six breweries within Munich's city limits: Hofbrau, Spaten, Paulaner, Lowenbrau, Augustiner, and Hacker-Pschorr. Breweries around the world have nonetheless been inspired to create Oktoberfest-style beers, also known as "Marzen" beers, and many of them are spectacular. The profile of all Oktoberfest beer is roughly the same -- malt-forward, slightly sweet, lagers with a dry finish -- but every brewery puts its own unique spin on the style.

These four brands are producing some of the most notable interpretations of Oktoberfest beer, worth trying during their relatively brief appearance at your local brewpub, beer shop, or well-stocked grocery store.
1. The Classic: Hofbrau Oktoberfest
Why it's distinct: Hofbrau is notable for being the only "true" Oktoberfest beer widely available in the U.S. that's produced by an independently owned Bavarian brewery. Very pale in color, this relatively high-alcohol (6.3 percent ABV, or alcohol by volume) German brew is very toasty yet bright-flavored with a light, honeyed sweetness.
Oktoberfest food pairing: soft pretzels with assorted mustards. Hofbrau's bready malt flavors are the perfect complement for pretzels. And since sweet malt is a great foil for spice, make sure to dip those pretzels into hot mustard between sips.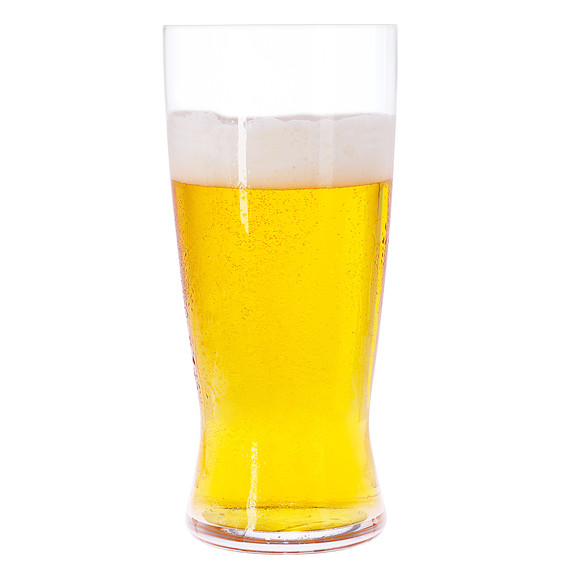 *Pro tip: Always use a glass. Besides being more visually appealing, our sense of smell is highly connected to taste, and there are wonderful aromatics in good beer you won't want to miss -- but you won't get nearly as much from them if they have to waft up through the neck of a bottle. For a perfect pint, pour the beer down the side of the glass at a 45 degree angle until it's halfway full. Then bring the glass upright and finish pouring straight down the middle, leaving approximately one inch of foam on top.
2. The Outlier: Ayinger Fest Marzen
Why it's distinct: Though it's brewed just outside of Munich instead of actually in the city, Ayinger Fest Marzen is still a Bavarian Oktoberfest brew through and through. It has a rich golden color with floral aromas, and flavors of caramel and toffee from the malt. It's very balanced, with a subtle sweetness. At 5.8 percent ABV, it's bold enough for rich foods, but light enough to refresh.
Oktoberfest food pairing: German sausages with apples, sauerkraut, and onion
The caramelized flavors of the malts match perfectly with the sausage's browned edges and crispy skin. Plus, the sweetness is wonderful for taming acidity from the sauerkraut and onion.
*Pro tip: When putting together food and beer pairings, in addition to ingredients in the dish, consider the cooking method. For example, the caramelization that occurs from grilling or roasting can be delightful with a beer that uses caramelized malts. They complement each other and make for seamless transitions from bite to sip.
3. Colorado's Herbal Brew: Left Hand Oktoberfest
Why it's distinct: Colorado's Left Hand Brewery makes a delicious, biscuity Oktoberfest beer with an herbal, hoppy spiciness that's assertive in the American style. At 6.6 percent ABV, it's a little stronger and bolder than its German counterparts, making it a great beer to warm up a chilly night.
Oktoberfest food pairing: boiled potatoes with parsley and dill. In addition to malt flavors, hop character is a great element to consider when pairing beers and food. The grassy hop flavors of this beer and the fresh herbal notes from the parsley and dill will amplify each other, making them stand out even more.
*Pro tip: If you're looking to try something new in the beer aisle, don't worry about knowing the lingo. Go for flavors. Believe it or not, no matter what flavor profile you're looking for, there's a beer to hit that spot: citrusy, chocolaty, nutty, fruity, spicy -- you name it. Just tell your favorite experts at your local beer shop the flavors you like (whether or not you think they relate to beer) or what you're cooking and they should be able to help you find the perfect match for your meal.
4. The Bitter American: Firestone Walker Oaktoberfest
Why it's distinct: This California brew stands out because it leans more toward the bitter side than most Oktoberfests. While the bready sweetness of most Oktoberfests is definitely present, the earthiness and dry, snappy finish set this beer apart. It also boasts just 5 percent alcohol, making it a great choice for an extended drinking celebration.
Oktoberfest food pairing: potato pancakes with spiced applesauce. The bitterness of the beer is a great foil for the fried potatoes, while the fruity malt flavors go hand in hand with the applesauce.
*Pro tip: Carbonation in beer is ideal for cutting through oils and fatty foods. It's the perfect way to balance something heavy. Think of it as scrubbing bubbles on your tongue: It will cleanse your palate and leave you ready for the next bite.