Feel that chill in the air? Fall is settling in fast, and that means it's time to pack up your lightweight sweaters, beach dresses, and silk scarves ... or is it? These DIY hacks let you transform your summer wardrobe seamlessly into fall -- while staying on top of this season's trends.
The trend: Swinging sixties
What you need: A silk scarf
With dizzyingly bright colors and flower-power patterns, the sixties are back in full swing this season (thanks, last season of "Mad Men"). And whether you have one tied snugly around the neck or bound loosely over a purse handle, the silk scarf is a time-tested classic. If you have a hand-me-down handkerchief, you can easily transform it into a handbag (and back again) for those transitional days from summer into fall.
The trend: Digital prints
What you need: A plain shirt; fabric markers; template
Lightweight T-shirts and tank tops are usually the first to get thrown to the back of the closet come fall -- but not this year. Those tees just need a touch-up with a fabric marker to make the transition (and maybe a light sweater to top it off). Digital prints are all the rage right now, so go ahead -- get a little funky with geometric shapes and warped, eclectic patterns. Learn how to personalize a T-shirt with fabric markers.
Watch How to Personalize a T-Shirt with Fabric Markers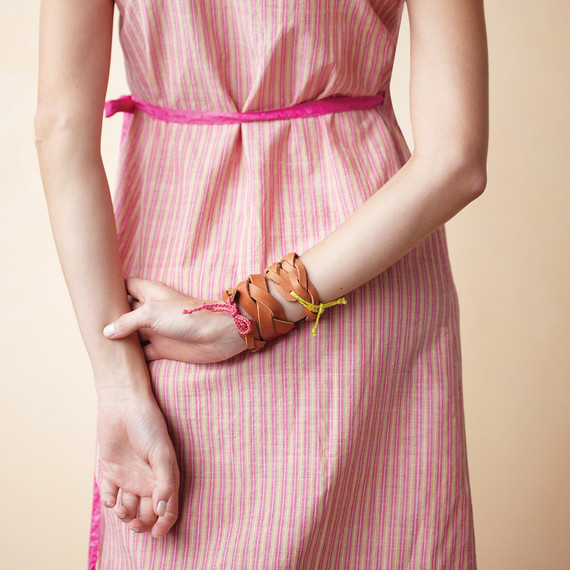 The trend: Boho chic
What you need: A strip of leather; awl; craft knife; embroidery thread; scissors; ruler; self-healing cutting mat
Leather is a tried-and-true classic material for the colder seasons, but the go-to fringed jackets and Western-style booties are everywhere on the street. Stand out from the crowd as a trendsetter (not a follower) with a cool piece of arm candy. All it takes is a single strip of leather and a little bit of braiding magic (with a few craft tools, of course). Stack it with a mix of metallic bangles or rock it on your wrist as a solo statement piece.
Watch How to Make the Mystery-Braid Cuffs
Share your DIY hacks with us: How do you reinvent your wardrobe from season to season?