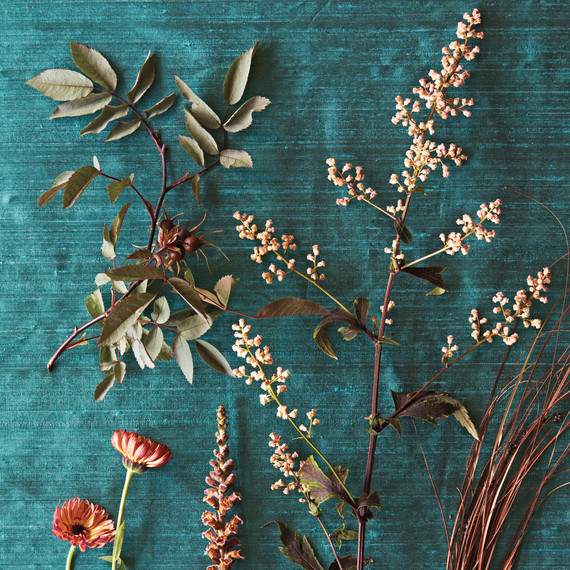 Counterclockwise from top left:
Rosa glauca is a sun-loving, dark-leafed species of rose with scented, pink spring blooms. With regular watering, it reaches six to eight feet high and makes a good background hedge. In winter it features burgundy hips and deep-red canes.
Calendula 'Coffee Cream' has edible flowers that add a pop of color to salads. Direct-sow this annual (which thrives in a sunny garden) in fall or spring and give it moderate water, and it will grow up to two feet and self-seed in subsequent years.
Digitalis parviflora 'Milk Chocolate' is a perennial Mediterranean-native foxglove with flower spires that reach three feet in full sun to part-shade. Beautiful en masse and also as a cut flower, this carefree self-seeder blooms from early to midsummer.
Artemisia lactiflora has dark leaves, mahogany stems, and blush-to-white flowers that top out at five feet -- ideal for back- or midborder locations. A compact, upright grower that needs no staking, this drought-tolerant perennial returns in spring after a fall cutback.
Carex comans 'Milk Chocolate' maintains its tawny hue year-round in Lincoln's borders, accepting dry and part-shade conditions and growing in 16-by-18-inch mounds. It stays neat with only a finger comb-through to remove dead leaves.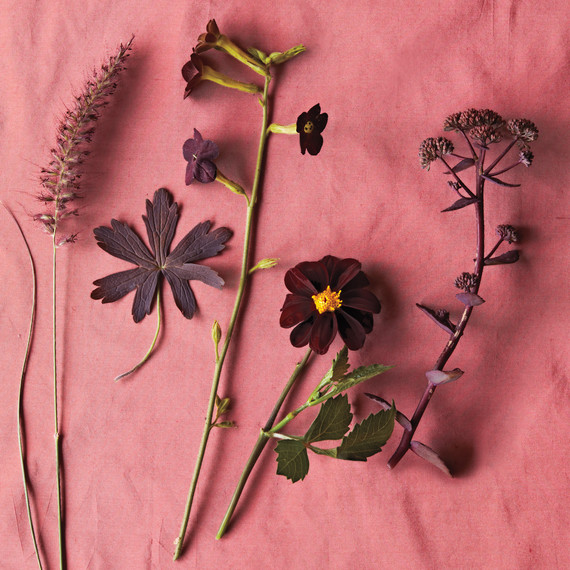 Left to right:
Geranium maculatum 'Espresso' features broad dark-brown leaves, a tidy habit, and pink flowers. It can handle partial shade. A hardy perennial, it reaches 16 inches high, holding its blooms above its foliage.
Nicotiana 'Chocolate Smoke' is an annual flowering tobacco, bred by Lincoln, that combines a very dark-maroon flower with a green tube and a three-foot chartreuse stem. A sun-worshipper irresistible to bees, it's perfect for midborder locations, where its color contrasts shine.
Dahlia 'Chocolate Sundae' is a miniature selection with almost-black blooms adorned with gold centers. In bright light and moderately watered soil, it flowers in late summer, and, for Lincoln, comes back in spring after a winter sleep.
Sedum 'Bon Bon' grows 12 inches tall, offering brown-toned burgundy foliage and rosy blooms from summer into fall. Drought-tolerant and suited to containers, it can revert to green leaves in overly rich soil, so go light on the fertilizer.