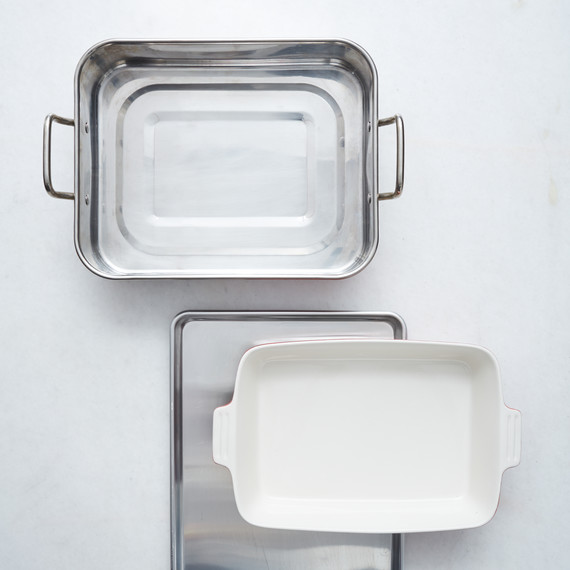 WHEN DO YOU USE A ROASTING PAN?
When a recipe calls for roasting -- cooking ingredients in the oven at a relatively high temperature -- use a roasting pan. You'll achieve that lovely crisp, browned edge that tastes so delicious. Sturdy, with deep sides that will catch pan drippings, a roasting pan can tolerate high heat and allows for even browning. Choose a pan that's at least 12 by 16 inches with 3-inch sides. It will fit a medium-size roast with accompanying side dishes, like lamb with asparagus and potatoes, or a large holiday roast. Large roasting pans can also be used right on the stovetop, across two burners, which really comes in handy when you want to whip up a gravy -- as with, say, pork chops with bacon braised in milk. 
Shop the Martha Stewart Collection roasting pans
A rimmed sheet pan is another pan option when roasting. Affordable and light but tough, it is a staple in restaurant kitchens, and is used for everything from baking cookies and biscuits to roasting fries and vegetables. But it can do oh so much more, and this wonderful flexibility can help you get dinner on the table fast -- with minimal cleanup afterward. From roast chicken with potatoes to salmon with kale, simply spread all ingredients on this 13-by-18-inch sheet, season, and pop in the oven. Voila! 
Find more roasting pan and rimmed baking sheet recipes in our new book, "One Pot: 120+ Easy Meals from Your Skillet, Slow Cooker, Stockpot, and More."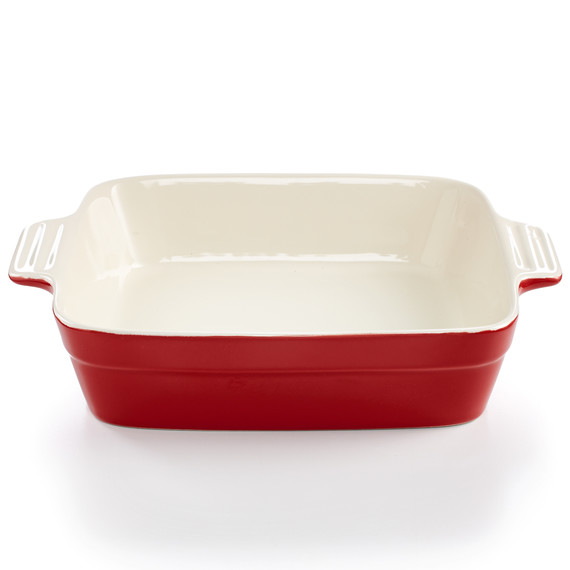 WHEN DO YOU USE A BAKING DISH?
Baking is often done at a lower temperature than roasting and won't create that same browned crust that roasting does. Baking dishes are designed to go directly from oven to table, so they come in various colors; choose one that complements your tableware. They also come in various sizes, the most common being 9 by 13 inches (sometimes called a lasagna pan) and 8-inch square (often referred to as a casserole dish). Tians and lasagnas, with their layering of ingredients, are ideal for baking dishes.
HANDY COOKING TIPS
To ensure vegetables cook evenly, cut them all the same size.
For roasted perfection with delicious brown, crisp edges, don't overcrowd ingredients in the pan; overcrowding will steam, not roast, the food.
For more tips, check out our new book, "One Pot: 120+ Easy Meals from Your Skillet, Slow Cooker, Stockpot, and More."
See how to Roast Chicken with Scallions, Ginger, and Lime on a sheet pan.