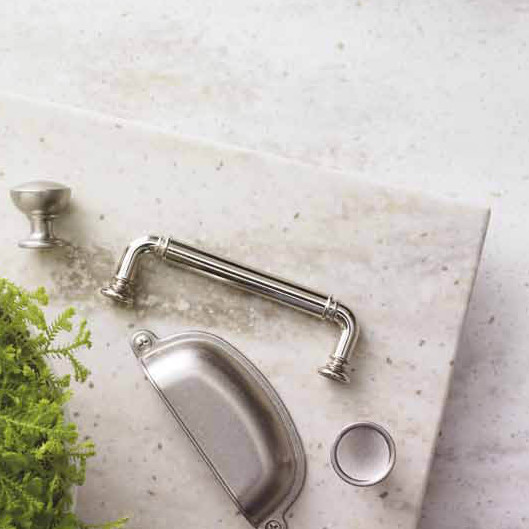 1. Count the cost: The countertop is a surprisingly inexpensive part of a total remodel, costing as little as $560 for 56 square feet of laminate counter.
2. So many materials: Types of countertop materials vary; they include quartz, granite, tile, butcher block, soapstone, concrete, recycled glass, solid surfacing, stainless steel, marble, limestone, and laminates.
3. Granite: It's the most popular pick among buyers -- holds up well against scratches and heat damage. Watch for variations in the stone; semiprecious stones or a rare hue in your slab will raise the price.
4. Sampling samples: Laminate and solid surfacing materials are likely to match the samples you see in the store. However, for natural stone like quartz, granite, or marble, experts suggest going to the stone yard to pick out the slab in-person.
5. Tile: It's a budget-friendly option that is also easy to repair (you can replace the tiles one at a time). Opt for a darker grout to camouflage dirt.
6. Stainless steel: Chefs love this material for its resistance to stains and heat. However, it's less resistant to scratches and fingerprints.
7. Laminate: It is the most budget-friendly choice, but it's not as durable as countertops in other materials.
8. Colorless can be cool: Choose a laminate in a neutral color -- it will be less expensive than a custom color.
9. Recycled glass and cement: These materials can be more expensive, but they are more eco-friendly and customizable.
10. Design tip: If you're buying quartz, opt for rounded edges to avoid chipping.
11. Have an under-mounted sink? A waterproof material, such as concrete, solid surfacing, stainless steel, or stone is recommended so that wiping crumbs from the counter into the sink is a cinch.
12. Butcher block: It's handy for food preparation (think chopping), but should be regularly treated with mineral oil or beeswax.
13. The bullnose edge: It's a popular style that complements almost all countertop materials. (It's also easier on leaning elbows.)
14. The eased edge: It's a simple, flat design, making it the easiest to clean.
15. Cut down the cost by mixing materials: Leftover stone or quartz from bathroom counters can be repurposed.