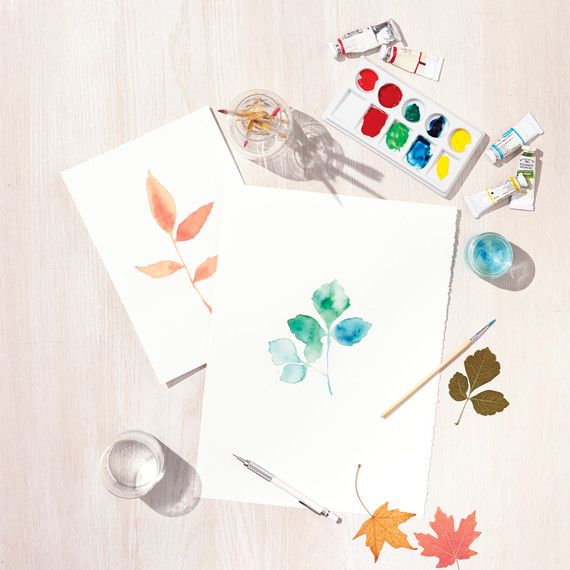 Materials:
Watercolor paint
Paint palette
Leaves
Watercolor paper
Fine-tip paintbrush
Pencil
Eraser
Paper towels
Water
[CHECK OUT: Martha's New Assortment of Watercolor Craft Paints and Tools]
Take a walk outside to find your template — oak leaves, maple leaves, ginkgo leaves, and other varieties with a distinct shape work best.
To make, use a pencil to lightly trace a leaf onto good-quality watercolor paper. Dip a paintbrush in plain water and carefully fill in and saturate the leaf shape, making sure not to exceed the outline. Working quickly, dip the brush in watercolor paint and very delicately touch it to the wet shape in a few places; repeat with other colors as desired. This wet-blend technique allows the paint to flow naturally into the water and the pigment will fill in the shape without going outside the lines. Then gently erase the outline so it's barely visible. Frame it as seasonal wall-art at home or make a batch of them for cards.
Feeling inspired? Watch our crafter Kristin St. Clair demonstrate how it's done: