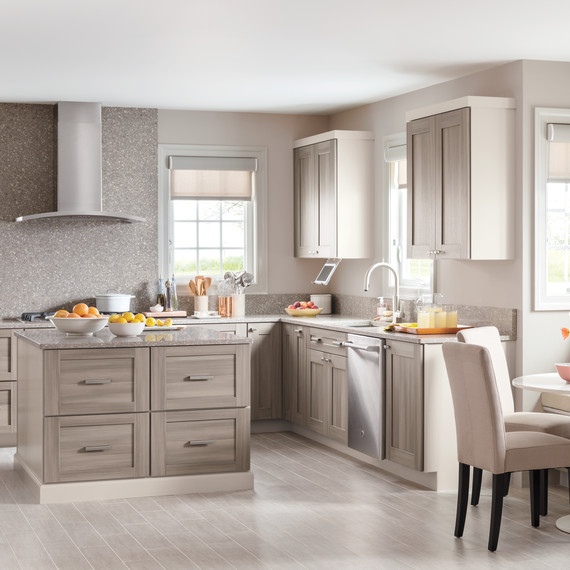 Myth #1: Remodeling a kitchen is just too expensive.
Truth: A kitchen update isn't necessarily out of reach. It's all about choosing the right products within your price point. Martha Stewart Living kitchens are a fantastic value, as our materials provide exceptional quality at an affordable price point. MSL kitchens are one of the most affordable special-order cabinets on the market.
All design elements, from cabinets to countertops to decorative finishes, are considered for you by our designers, taking the guesswork out of creating the kitchen of your dreams.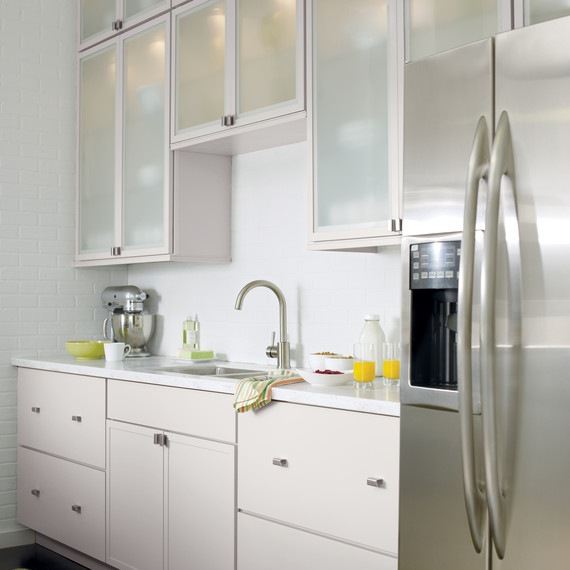 Myth #2: You must spend 20 to 25 percent of your home's value on a kitchen renovation.
Truth: Determine what amount is right for you when setting your budget; for the best return on investment, it is suggested that you budget 5 to 15 percent of your home's value for a kitchen renovation.
Things to account for in your budget:
Cabinets –- 40 percent of your budget
Labor (including plumbing) –- 25 percent
Countertops –- 12 percent
Appliances –- 8 percent
Flooring –- 7 percent
Lighting/electrical –- 4 percent
Wall covering –- 3 percent
Miscellaneous –- 1 percent
Myth #3: I don't need to be too hands-on if I hire professionals to do my remodel.
Truth: Beware! Despite what you see on home renovation TV shows, a kitchen renovation is a process that you should consider thoughtfully to ensure that you'll be happy with the end result!
Typical kitchen renovations last seven months, including the design process and time allowed for custom-built cabinets. Use our handy checklist below before you start:
Researching, planning, and creating a tentative project schedule
Finding kitchen inspiration
Setting a realistic budget
Making an appointment with a Home Depot kitchen designer
Selecting your cabinet style, finish, and color
Getting kitchen measurements 
Reviewing kitchen design your designer has planned. Make sure you have enough storage solutions!
Discussing any changes and finalizing product selections, including countertop, backsplash, tiles, etc.
Contractor verifying kitchen measurements with your designer
Designer ordering product and confirm delivery date with installers
Clearing the area and getting ready for installation, including setting up an alternative kitchen while construction is happening (i.e. washtub for dishes, hot plate, microwave, etc.)
Enjoying your new kitchen!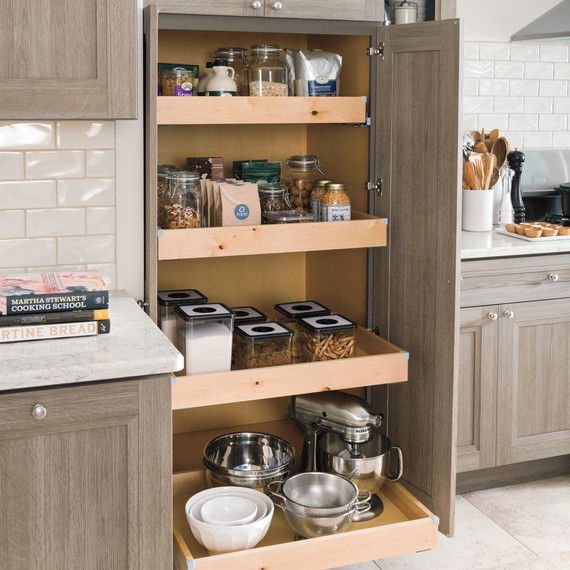 Myth #4: It's best to cut corners wherever you can on a kitchen renovation.
Truth: According to the Kitchen Remodelers 360 Study, which is done by the Research for Cooking & Kitchen Intelligence (RICKI), 40 percent of homeowners say they wish they had spent more money on their kitchen renovation. In fact, homeowners admit that their biggest regret was not adding more organizational features.
Kitchen add-ons like SuperCabinets™, roll-out pantries, and pot and pan organizers make cooking and entertaining a breeze, improving your efficiency and time spent in the kitchen. Consider how you use your kitchen and determine the features that are most important to you. MSL cabinetry has many organizing features to make your life easier.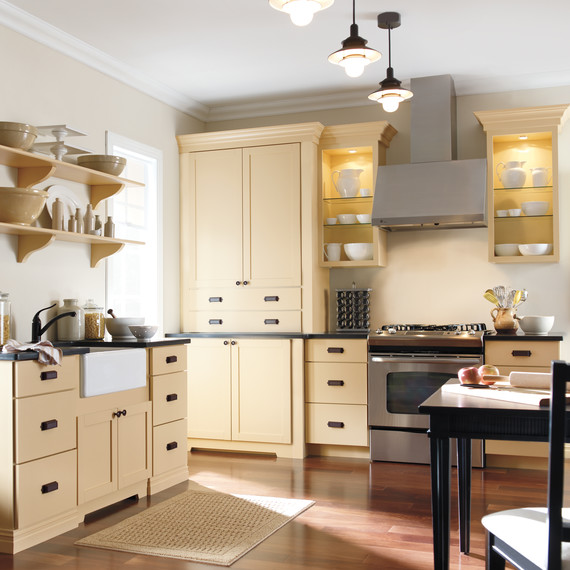 Myth #5: If you want painted wood cabinets, you have to go for the genuine article; accept no substitutes.
Truth: Not so at all. PureStyle™ cabinets achieve the look of painted wood cabinets but are a more durable option, and they're easy to clean. Brand-new door styles Tipton and Gardner feature textured PureStyle™, offering the look and feel of real wood grain with the advantages of easy maintenance and a lower price point than natural wood.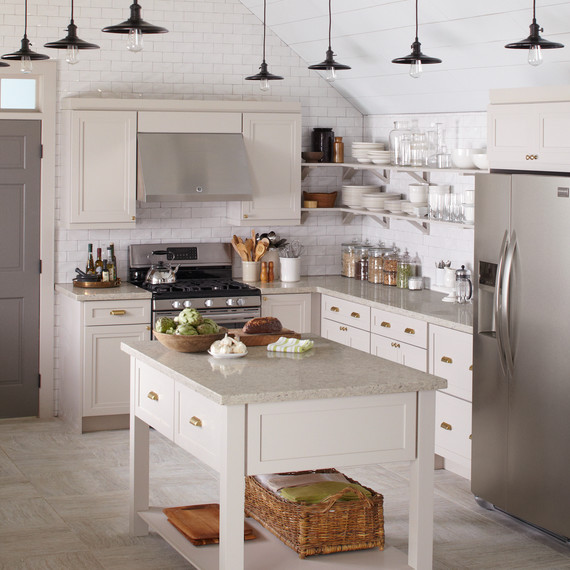 Myth #6: You must hire a professional to choose the right products for your kitchen remodel.
Truth: You don't have to hire a professional if you shop wisely. Designers at MSL have considered all the elements of great kitchen design and have coordinated our products to make it simple for you to find a cabinet style that suits your tastes, and then choose a coordinating quartz or Corian countertop that suits any color palette. Our exclusive hardware designs are the perfect finishing touch to any of our kitchens.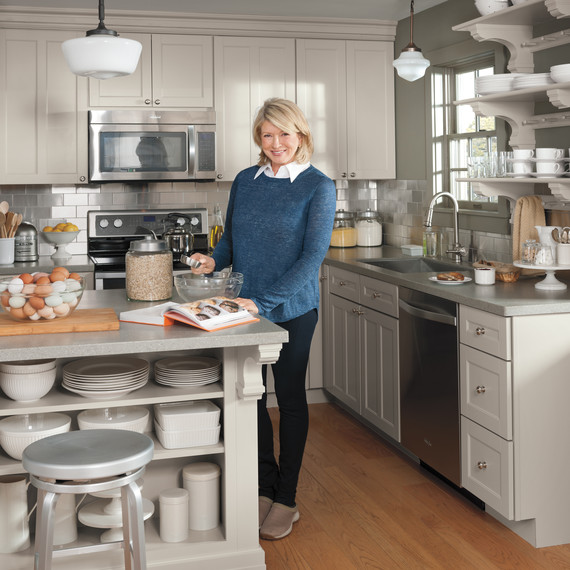 #7: Fact—Martha Stewart Living kitchens are inspired by the kitchens and homes of Martha Stewart herself!
The details that make Martha's kitchens organized, beautiful, and practical inspired all the elements of the Martha Stewart Living kitchen line at The Home Depot
Lily Pond style at The Home Depot –- Martha's house in the Hamptons named Lily Pond
Maidstone style at The Home Depot –- Maple Avenue kitchen at Bedford
Dunemere style at The Home Depot –- Martha's main kitchen in Bedford
Turkey Hill style at The Home Depot –- Martha's first home in Westport, Connecticut
Seal Harbor, a country kitchen, was inspired by the horse stables at Martha's farm in Bedford, New York
Ox Hill style at The Home Depot –- Martha's daughter Alexis's Bedford kitchen