What Is It? 
Founded in San Francisco in 2012 and then launched in Brooklyn in 2014 after a successful Kickstarter campaign, Makeshift lets its members enjoy the amenities of a coworking space and a built-in community, share each others' projects, and find reprieve from the isolation many experience working outside a traditional workplace.
How did each of you become involved and invested in supporting makers, creatives, and entrepreneurs? 
Rena Tom: I have been interested in the creative community since I started my retail shop Rare Device in 2005 in Park Slope, and then later in San Francisco. I tried to feature the best handmade and independent designers from around the world, and this desire to work with makers has only gotten stronger, culminating in Makeshift Society.
Bryan Boyer: It's probably in our blood too. Rena and I both come from entrepreneurial families. My dad had a business in the 1970s that's not unlike Makeshift Society, actually. Instead of desks and tables with people working on their laptops, his DIY van conversion shop had garage spaces, and people could rent them out and then get help from experts on staff on how to install a kitchen in the back of their van or put in wall-to-wall carpet. As he would say, "It was far out."
For me it's also about feeling as though enough is enough. I was lucky to complete degrees in architecture at RISD and Harvard, so between all of my years in school I've met a ton of really talented people who are now doing world-class work. But so many of them are barely scraping by financially. In design schools there's such an intense focus on creativity, but I feel like we have a lot of work to do with regards to all the meta-issues associated with creative pursuits. The best thing that we can do at Makeshift Society is make it a place where you can talk about the creative issues one minute and business topics, like fee structures or pricing, the next.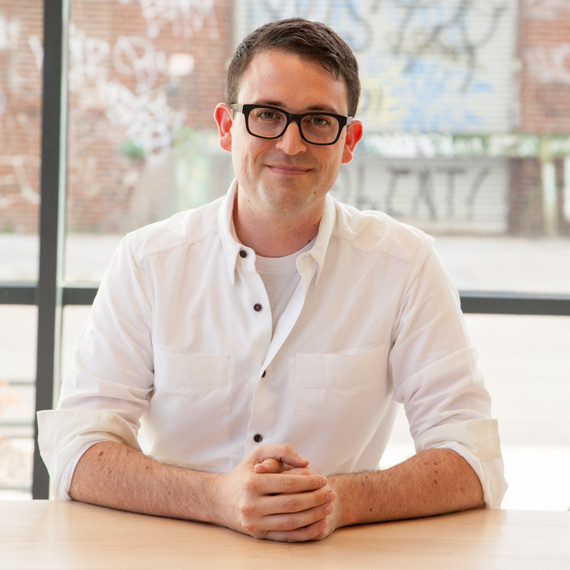 How was Makeshift Society founded? 
RT: I actually didn't intend to start a coworking space! I wanted to make a design book lending library but after discussing it with many friends near and far, including Victoria Smith [sfgirlbybay] and Bryan, who was in Helsinki at the time, the concept transformed into a space with even more resources than books, appealing to even more people than artists and designers.
What is the meaning behind the name -- Makeshift Society? 
RT: Naming a business is so difficult! We love a good play on words, and "makeshift" can be both scrappy and high-concept. We wanted to acknowledge the shift that independent business owners are going through. "Society" because our members are at the heart of the whole operation. A lot of other coworking space names are about working or productivity, but we wanted to emphasize that we are solo entrepreneurs who have banded together to make something much bigger than any one individual.
BB: We use the phrase "make shift happen" often as a way of reminding ourselves that there are big changes afoot in our economy, and that legion freelancers and small business owners are part of that. As much as it can feel like the economy is changing whether we like it or not -- full-time jobs are harder to find, some jobs are being replaced altogether by automation -- there's also room for personal agency in this moment of flux. Many of our members have at some point willingly walked away from full-time employment for someone else to find another way to pay the bills that gives them the freedom to meet financial as well as personal needs. There's almost this myth that freelancers are rebels who have thrown their fists in the air and rejected the corporate grind, but we find that the reality is much more nuanced. It's not about bucking full-time employment, but consciously shifting to a new way of supporting oneself and using one's time to work on things that are meaningful.
As the Makeshift community has grown, from San Francisco to Brooklyn, what have been some of the best surprises along the way?
BB: In San Francisco one of our biggest cohorts are photographers, but here in Brooklyn the biggest group by the numbers at the moment, in our first two months, would be illustrators. We're not sure why, but it's exciting to see how each location reacts differently. But if I have to name a big surprise, it would be the extent to which people are willing to help. With the process of opening Brooklyn, we saw once again the incredible generosity of our membership and friends, who seemed to always have just the right introduction to make.
RT: We love all of the micro-communities we have tapped into. A very disparate network makes for incredible connections. We have people from all walks of life. The factor that unites them is that the Makeshift ethos resonates somehow; our members are very loyal, fantastic people.
How do creative entrepreneurs and members help shape Makeshift Society?
BB: Primarily by being open and honest with their suggestions and questions. If there's something that's not working, or something they would like to see happen, we hear about it, and that kicks us into action. A good number of our classes come from statements from our members like, "I wish I knew more about…" And since we're constantly asking people what they're up to and what they're working on, we're also in the habit of drawing people in to teach classes, hold workshops, or give us feedback on our own planning. This makes our work in nurturing Makeshift Society a constant feedback loop between members -- which includes us, by the way; we think of ourselves as members. We seek feedback about small things too. Recently I asked people for feedback on the welcome packet we give to everyone who visits us. They trashed it completely! But when I rewrote the copy, the end result was five times better than it had been in the first draft.
Tell us about your Tool Library, and what other services and benefits you offer to entrepreneurs. 
BB: The Tool Library is in the works right now. We're aiming to have an assortment of tools that allow people to experiment and iterate. Before you buy that $400 sewing machine, why not rent it for a day? And if you only need to take photos for your line sheets once or twice a year, do you really want to have lights and a seamless backdrop taking up half of your closet the other 363 days per year?
We think about it as an attempt to lower the barriers to entry into creative business. Having a community of like-minded people was step one. Step two was making it more affordable for people to have a great place to focus and get work done. Step three was making it easier for people to gain new skills, which is why our classes and events are important.
RT: Benefits that I feel are the most valuable are sometimes the most intangible too. Feeling like you have a community of friends and peers that you can rely on to just show up is sometimes all it takes. It's like the "Cheers" effect. Yes, these people might help you and your business out via collaboration or accountability, but we don't discount the pleasure of just bumping into a Twitter friend in the space, or meeting someone who went to the same high school as you and has all the same reference points for growing up. All of these interactions knit people together as surely as a work contract.
What does the future hold for Makeshift Society? 
BB: The past year has been a torrent of things related to opening the new Brooklyn location, redesigning our branding, and revisiting some of the deeper philosophical issues that compel us forward, so we enjoyed a summer of watermelons and ice cream, frankly!
Now the next challenge for us is to continue working on issues related to professionalization and growth for our members. It's great to be a one-person graphic design studio, but things change when you start to hire people. Similarly, making and selling hundreds of products per year and then ramping up to thousands per year is a big task that changes things qualitatively as well. The economy has changed dramatically since the 1960s, but the ecosystem around new companies can still feel traditional and mismatched for the challenge at hand. Just because you're doing a more traditional business does not mean you need to do it in traditional ways.
Our focus is figuring out how we as the creative community can up our game so that we're as serious and capable on business issues as we are on creative ones. It sounds so nerdy, but when we think of the future of Makeshift Society, we want to be the chamber of commerce crossed with a barn-raising or a pie social. Picasso said, "When art critics get together they talk about form and structure and meaning. When artists get together they talk about where you can buy cheap turpentine." We're definitely in the turpentine camp.
How can people get involved?
BB: Come to a class, or tell us what you want to learn! We also like it when people visit on a day pass and see what it's like to work with us. 
RT: Follow our sometimes-hilarious Instagram accounts for the Brooklyn and San Francisco locations, tell your friends about us, and be inspired by people doing creative things.
Visit Makeshift Society to learn more about joining their community, and see inside their San Francisco and Brooklyn offices, here.