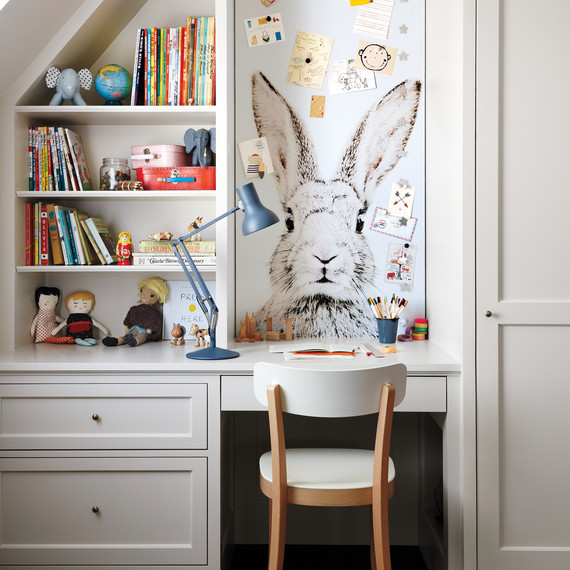 I've always taken a personal approach to "getting in the zone." As a child, I had an old-fashioned wooden flip-top desk, and sitting there helped motivate me to do homework and creative projects alike. As simple as it was, it was my desk, and I found it hard to work anywhere else.
I still believe less is more when it comes to kids' work spaces, but a few key elements should definitely make the grade. I hope you're inspired by my dream conditions for homeworking and beyond.
The surface. Notice I don't say "desk," because I think it's important to expand the definition of a work space for kids. Between craft projects (for younger kids) and ever-multiplying tech tools (for everyone else), I think modern youngsters need more room to spread out than I had at my little one-by-two-top. Get a desk or a table, but make sure it's got plenty of surface area, and do your best to keep whatever's on it in order. A clean surface is a happy surface.
The seat. I prefer stools to chairs -- for the young and able-bodied, at least -- because they force one to sit at attention. Good posture supports focus. Who knows if a chiropractor would agree, but that's my philosophy.
The lighting. I love natural light in almost every scenario, but this is one time when a window may do more harm than good. Embrace the corner -- and a powerful desk lamp.
A pinup board. Again, you don't want anything too distracting, so keep this function-first. Reminders of future deadlines and past accomplishments can go a long way in keeping kids on track.
A bookshelf. Foster a love of books from day one. Keep them within reach, and display them beautifully. My color-coordinated shelves make me smile in my most stressful moments -- and reach for my favorites again and again.
What do you think makes a great work space?