The color of the tableware known as drabware may just be the ultimate neutral. It fits into any setting and looks good with almost any other color. It's also a chameleon, taking on a different tone depending on the light it's in and what it's paired with.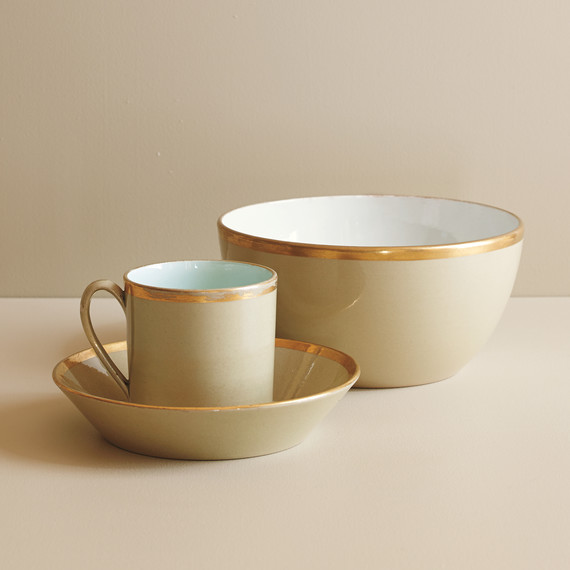 "I just think it's one of the finest backdrops for decorating," says Martha, who purchased her first drabware at an antiques show in the early 1980s. Over the years, as her collection grew, she both displayed and used the pieces. And -- in a move that all collectors might want to consider -- she took the items that she loved and let them inspire her in a bigger way. Going beyond hanging the plates on the wall, she brought the color of drabware and similar muted shades into many rooms by way of paint and upholstery. "It's so versatile and fits so beautifully in every interior," she says.
Drabware has had its admirers since the celebrated English pottery Wedgwood introduced it in the early 19th century. "Everyone from a monarch downward aspired to it," says Gaye Blake-Roberts, director of the Wedgwood Museum, in Stoke-on-Trent, England. Indeed, in 1822 King Christian of Denmark went into Wedgwood's London showroom and ordered a drabware dinner service, which was printed with his coat of arms. Drabware was also popular with the upper-middle class, and it was used for a multitude of objects, including incense burners, candlesticks, ink sets, and miniature play services for children. From the start, Wedgwood made drabware using Cornish clay, with the additions of flint and nickel, which results in the earthy tone. So unlike ceramics that get their colors from glazes on the surface, drabware is drab through and through. It has a clear glaze, though pieces can be decorated with gilding, colored enamel, or other embellishments.
Drabware was produced on and off through the 19th and 20th centuries by Wedgwood; many other companies, both big and small, also made their own versions. Wedgwood produced a line for Tiffany & Company in the 1970s, and later Martha and her team of designers worked with the pottery to offer drabware in both plain and gilded-rim versions for the Martha by Mail catalog, in 2001. Drabware from each era is collectible today. Of the early pieces, large pitchers and platters are particularly rare, as fewer were made and they were least likely to survive, says author and noted collector Fritz Karch. It is the "smaller stuff from the back of the cupboards" that may be a little easier to find now, he says. You can find drabware on online auction sites and from china-replacement services and some antiques dealers; Martha has purchased many pieces from Bardith, in New York City. A set of early plates or teacups can now cost into the thousands of dollars, while a five-piece place setting made in 2000 can be had for about 200 dollars. Whether or not you seek out actual pieces, you can still be charmed by drabware -- and take advantage of its highly adaptable nature. A couple of gallons of paint, a few yards of fabric, or some carefully chosen accessories are all it takes to transform a room using this goes-with-everything shade -- whatever you decide to call it.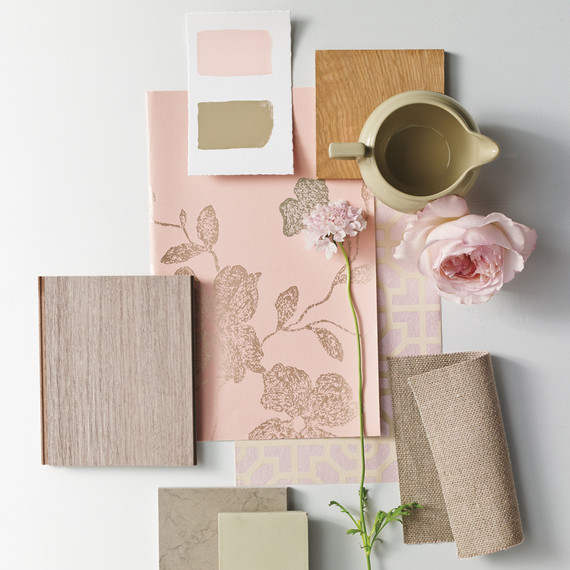 Pair It with Pink
If you're drawn to pink but hesitant to decorate with it, add some drab -- it grounds pink, making it instantly more sophisticated than sweet. Choose dusty shades, which are similar in tone to drab, for an especially tranquil effect. Light natural wood also works beautifully with this palette, and wallpaper is a nice way to bring in pattern.
Eurolux paint (top swatch), in E3-36, finepaintsofeurope.com
Paint (bottom swatch), by Behr Ultra, in Safari Vest, homedepot.com
Alyssa wallpaper (gilded), shop.ninacampbell.com
Nabucco wall-coverings collection (geometric), in Sussex Shell, designersguild.com
Mission Cloth fabric, in Spray, Rogers & Goffigon, 203-532-9275
Cement tile (small square), in Vanilla, mosaichse.com
Stone tile (large square), in London Grey, annsacks.com
Dream Home laminate floors, 10 mm, in NVP Delaware Bay Driftwood, lumberliquidators.com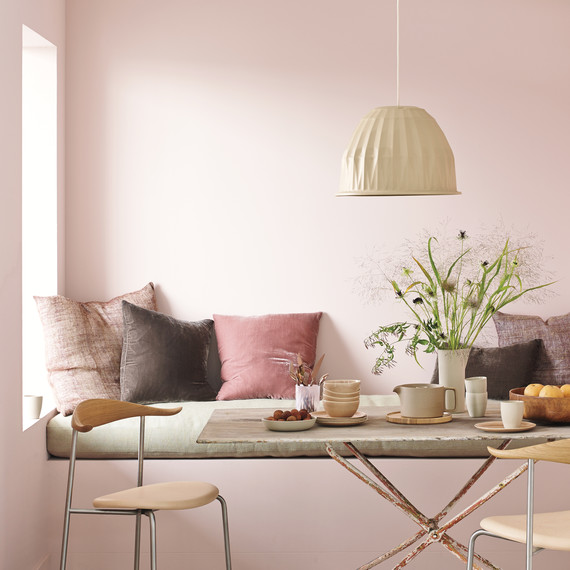 Rise and Shine
The hues in this breakfast nook are a pleasure to wake up to. A coat of drab-colored paint makes a vintage galvanized pendant lamp look almost like porcelain; the floor, chairs, table, and banquette cushion are also wonderfully neutral. Color is brought in through shell-pink wall paint and throw pillows in varying textures. Contemporary ceramic tableware echoes drabware's timeless appeal.
Paint, in Rose Blush (on wall) and Clarksville Gray (on lamp), benjaminmoore.com
Antique metal dining table; Aviva Stanoff velvet pillows; Nettle linen pillows; and Dune bowls and plates, in Pink Beige, abchome.com
CH88 chairs, carlhansen.com
Five-piece rose-gold cutlery set, michelevarian.com
Teapot and ash-wood tray, by Hasami Porcelain, theprimaryessentials.com
Carafe; latte cups; and Pebble cereal bowl, in Sand, us.mudaustralia.com
Dream Home laminate floors, 10 mm, in NVP Delaware Bay Driftwood, lumberliquidators.com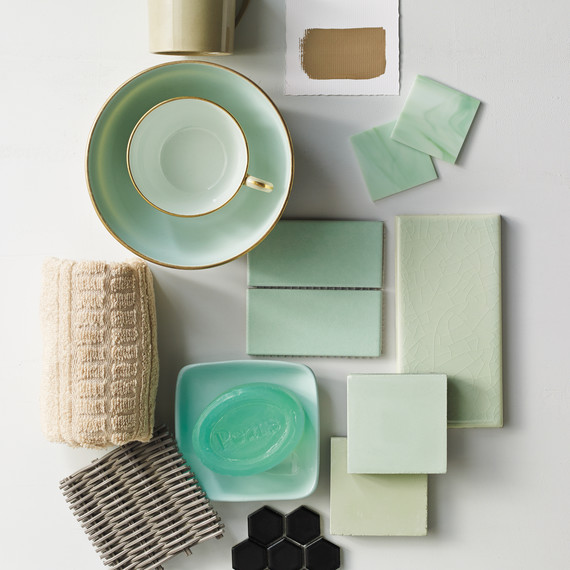 Pair It with Jadeite Green
Drabware pieces with blue-green interiors share the color palette of this bathroom. The green isn't far from the shade of Depression-era jadeite tableware (another vintage collection of Martha's). A rich brown is a calming and contemporary counterpoint to the crisp, cool pastel; the two balance each other perfectly. Drabware can have this modernizing effect on other hues as well, making it a chic choice with vintage colored tile in a bathroom or kitchen.
Eurolux paint (top swatch), in AR-9, finepaintsofeurope.com
Paint (bottom swatch), by Glidden, in Ground Nutmeg, homedepot.com
Green swirled tile (small squares), in Cucumber; and hexagon mosaic, 1 inch, in Black Matte, waterworks.com
Ceramic tile (small rectangles), in Agerato, Nemo Tile Company, 212-505-0009
Glazed ceramic tile (large rectangle), in Seaglass, countryfloors.com
Cement tiles (large squares), in Pale Jade and Pistachio, mosaichse.com
Square small plate (holding soap), in Pistachio, us.mudaustralia.com
Towel, by Martha Stewart Collection, in Antique Linen, macys.com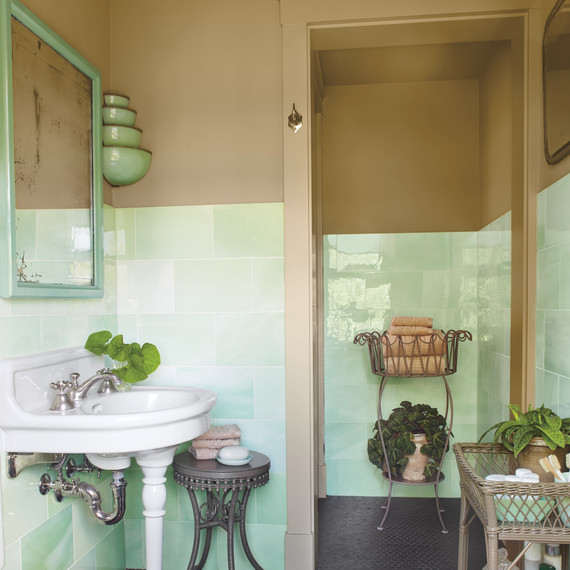 Bathing Beauty
Drabware gets a light, bright partner in this guest bathroom. Martha found the antique Venetian-glass light fixture on a trip to Italy; it's from the early days of Venice's Bauer Hotel. Then she sought out the vintage glass tiles in a similar shade of green and painted an industrial mirror frame to match. The fanciful shapes of wicker and wrought-iron plant stands, which have been repurposed as storage for towels and toiletries, look fresh when painted to coordinate with the walls and woodwork.
Paint, in SK-15 (on walls) and AR-13 (on mirror), finepaintsofeurope.com
Paint (on furniture), in Stampede, benjaminmoore.com
Small Pebble bowl (holding soap), in Pistachio, us.mudaustralia.com
Towels, by Martha Stewart Collection, in Antique Linen, macys.com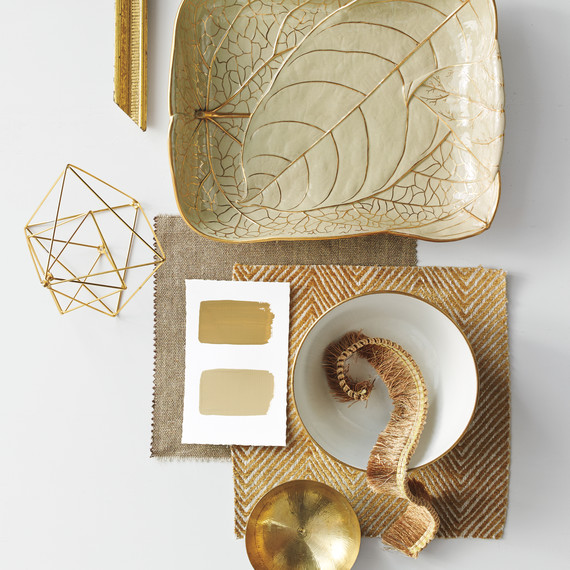 Pair It with Gold
Some drabware pieces were embellished with bands of gold around the rims; others, like the antique plate here, had even more gilt decoration. Either way, they add sparkle to the table. Similarly, subtle gold accents can take a neutral room from simple to striking. Temper the gleam of gold by bringing it in through textiles in addition to brass and gilded details.
Paint (top swatch), in Livingston Gold, benjaminmoore.com
Paint (bottom swatch), by Behr Ultra, in Woven Straw, homedepot.com
Frame sample, chelseaframes.com
Aranjasa weaves (herringbone), by William Yeoward, in Ochre, designersguild.com
Amatista Collection fabric (woven), in Maroon/Oro, altforliving.com
Metallic brush fringe, in Gold, samuelandsons.com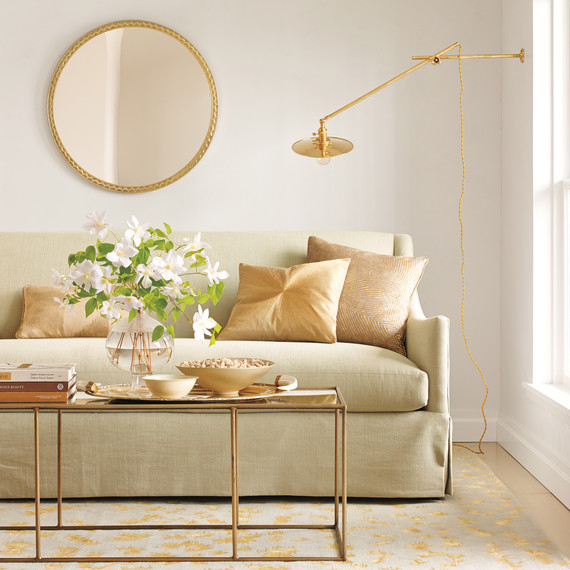 Fine Lines
White walls. Neutral sofa. This is a room anyone can create, bringing in personality and elegance with hints of gold. The brass mirror, industrial-style lamp, and coffee table find the midpoint between traditional and modern. Pillows and a patterned rug add soft shimmer.
Graydon sofa, jaysonhome.com
Thin textured-brass round mirror; and embroidered metallic bull's-eye pillow cover, in Gold, westelm.com
Brass wall lamp, workstead.com
Othello coffee table, wolfhomeny.com
Wool Nepalese rug, by Vasanti Collection, 9 feet by 12 feet, starkcarpet.com
Great Plains fabric (geometric pillow), in Temple Garden: Golden Sun, hollyhunt.com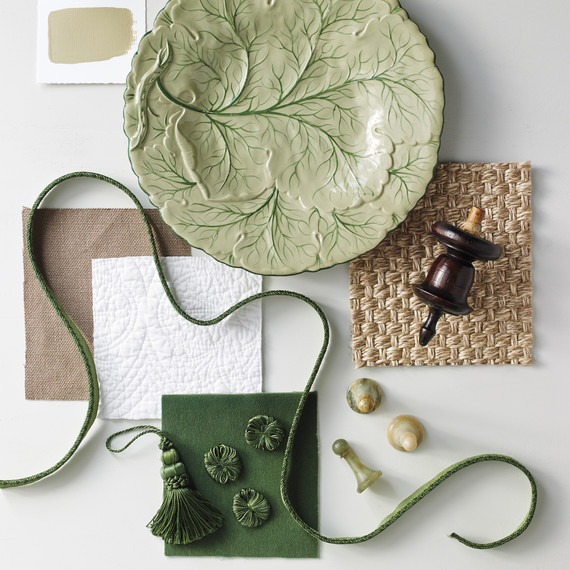 Pair It with Emerald Green
The hand-painted botanical pattern on this antique plate shows how well drabware works with the deep greens of nature. A bright hit of white makes rich colors look even more luxurious. When you decorate with just a few hues, textures really stand out; consider bringing in the smoothness of wood and marble, the delicacy of stitching on matelasse linens, the coarse weave of sisal, and the plush nap of velvet.
Paint (top swatch), in Norwich Brown, benjaminmoore.com
Eurolux paint (bottom swatch), in AR-1, finepaintsofeurope.com
Quatrefoil quilt, matteohome.com
Glynn linen, in Vintage Linen, covington-newyork.com
Luxe sisal, in Silver Topaz, meridastudio.com
Covet plush velvet fabric, in Forest Green, donghia.com
Le Jardin silk cord with tape, 1/4 inch; Le Jardin silk tuft, 1 inch; and Le Jardin silk key tassel, 3 inches, in 70 Forest, samuelandsons.com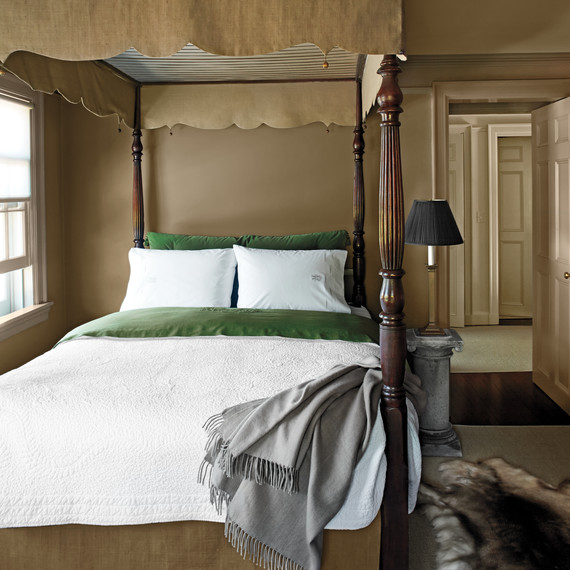 Just Dreamy
Martha created a cozy, nestlike guest bedroom by using the same warm shade of drab on the walls, woodwork, and bed hangings. A canopy and bed skirt get refined makeovers with tailored shapes in fine Japanese linen. A white matelasse coverlet, green velvet bolster pillow, and linen sheet all add up to a sumptuous bed.
Paint (on walls), in LP-21, finepaintsofeurope.com
Hand-monogrammed pillowcases, in White, juliab.com
Covet plush velvet fabric (on large pillow), in Forest Green, donghia.com
Circa 1900 French linen sheet with embroidered monogram, in Soft Green, Susan Oostdyk Antiques, 201-910-9146
Cashmere throw, in Oatmeal, Pratesi NY, 212-288-2315
Reindeer skin, dienstanddotter.com