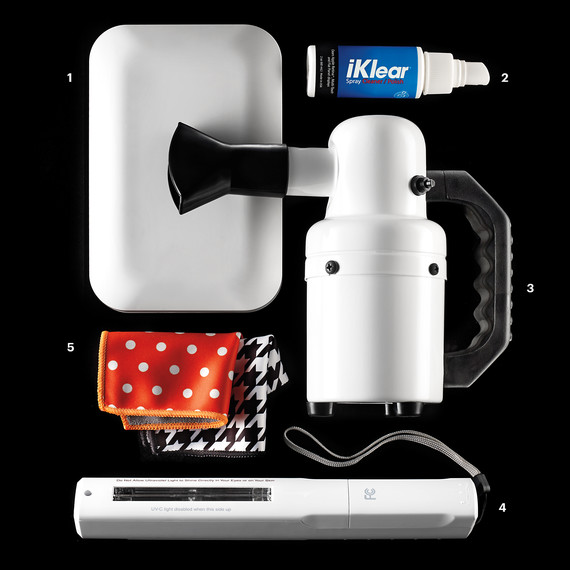 1. Cell Phone Sanitizer
Disinfect while you sleep! The PhoneSoap will charge your phone's battery as it disinfects. Simply plug yours in and shut the lid, and the UVC light will zap away germs.
$50, phonesoap.com
Use On:
Smartphones, small digital cameras, earbuds -- whatever will fit inside.
2. Screen Cleaner
This antimicrobial cleaning spray removes dirt, smudges, and bacteria from most electronics. Just squirt it onto a soft cloth and gently wipe.
iKlear spray, $13 for 8 oz., staples.com
Use On:
Laptops, desktops, TV monitors, smartphones, and tablets.
3. Compressed Air
The DataVac electric duster dispels dust and dirt from hard-to-reach spots -- like inside your computer's USB ports. "Never insert any object into a port to try to clean it -- you may accidentally cause more damage," says Tekserve's Michael Truskowski.
$100, staples.com
Use On:
Keyboards, mice, printers, and DVD players.
4. Sanitizing Wand
A UVC wand is a great way to clean hard surfaces. Wipe away visible dirt, then wave the wand over your gadget for a few seconds to eradicate 99.9 percent of germs and allergens.
CleanWave sanitizing wand, $60, verilux.com
Use On:
Just about anything: phones, remote controls, keyboards, whatever!
5. Antimicrobial Cloths
These machine-washable, dual-sided (one for polishing, the other for buffing) microfiber cloths safely clean your screen by absorbing the oil, dirt, and moisture that fingers leave behind.
Smart cloths, from $12 each, schatzii.com
Use On:
Smartphones, tablets, laptops, TV monitors, game consoles, and eyeglasses.