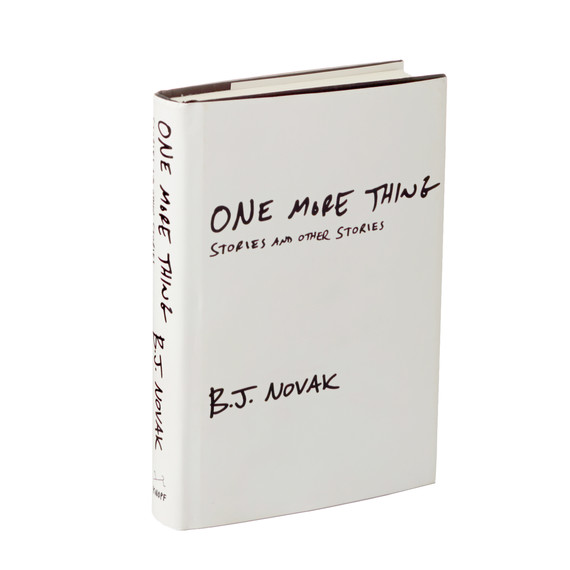 What do summer and the holiday season have in common? It's nearly impossible to get a group of people in one place at the same time. And the Living Book Club is no exception. So this summer, with beach days and getaways shaking up our schedules (not that we're complaining!), we decided, for the second year in a row, to choose eight fantastic books that we are really excited to dig into, and pass them back and forth all summer, holding mini-meetings at the water-cooler and over our morning coffee.
First up is B.J. Novak's collection of short stories, "One More Thing." Released earlier this year to much acclaim, these sharp-witted stories runs the gamut from acerbic to bittersweet, and are as short as a few lines (a personal favorite, "If You Love Something") to as long as 20 pages or more.
From the Publisher:
A boy wins a $100,000 prize in a box of Frosted Flakes -- only to discover that claiming the winnings might unravel his family. A woman sets out to seduce motivational speaker Tony Robbins -- turning for help to the famed motivator himself. A new arrival in heaven, overwhelmed with options, procrastinates over a long-ago promise to visit his grandmother. We meet Sophia, the first artificially intelligent being capable of love, who falls for a man who might not be ready for it himself; a vengeance-minded hare, obsessed with scoring a rematch against the tortoise who ruined his life; and post-college friends who try to figure out how to host an intervention in the era of Facebook.  Along the way, we learn why wearing a red T-shirt every day is the key to finding love, how February got its name, and why the stock market is sometimes just...down.
Finding inspiration in questions from the nature of perfection to the icing on carrot cake, "One More Thing" has at its heart the most human of phenomena: love, fear, hope, ambition, and the inner stirring for the one elusive element just that might make a person complete. Across a dazzling range of subjects, themes, tones, and narrative voices, the many pieces in this collection are like nothing else, but they have one thing in common: They share the playful humor, deep heart, sharp eye, inquisitive mind, and altogether electrifying spirit of a writer with a fierce devotion to the entertainment of the reader.
Let us know if you're packing "One More Thing" on a weekend adventure! Check back in for more picks from our summer reading list.