by Carol Williams
High Meadow Farm is an old estate with ponds, pastures, gardens, an orchard, and expansive, romantic views. But when owner Dominique Bluhdorn moved in with her family 10 years ago, the house and its scattered outbuildings were surrounded only by a melancholy expanse of lawn. What brought it to life?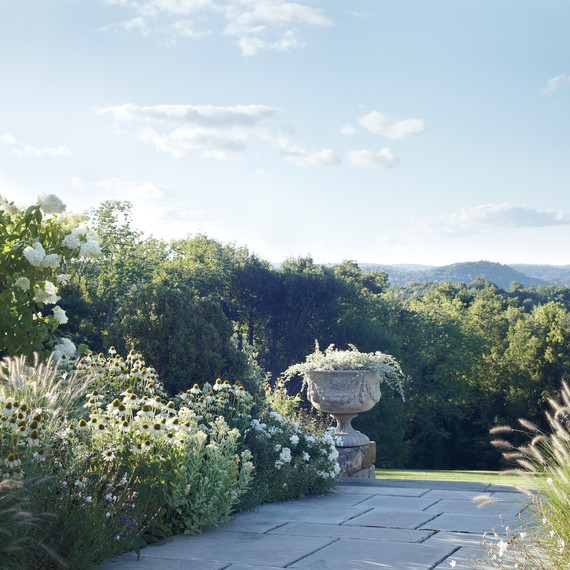 Bluhdorn envisioned a "mosaic of gardens -- sanctuaries, really," in place of the uninspired landscaping. She wanted them to mirror the natural beauty of the distant hills. Brian Grubb, a landscape designer with a profound knowledge of how plants behave, understood her impulse. A close collaboration soon developed.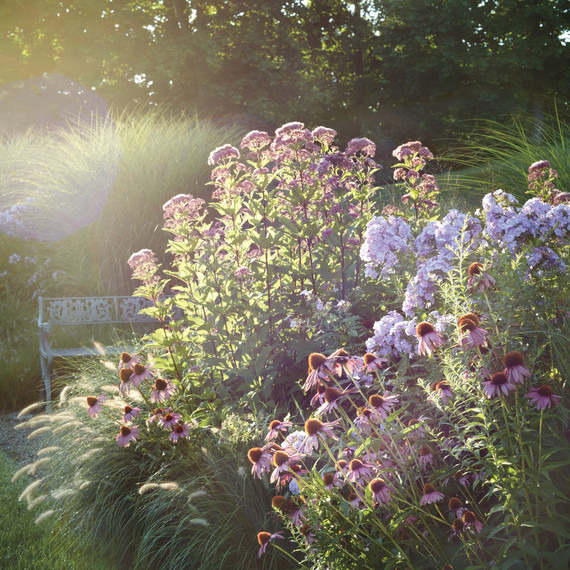 Both recognized the paradox that wild gardens look best when they're framed by formality. Bluhdorn's limestone house evoked the architecture of French country houses, where gardens relate strongly to the lines of buildings and their symmetries. So Grubb designed a series of beds, borders, and hedges that adhere to this design philosophy. Then he deliberately chose exuberant plants that wouldn't be shy about crossing those lines, bringing with them a distinctively American informality and grace.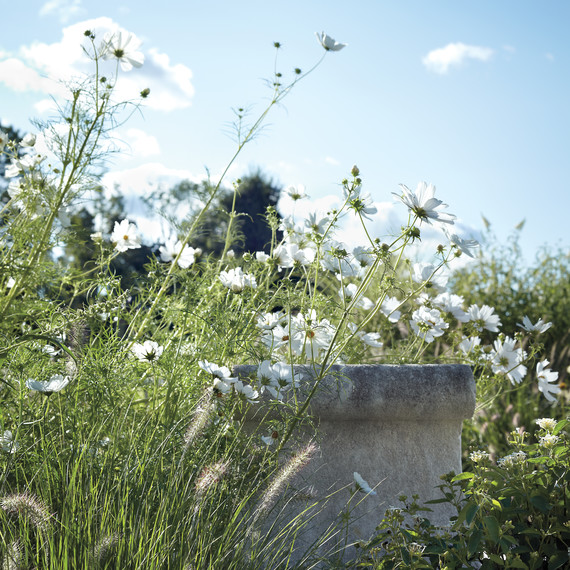 The plantings are a considered mix of grasses, flowering shrubs, boxwood, annuals, and perennials. Grasses play the most significant role. Always in motion, they soften edges, while at the same time capturing light and forming diaphanous hedges. They're at their best when late summer's slanted light glimmers through their silvery blades and plumes.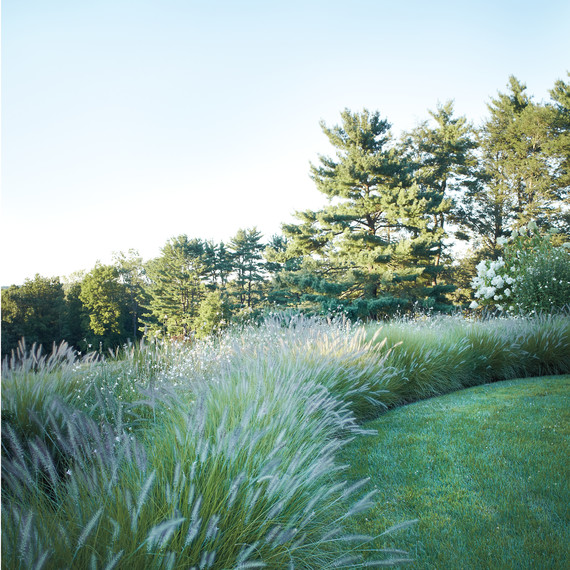 As many gardeners know, grasses can be difficult, often overwhelming other plants as they grow, flop, and spread. Planted by themselves, however, they are oftentimes bleak. Grubb resolved this dilemma with a selection of new cultivars that keep to manageable sizes and have an upright growing habit. Even at their highest, these grasses play beautifully with late-summer flowers and shrubs. 'Little Kitten,' among the smallest and neatest of the Miscanthus sinensis grasses, does not exceed three feet, even in bloom. It is so tidy in habit that Grubb uses it as an edge between the beds and lawn. Panicum virgatum 'Northwind' is a switchgrass that can reach six feet but stays vertical. The perennial dwarf fountain grass Pennisetum 'Hameln' arcs elegantly, but only to two or three feet. All are left to winter over -- lovely in the snow -- then cut low in early spring.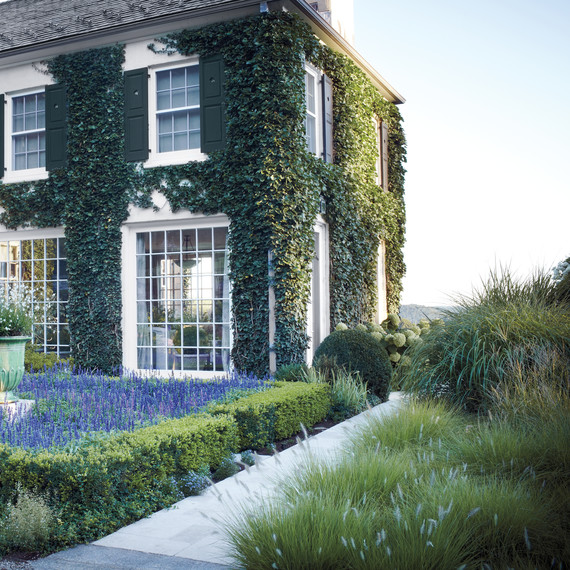 The flowers that shine among the grasses are chosen for their robustness and long or late bloom: They must hold their own when the grasses are at full height. Most of the annuals bloom all summer. Perennials such as Japanese anemone, joe-pye weed, and echinacea open in July and continue through September. The peegee hydrangea shrubs and small trees have white flowers, then subside into rosy shades with fall's approach.
Blooms at every height create a meadowlike effect. Clouds of white boltonia float five feet high with no staking. Cleome and white cosmos wave high in the breeze. Echinacea drifts, and gaura weaves among the grasses. Low annuals crop up at shoe level. Though an ethereal palette of whites, silvers, and near-whites predominates, flashes of color (purple perovskia, blue-violet vitex) provide a welcome counterpoint. Around terraces and pathways and beside the pool, these burgeoning plantings offer a sense of enclosure. Wind sighs and rustles through the grasses. Bees, butterflies, and birds, drawn by all the flowerings, happily inhabit the hedges and borders. Bluhdorn says that for her, too, "this garden -- more than any house -- has become my home."