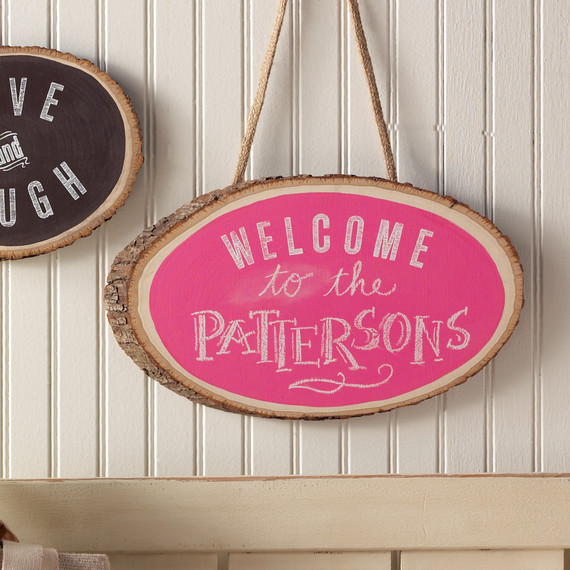 Wooden Welcome Boards
Add some warmth to the entryway of your home with these hanging welcome signs. We painted each slab with a base coat of colored chalkboard paint and allowed it to dry. Then, to create the more formalized headers, we used erasable liquid chalk paired with letter stencils. Since each letter is applied separately, you can easily place text along a curved path or make other spatial adjustments as needed. And the fun doesn't stop there –- you can change up the written message for holidays, birthday festivities, and other celebrations.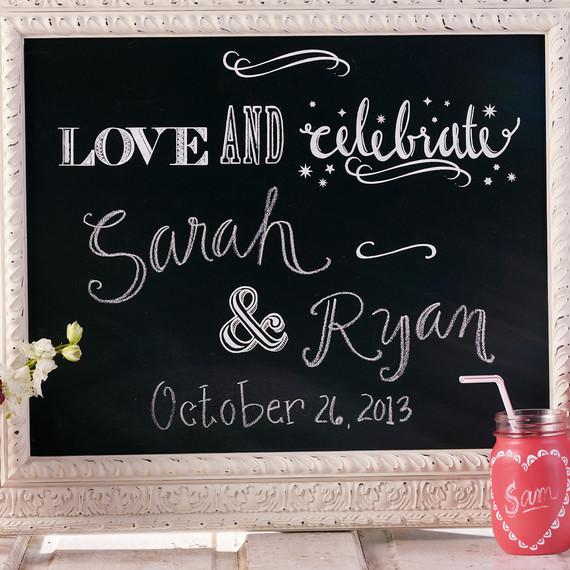 Creative Wedding Ideas
Chalkboard paint makes a handsome addition to relaxed gatherings, especially rustic, DIY weddings. More formal calligraphy styles just don't offer the same imperfect intimacy. Consider using chalk as a recurring motif throughout the reception like we did here, adding it to flower vases, drink labels, and welcome boards.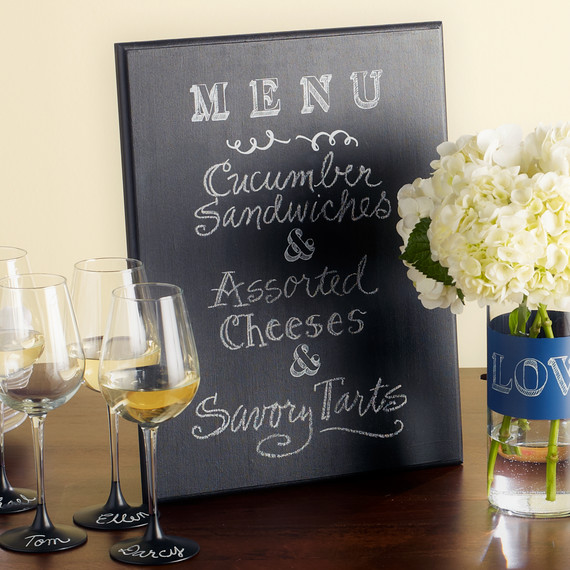 Dinner Party Details
To create this charming scene, we threw together a few of our favorite things: food, flowers, and accessible crafts. We mixed formal stenciled headers with delicate freehand writing to keep things whimsical yet smart. The cheery name tags on the wine glasses are a fun touch, and you don't need a special occasion to create the "LOVE" and "CHEERS" container labels.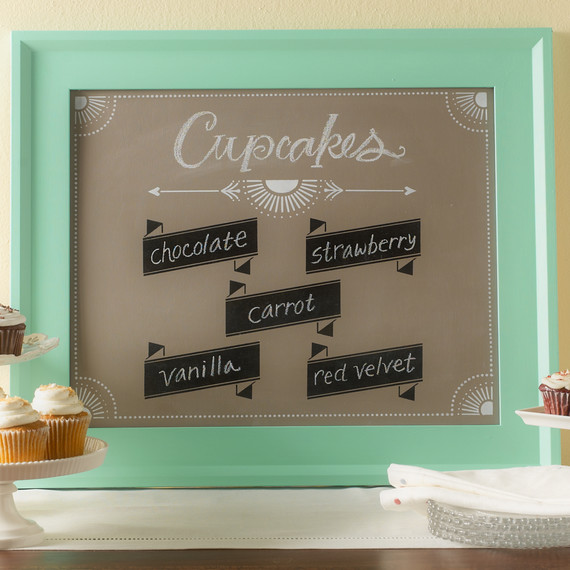 And For Dessert...
If this sweet setup doesn't get you inspired, we're not sure what will. Proudly showcase your home baking with a framed menu of flavors, evoking the cheery counter display of a Parisian cafe. Use cake stands of varying sizes to stagger your treat pyramids -- and don't be afraid of blemishes in your chalk handiwork. That homegrown feel is what it's all about.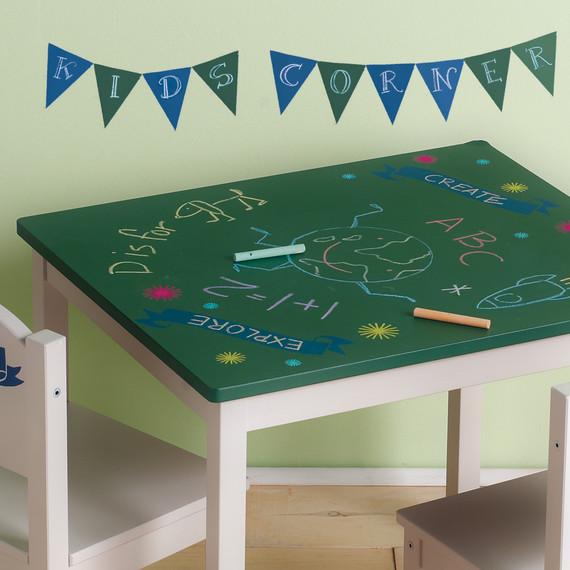 Kids' Corner
Because it just wouldn't be fair to keep all the fun to ourselves. Deck out your kids' playroom with a wall banner, a chalkboard-ified table, and personalized chairs. Templates and stencils will definitely come in handy here. Then, set out a bowl of store-bought chalk (or make your own) and watch their creativity soar.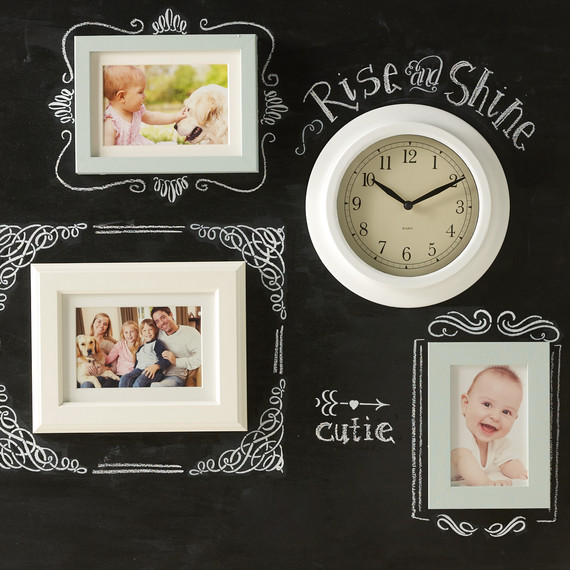 All in the Family
Take a cue from the pages of your family scrapbook to create this cozy gallery wall. Complete with memorable moments and sweet sayings, it'll brighten your day every time you walk by. To construct the faux frames, we used liquid chalk, stencils, and thin freehand chalk lines.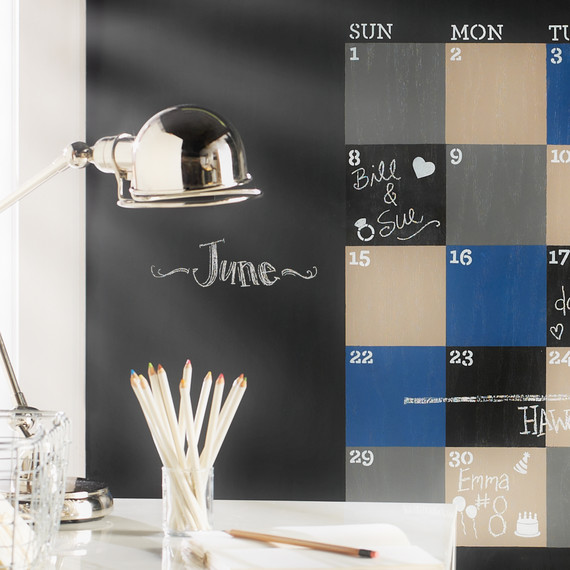 Practical Paint
This wall calendar allows you to view your month at a glance and keep track of changing events. Quick tip: Use stencils for numbered dates to ensure that they're highlighted in counter-relief to handwritten events.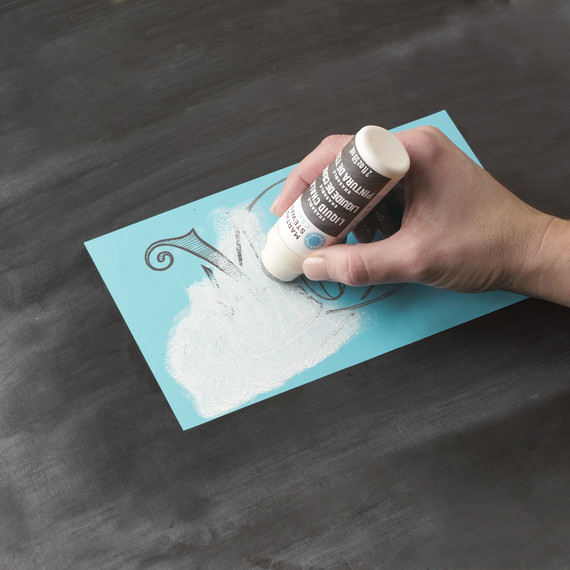 Using Chalkboard Paint
Martha Stewart Crafts® Multi-Surface Chalkboard Paint
Use our Multi-Surface Chalkboard Paint to create a chalkboard writing surface on wood, terra-cotta, and virtually any paintable surface. For best results, apply at least 2 coats. Let the paint dry completely for at least 1 hour between coats. Then allow it to cure completely for 24 hours, and be sure to test for dryness. Condition the area before use by rubbing chalk over the entire surface. Using a damp towel, wipe the surface clean and let it dry.
Martha Stewart Crafts® Erasable Liquid Chalk
Our new erasable liquid chalk paint is more durable and long-lasting than regular chalk. Applied like paint, it doesn't smudge, and it washes away with a damp sponge, leaving no shadow. A convenient foam pouncer makes stenciling quick and easy. For best results, use it on top of Martha Stewart Crafts® Multi-Surface Chalkboard Paint that's been conditioned and dried thoroughly.
- - - - - - - - - - -

Learn More About Our Chalkboard Paint at www.Michaels.com/MarthaStewart or Shop at Your Local Michaels