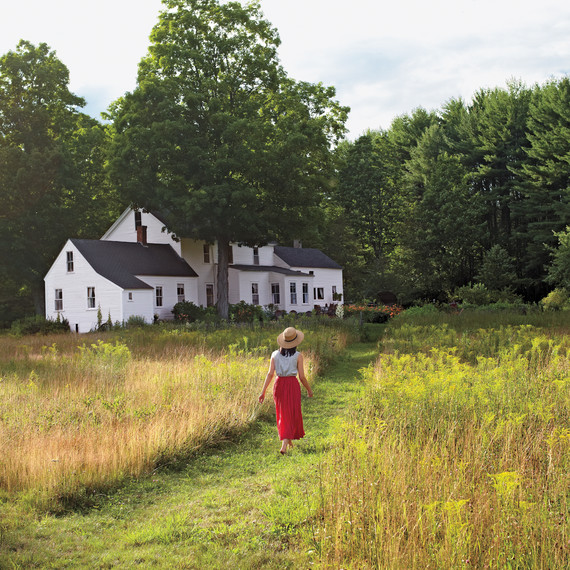 "It's rare to have a house this old stay in one family," says floral designer Amy Merrick, referring to Elmwood, the white clapboard house in Hancock, New Hampshire, built by her great-great-great-great-grandfather in 1838, after he had bought the land from the niece of John Hancock. "Everyone in the family always agreed that if you can't use the house or help take care of it, you should gracefully bow out," she explains of how the property was never sold despite its many inheritors over the years. The home's current owners include Merrick's mother, great-aunt, two aunts, and second cousin, and Merrick has "free rein," she says, to visit anytime. She takes full advantage of the arrangement, making sure she schedules in a monthlong stay or longer at the pastoral 54-acre estate every summer.
For Merrick, Elmwood -- with its many varieties of roses, tall grasses, herbs, fruits, and wildflowers -- is at once a vacation home and a workshop. "Now that I'm making a living from my hobby, I don't need a lot of extra hobbies," she says. "My profession is 100 percent because of Elmwood." She rattles off some of her discoveries on the property: lady-slipper orchids, wild speckled Canadian lilies, and "foxgloves and columbines that love to naturalize in the shade of our maple trees."
Merrick recently moved her business from Brooklyn to Los Angeles. Her signature aesthetic of wild, loose arrangements with unexpected cuttings has drawn clientele from all over the world and garnered her a robust fan base, including more than 67,000 Instagram followers. Her passion for all things botanical represents a growing movement that prioritizes the conservation of old-fashioned craftsmanship, handmade goods, and raw, unmediated nature.
In the summer, Merrick uses Elmwood as a home base from which she travels for jobs (it is wedding season, after all). She teaches classes there in floral design, visits family, gardens daily, and just wanders the fields and gardens, culling from their endless reserves of inspiration. Like the grounds, the house itself is timeless, filled with rooms of antiques, many of which are original to the house, and "beautiful peeling wallpaper," she says.
Her parents, whom Merrick affectionately refers to as "hippie types," instilled in her a deep love for nature. And then there was her great-great-grandmother Ella Averill Robinson, a botany student in Wellesley College's first graduating class of 1879, and the last in the family to rear children at Elmwood. The attics (three of them) are "filled with her journals and pressed plants," says Merrick. Each specimen is accompanied by the date and place of origin (e.g., "Morses Pond, 1876").
Though Merrick cites an "old-fashioned English rose, one with a soft, drooping stem and exploding petals" as her favorite flower, her work doesn't rely solely on classic blooms. "There's nothing I love more than wild grasses," she says. "They have such incredible movement and can make a sophisticated arrangement look more wild."
It's this ability to pluck and elegantly juxtapose a wide range of branches, blooms, stalks, herbs, fruits, and grasses that lends Merrick's work such artistry, whether it's a boutonniere made of succulents or the winking centerpieces she created last year for the opening of "Punk: Chaos to Couture," at the Costume Institute at the Metropolitan Museum of Art, in New York City. (To achieve a "decaying English garden" look, complete with broken mirrors and black candlesticks, she used wilting roses, peonies, and overgrown vines.)
This year, Merrick plans to recharge her creativity with yet another summer residency at Elmwood. "I could spend the rest of my life finding natural surprises here," she says. "Every season that goes by, I see something I've never noticed before."
Wild at Heart: Inside Floral Designer Amy Merrick's New Hampshire Family Home