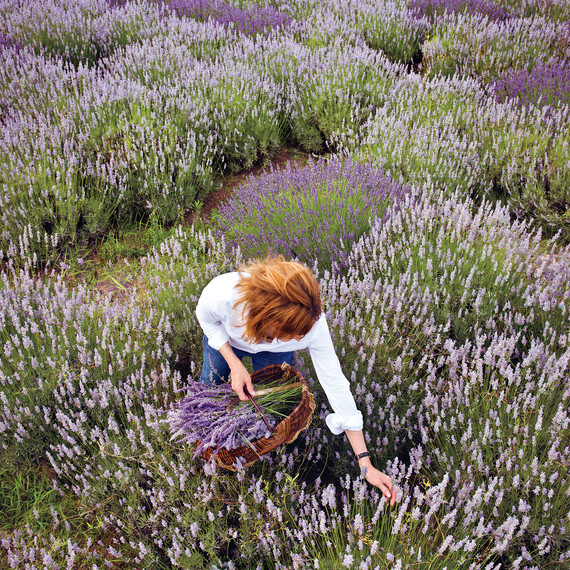 Freud is rumored to have said that there are no accidents. Which might account for how Lisa McPherson, a psychotherapist in the Washington, D.C., area during the week, oversees Blue Skye Farm every Friday through Sunday. She had planned to plant 300 lavender shrubs on the flat, barren oceanside land she owns on the Eastern Shore of Virginia, and ended up planting 3,000.
When she had placed her order with a West Coast nursery, she had envisioned each one being the size of a houseplant -- not the thumb-size plugs that were delivered to her Bethesda, Maryland, home. "My daughter, Alexandra, and I had even rented a Ford F-150 truck to get all the plants down there. Then the order showed up and the entire delivery was just 10 boxes, each about the size of a box of a dozen Dunkin' Donuts," McPherson recalls of the day, six years ago. Once they got to the shore and were ready to put trowel to soil, there was another unexpected reveal: Each of the 10 boxes contained 300 -- not 30 -- plugs. They decided to plant them all anyway: "We just laughed, called a bunch of friends, and gridded off an acre for it," she says. (They placed the plugs a few feet apart from one another.)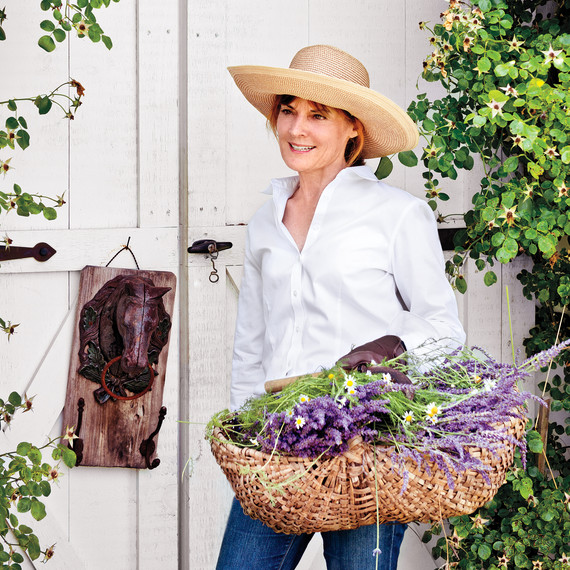 At the time, the entire point of the lavender had been to act as a natural deer deterrent. When McPherson bought the 14-acre parcel from the Nature Conservancy in 2003, "I'd never seen anything so in need of being loved -- and I just wanted to take care of it," she says. "You could see the ocean from it, but the land was so impoverished, with one magnificent hackberry tree in the middle of it."
For four years, she spent weekends there, sleeping in a tent, planting trees and perennials. "This is not the kind of country home where you sit out on the veranda and have cocktails," she says with a laugh. "During the week, I'm a therapist in private practice, in sweaters and little pleated skirts and high heels -- and then on the weekends, it's me with a bucket and a shovel and dirt encrusting my hands." In her feverish effort to plant trees and shrubs to give the desolate land character and privacy, however, she was stymied by the local thugs -- insatiable deer. "They ate everything," she says. "If I planted a pine tree, it was gone the next day."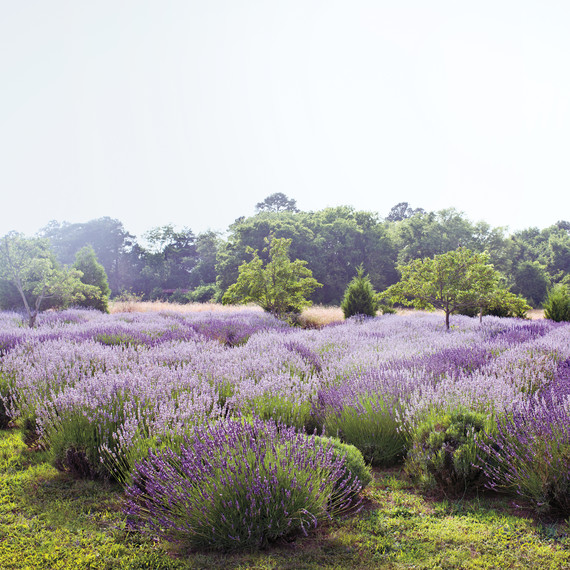 Since deer don't like lavender, she figured it would make sense to use it as a natural fence to protect other plants, like the roses and peonies she had planted around that beautifully stubborn hackberry. Due to the sandy soil and the wind coming off the ocean, her brushy 'Grosso' and 'Maillette' lavender varieties "quickly grew and grew and grew." By that time, McPherson had graduated from sleeping in a tent to sleeping in a shed she'd had built to house her tools, but she still had no real kitchen and no plumbing (she later added a small boathouse, which she has now converted into a tiny kitchen and bathroom), and was spending upwards of 15 hours a day gardening in the elements.
To soothe her parched skin, she started using some of her bumper crop of lavender in a moisturizing sugar scrub, which she shared with her daughter and friends.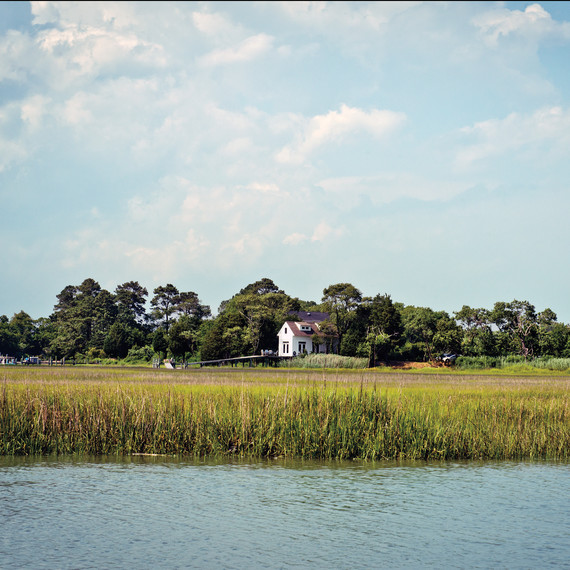 She was dumbfounded when she discovered that they were eating it like dessert -- she once watched in horror as her daughter took out a spoon, unscrewed the lid, and tucked right into it. "My first thought was, What is wrong with you people?!" she says. But (remember that expression about no accidents?) it dawned on her that lavender could add an interesting flavor to candy.
Virginia has a lot of peanut farms, and nut brittle is a local treat, so McPherson decided to honor that tradition by mixing up batches back in her Bethesda kitchen, infusing the brittle with lavender from Blue Skye. In 2011, she started selling it at a friend's candy shop and online.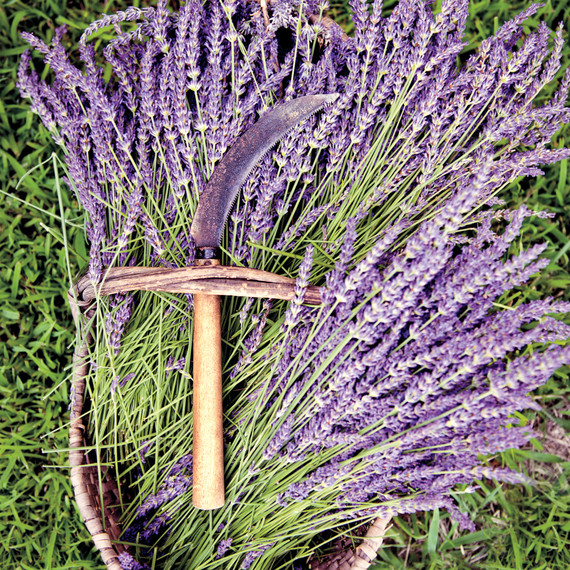 McPherson is amazed when she thinks back on how she and the land have transformed over the past 11 years. ("I didn't even like lavender," she admits.) When she first bought the property, she was "just a gardener who wanted to grow a garden around a beautiful tree," she says. "But this land made me a different kind of gardener -- I've watched how the land has come alive. And as it did, something inside of me came alive too."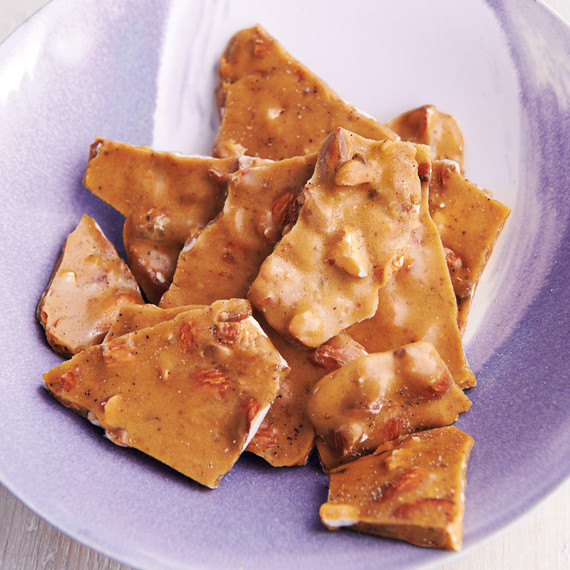 Cultivating a Crop
When you think of growing lavender, you might also think of Provence, where the purple-flowered shrubs grow on rolling hills for as far as the eye can see. But don't assume that you can't grow your own lavender just because you don't live in the sunny, breezy Mediterranean climate enjoyed in the south of France. "Lavender is like wine," McPherson says. "There are so many different types," and they can grow in many different climates. (Go to a local nursery to find the variety that will grow best in your zone.) McPherson, for her part, grows 'Hidcote' and 'Munstead' varieties, as well as 'Grosso' and 'Maillette.' With her farm situated directly next to the ocean, the soil is naturally sandy and has a pH of 6.5 -- which suits those varieties very well. McPherson's plants get a lot of sunshine and a lot of breeze; the wind is a saving grace, because it helps keep the plants dry. "If I weren't on the ocean, I think the humidity would destroy the shrubs, putting too much moisture around the bottom of the plants," McPherson explains. "Lavender roots need to stay dry and well drained." When the flowered stalks are ready to be cut, she does so with a sickle or cutting shears, then bundles 25 stems with an elastic band. She hangs the bundles in a friend's dark barn that's ventilated with a fan for a week: Hanging the bundles keeps the oil in the flowers, and the darkness stops the blooms from losing their color.