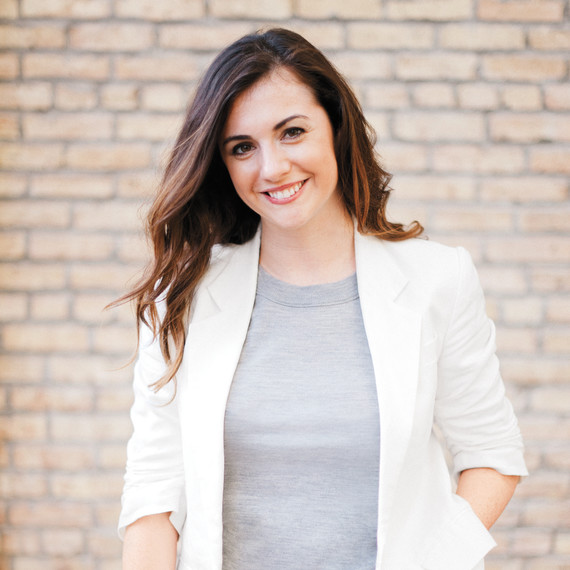 Your Wit & Delight collection debuts at Target in September. Any tips and tricks for hosting a stress-free party?
For me, throwing a party is all about making people feel as comfortable as possible. There's nothing more unnerving than a stressed-out hostess! Over the years, I've learned that less is more when it comes to party planning: Ask your butcher to help select an array of charcuteries and pair with a good-quality mustard and freshly baked bread, inquire about cheeses that will please a crowd, and consider appetizers that are easy to eat. I keep an eclectic mix of serving platters on hand to add visual interest to a table, which works for almost every occasion -- formal or informal.
Fresh flowers go a long way for decor, as does including personalized moments, such as surprising someone with their favorite dessert or hard-to-find beer. My husband and I always keep chilled beer and wine and a go-to playlist on hand for impromptu parties (our favorite type of gathering).
Above all, plan your party in a way that ensures you're able to enjoy your guests. Eventually, they'll forget exactly what you served, but they'll always remember how you made them feel.
Let's say I only have a weekend in Minneapolis. What are my must-visit spots?
Minneapolis is such a beautiful city, especially in the late summer and early fall. I'd recommend starting your day in Linden Hills at Zumbro Cafe for breakfast (a Minneapolis staple), followed by a bike ride around The Chain of Lakes. Stop into Clancey's Meats & Fish to pick up a roast beef sandwich and head to Minnehaha Falls for an impromptu picnic. In the afternoon, shop at Idun on Selby Avenue in St. Paul, or check out The Foundry Homegoods in the North Loop. They're both must-visits in my opinion. Start your evening at Marvel Bar for one of the best cocktails in the country, followed by dinner upstairs at the Nordic-inspired restaurant, The Bachelor Farmer. This little itinerary is a good start, but it doesn't even begin to scratch the surface of what the Twin Cities has to offer!  
You have garnered a huge social media following -- more than 58,000 followers on Instagram and 2.6 million followers on Pinterest. Tell us about being an influential part of this online community.
Visual-based social media networks have made it possible for us to see new places, people, and ideas that we would otherwise never encounter. Not only have I made lifelong friends through these mediums, but platforms like Pinterest and Instagram have proven to be most powerful when they're used to inspire others. While Wit & Delight started as a way to define and evolve my personal tastes, it has become a sounding board for those looking to do the same. The fact that people follow along still surprises me because I learn so much from their experiences -- they keep me honest, they remind me to keep sharing.
So often we're too busy to stop and notice beauty in the nuances of everyday life, and I really enjoy following people who capture and elevate the little things we overlook. My favorite people to follow on both platforms are Beth Kirby, Amanda Jane Jones, and Wing Ta for this very reason.
Becoming your own boss can be a nerve-wracking decision. Any advice for those considering going out on their own?
I thought about making the leap into full-time freelance for a solid two years before taking the plunge. I was more conservative than I probably should have been, because you're never totally ready to make the jump. So, if you know working for yourself is what you want more than anything (this is imperative), then don't worry about being 100 percent ready to leave your day job.
You have to love your work more than you love sleep, security, and peace of mind. Running your own business is more work than I could have ever predicted, and I'm still getting used to being a little scared every day. But it's all worth it in the end, because working for myself is one of the more rewarding things I've done.
Martha Stewart recently announced our 3rd Annual American Made Awards. We'd love to know: What does the American Made movement mean to you?
I see the American Made movement as a sign that we are starting to care less about how much we have, and more about what it is we want. Conscious consumption offers a more sustainable and fulfilling way to be a consumer. It gives us the opportunity to consider and curate the objects in our lives selectively so we can purchase things for a lifetime rather than a moment in time.